Poll Pageant Catfight (Carmen Electra vs. Pam Anderson) by dino 8/30/01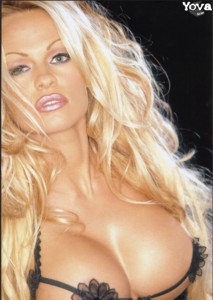 A recent Internet poll ran to determine the Fantasy Queen of the World. The two finalists were Carmen Electra and Pamela Anderson. The contestants were judged in 13 categories and the winner was the one who won the most categories. In the event of a tie. total % of the votes decided the winner. The voters were 1,000,000 horny males and the results were as follows (winners in BOLD):

1) BEST NUDE: CARMEN 45% PAMELA 55%
2) BEST IN LINGERIE: CARMEN 40% PAMELA 60%
3) RATHER HAVE SEX WITH: CARMEN 40% PAMELA 60%
4) OVERALL LOOKS: CARMEN 40% PAMELA 60%
5) ACTING TALENT: CARMEN 51% PAMELA 49%
6) PRETTIEST FACE: CARMEN 80% PAMELA 20%
7) SEXIEST EYES: CARMEN 64% PAMELA 36%
8) BEST TITS: CARMEN 25% PAMELA 75%
9) BEST ASS: CARMEN 60% PAMELA 40%
10) SEXIEST LEGS: CARMEN 65% PAMELA 35%
11) BEST LOOKING BEAVER: CARMEN 90% PAMELA 10%
12) SEXIEST HAIR: CARMEN: 0% PAMELA 100%
13)WHO WINS CATFIGHT: TIE

TOTALS: CARMEN 6/650 PAMELA 6/650
IN THE EVENT OF A DOUBLE TIE THE TWO WOMEN MUST FIGHT TO DECIDE THE WINNER.!
****
Carmen and Pam agreed to meet in an anything goes catfight, in a wrestling ring. The loser must either surrender or be knocked out for a ten count. Carmen entered the ring first in a tiny purple bikini top and matching thong, her long brunette hair was worn loose and fell to the middle of her back. Pam entered next wearing a micro black bikini top and thong, Pam wore her luscious blonde locks loose and wild, her platinum curls falling to the top of her gorgeous ass crack.

They exchanged catty comments, with Pam telling Carmen, "You're just a wanna-be who's trying to follow in my footsteps."

And Carmen replied, "Pam, you're a fake from your black roots to your painted toe nails...and that includes those ridiculous boobs you bought!"

The bell rang and both women appeared cautious circling each other and flipping their long hair and shaking their tits and ass. They came together in the middle of the ring and their hands reached out and buried themselves in the others fluffy hair. They tugged at each others hair like two alley cats as they shook and pulled the others head back and forth until both were screaming in pain. Pam was getting the worst of the hair fight so she let go of Carmen's hair and kicked her legs out from under her. The blonde pinned Carmen on the mat and kept shaking her head back and forth, each shake burying Carmen's face with that mass of blonde tresses.

Carmen got pissed off from the hair slap and sank both hands into Pam's crowning glory, digging her hands deep into the blondes roots. Pam feeling her scalp burning retaliated by grabbing Carmen's tits and squeezing with all her might. Carmen released the blondes hair and squeezed Pam's giant melons. Both sets of hooters fell out of their little holsters and swinging loose.

Carmen brought up her knee and caught Pam square in the twat and Pam was forced to bring her hands down to protect her wounded womanhood. Once Pam's hands dropped leaving all that blonde hair unprotected, Carmen ripped into the blonde locks. Pulling Pam's hair into a pony-tail, Carmen dragged Pam around the ring by the hair, stopping only to snap mare Pam by the hair while never losing her grip, then picking her right back up.

After a two minute hair assault, Pam finally countered grabbing Carmen's crotch, sending Carmen to her knees and forcing her to let go of Pam's hair. Pam ripped off Carmen's thong exposing her thick, dark bush. Pam grabbed Carmen's bush and, with a vicious tug, ripped out a handful of dark fur. Carmen lay writhing on the mat holding her aching twat.

Pam asks, "You wanna give up or do you wanna lose the rest of that pelt?"

Carmen answered by reaching up, latching onto Pam's long hair and asking, "How'd you like to loose the rest of this bleached pubic bush you call hair?"

Pam howls in pain as Carmen is tugging two handfuls of her hair out. Pam tries to crawl away but Carmen gets her from behind by the hair on all fours doggie style with one hand twisted deep in the blonde curls and the other administering a painful wedgie as Pam's thong is pulled deep into her ass-crack.

Finally, the material gives and Pam is left nude, her nicely groomed blonde triangle in full view. Carmen pins Pam on the mat and spreads her legs, and repeatedly kneeing Pam in the crotch. With the blonde nicely softened up, Carmen next attacks Pam's big tits by pinching her nipples. Pam is laying on the mat nearly out and Carmen gets up, lifts Pam's head and fans her long blond hair out on the mat. Carmen stands on the blondes hair while pulling up on Pam's arms, then pulling up on her tits.

Seeing Pam is beaten, Carmen rolls Pam over and lifts her on all fours. Taking Pam's hair with one hand, Carmen probes Pam's backside with the other; first one finger, then two and then her whole hand! Pam starts crying in pain but Carmen becomes even more sadistic and jams her thumb up Pam's ass and slides all four fingers in her big hole.

By then Pam is screaming in pain as Carmen grabs Pam's legs and tries to fold them back over Pam's head. As she forces Pam's legs down, the blonde lets out a loud smelly fart right in Carmen's pretty face. Carmen goes wild, grabbing Pam by the hair on both her head and her pubes and starts ripping with both hands!

Carmen then pins Pam on her back and mounts the blonde with a front face smother. Using Pam's hair, Carmen pulls Pam's face into her snatch as she humps her face. Carmen rides Pam until she climaxes on Pam's face and in her pretty hair. Just as Pam tries to surrender, Carmen swings around into a rear facesit, burying Pam's nose in her sweaty ass. Pam cant breath and she can't submit with her mouth covered.

Sensing Pam is about to pass out, Carmen lifts her ass up about an inch and lets out a load, wet stinky fart then drops her ass back on Pam's face and starts twisting her pink melons. Carmen knows she has, won but she wants to finish Pam off with one last thing. Remembering that in the polls 'sexiest hair' category Pam had beaten her 100 to 0, Carmen wanted to make sure this would never happen again. With Pam almost out, Carmen started to wipe her smelly ass and hairy bush with Pam's bleached blonde locks.

Leaving Pam's platinum hair streaked with brown highlights, Carmen picked Pam up by the hair and dragged her to the ropes. Dividing Pam's disheveled mop into twin ponytails, Carmen tied one around the top rope, then grabbed the other golden ponytail and ripped until Pam had lost half of her crowning glory.

Pam begged, "I quit!"

Carmen left Pam tied to the ropes by what was left of her gorgeous blonde hair.

Carmen told Pam, "If you ever wanna go again, next time they'll be calling you baldie instead of bleached blond Barbie."

The winner of the right to call herself Fantasy Queen of the World: Carmen Electra!