I think I got this from FoxFax or a similar site years ago. It may be copyrighted, but I'm not certain.


DISCLAIMER: The results of this match were calculated via the cruel and heartless dice-rolls of a foxy-boxing role-playing game called "Rumble Chicks" concocted by a group of RPGers known as the Virtual Homeboys

Janet Jackson Crushes Cindy Crawford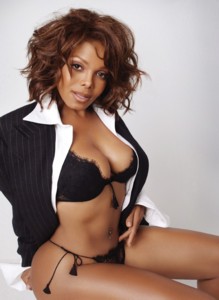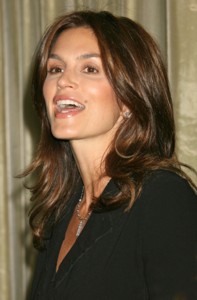 CFBI Champ Is Latest Victim of Janet's Winning Streak
LAS VEGAS-Feb 16th: Before a packed auditorium of nearly 5,000 fans and a pay-per-view audience estimated at over 200 million, Celebrity Foxy Boxing International World Glamour Boxing Champion Cindy Crawford lost her title to 1994 Rookie of the Year Janet Jackson, in a high energy slug-fest that saw Jackson's physical conditioning and endurance overcome Crawford's greater ring savvy and experience, inflicting several knockdowns of the champ before a decisive sixth round knockout by the soulful superstar.
Though the beating that Cindy took was enough to have her handlers postpone matches for the next several months and cancel Crawford's appearances at the Chica D'Oro tournament in Cancun and the Sun City Invitational, the fight started like Cindy's nineteen previous title defenses held over the last two years, with the champion opening up with a dazzling display of boxing skills . But Jackson countered with her own show of moves, with both women trading punches like the match was a five-round pre-lim bout instead of a twelve-round title fight.. The pace was so blistering that both girls were clearly tiring by the end of the first round, with Jackson making a critcal error that allow Crawford to daze her with an uppercut, a blow that, had it come earlier in the Round instead of just before the bell, would have left Janet at a considerable disadvantage early in the battle.
The damage that Cindy had done to Jackson was evident early in Round 2, when a still fuddled Janet walked into punch after punch from the champion. Janet stood up to the beating, though, fighting back enough to blacken Crawford's right eye and bloody her lip late in the Round. Still, Cindy was clearly on top of the challenger from both the perspective of the ringside scoring and the assembled crowd. But Jackson obviously had her wits back as she talked with her seconds and coach between Rounds, while attempts by Crawford's corner to deal with her mouth cut and swollen eye seemed fruitless.
Round 3 began with Cindy facing a revived Jackson, who matched her punch for punch and move for move, until Cindy lowered her right hand while making a left jab and opened up her face to a blistering left cross from Jackson that sent the champ staggering into the ropes. Crawford's guard was barely waist-high when Janet pounced, pummelling Cindy with blow after blow to the head, breasts and body in a rolling barrage of combinations that sent Crawford to the canvas tits first. It looked like Cindy was finished, spread-eagled face-down on the mat, struggling to get her arms underneath her and push herself up. But the bell saved the champ, much to the dismay of Jackson and her corner, who protested that the time had been shaved to rescue Cindy from a third round knockout.
Still, there was plenty of fight left in Crawford, and Round 4 found her going toe-to-toe with Jackson, matching Janet in skill and ring savvy despite the damage that Jackson had inflicted on the champion, including the blackened of her left eye and the closing of her right one, as well as a bosom already swollen from 34C to 40DD from the beating it was taking from the challenger. Judges score the round for Crawford, but at the bell Janet looked like the fighter who was winning, seemingly untouched despite the slugging match she'd been in with Cindy from the start of the bout.
Round 5 seemed to show Cindy clearly on the comeback trail, as she won three our of four extended exchanges with Janet and again was scored the winner of the Round on points. But as Crawford returned to her corner, it was becoming clear that Cindy had lost control of the match, her signature ring-savvy obviously left on the canvas at the end of Round 3. Instead of using boxing skill to maneuver Jackson around the ring, the champ was engaging in extended punching duels with Janet, whose hard-body conditioning allow her to absorb punishment better than Crawford. For a round or two Cindy could have withstood this kind of beating; but after nearly four rounds, Jackson was taking the champion apart piece by piece, with Crawford staying on her feet from sheer momentum and pride.
But in Round 6, none of those could save Cindy. Jackson scored a clean uppercut while the bell still echoed in the hall, and Crawford's guard collapsed as Jackson unleashed a machine-gun flurry of blows to the breasts and belly before standing up a sagging Cindy with another uppercut and laying her out with a right-cross to the bustline. It should have been all over then, but Crawford managed to pull herself off the mat to face Jackson one more time. Janet was quickly all over the flagging super-model, pummelling Cindy mercilessly, targetting her swollen bosum with seemingly every other blow. Utterly defenseless, all Cindy could do was stand up and absorb the relently beating, until her knees buckled and she went down for the final count.
Whatever doubts harbored by fans and pundits about Janet Jackson's qualifications as a foxy boxer were carried out of the Sands' Ballroom with a spent, numb, and utterly beaten Cindy Crawford. With a few exceptions, Janet remained all business during the fight, her tyro errors of earlier bouts seldom seen. "An honest to God wrecking-machine," was the judgement of long-time foxy promoter Sneaky O'Malley. "Janet could fight pro and be a top contender," commented Charlie Mahan, who has been Jackson's coach and trainer since she entered the curcuit with her against Naomi Campbell in December of 1994.
And Jackson's laurels and future schedule speak for themselves: Janet now adds Crawford's CFBI Glamour Boxing and CFBI Americas Popcornweight belts to her previous victories in the Player Invitational, Playboy Celebrity, and Kirin Tokyo tournaments. At present, it is questionable whether she will try to make it two titles in a row at the Cancun Chica D'Oro Invitational in June, as her schedule will be busy in the next few months. She is already scheduled to defend her CFBI title against fitness-pro Kiana Thom on March 15th at the Tokyo Dome, followed by an April 4th title-defense against fellow rookie Halle Berry in Las Vegas, and a third defense against Vanessa Williams in Rio sometime in May. A victory over Kiana will result in Jackson gaining both the America's and Pacific Rim Peppleweight Titles currently held by Thom if Janet can lose the necessary 4 pounds to qualify in that weightclass; while a defeat of Vanessa Williams may result in that superstar of foxy boxing retiring permanently from the game.
For Crawford, CFBI officials had ruled previous to her match with Jackson that she would retain her CFBI Supermodel title regardless of the outcome of the bout, but given her apparent injuries she may not be capable of defending her title in the next 90 days in accordance with CFBI by-laws.