"Survival of the Fittest: Jessica Biel vs. Jennifer Garner" (from the simguy DVD Collection)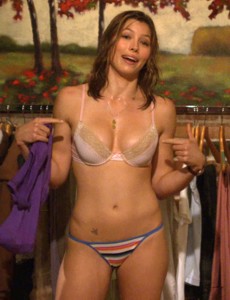 Back of the box reads:
"The two fittest physical specimens in Hollywood square off once again to see who truly is Darwin's gift to celebrity mayhem. Action-packed DVD includes:
- Complete match coverage in a plush LA penthouse!
- Punch-in-the-stomach challenge one week previous to the fight!
- Commentary (on/off) by Jessica Biel!
- Scene selections!
- 'Keys to Victory': prefight interviews with both women!
- Work out with Jen and Jess: both work-out regimens documented and compared!
- Mini-Documentary: real fitness athletes (Vicky Pratt, Rosalee Brown, Kiana Tom, Denise Austin, Mia Finnegan, et. Al.) assess respective physiques of Jen and Jess; break 'em down head to toe and speculate on how they'd do against actual fitness competition!"

Scene Selections:

Scene 22: "Systematic"
Jess (electric blue bikini from 'Stealth', blonde battle braid) sits on Jen's back (Garner chest down on a king-size white bed in a metallic pink bandeau bikini), working either Garner arm with patient, wrenching arm bars. Left, right, left, right - Biel in no hurry, just going after Garner's shoulders with beefy bars; pulling the limbs back, wearing out the meat. Great shots of Jen's stricken face - parted, pouting lips; frown of complaint. Breaking down Garner's arms would be key to Biel's eventual victory.

Scene 35: "Elbow Drops"
Biel in bed on her back, arms crossed over her tummy as she grimaces up at the ceiling. Jen on the floor, looking back over her right shoulder toward her target, jumps in, drops a thick elbow to Biel's chest drawing a gurgle of hurt. Garner sits up as Biel groans, rolls onto her side. Jen's face in characteristic frown as she considers next move, adjusts her bandeau.

Scene 37: "Garner's Highwater Mark"
Biel in stupor, trying to rally; on the carpet, chest down, head up, face clammy; eyes closed, mouth open. Jen moving in on Biel's left hip, budging the hips up off the carpet to open up Jessi's tummy. Garner torso positioned with her weight against Jessica's waist and hip; left hand with a firm grip of Jessica's blue trunks; right hand's just plugging thick and wet to the pit of Biel's tummy. Ponderous, hard working stuff - Garner just laying 'em in, exhaling hot through pursed lips, shifting weight on Biel to keep vulnerable underbelly exposed. Jen occasionally has to push Biel's left thigh out of the way as Jessi's trying to curl her knee up to protect her throbbing middle. Jess groaning, breath forced out of her in short little huffs whenever Garner's fist smokes home. It's the most confident we've seen Jen all night; working slowly, methodically; looks like she knows she's got the fight wrapped up, just a matter of making Biel quit to the body.

Scene 47: "Stalking"
Jennifer looking wounded, concerned, hobbling along the wall; Jessica stalking her, left fist at tummy, right clenched at her chest - just jabbing the left into Jen's shoulder, keeping her pinned as they walk. Occasionally, Biel leans in with a mean right over Jen's shoulder - Garner quickly lifting her fists and blocking rigidly at her temples - Biel backing off lithe, not wanting to get into a bareknuckle fire fight; stalking resumes. Biel probing her left into Jen's left hip - just patient.

Scene 2: "Headlock"
Biel standing, has red-faced Garner trapped in the crook of her left arm. Great shot of Biel's bulging shoulder-head-bicep; Garner really suffering, pulling at the wrists, resting her left hand on Jessica's belly, riding the right around Jessica's waist. Biel's lips tight with effort, but she's happy and upbeat: proving her strength to Garner early in the bout.

Scene 18: "Control"
Jennifer seated on the edge of the bed, Jessica sitting between her legs: Garner's got Biel cinched up in a brawny full nelson. Garner cinching occasionally, shifting her grip - Biel grimacing, eyes tightly shut - both girls would work each other's shoulders, traps and arms in deliberate fashion throughout this bout.

Scene 40: "Jennifer's legs"
Jen G on her back, stunned, suffering; Biel's methodically breaking down her glorious legs. Jessica lifting Jen's right leg, stepping around and dropping her own thigh hard down against the muscular bronzed limb. Left leg gets the same treatment; Biel patiently alternating, working with precision knee-drops; stretching out Jen's right thigh against carpet, right hand edging against crotch, left hand bracing the knee - then dropping her knee on inner-thigh to wails of pain. Jennifer distraught - clutching at her head and writhing, reaching plaintively for Biel.

Scene 3: "Punching"
Garner had Biel reeling with head punches early in the match. Standing, Garner rides her right arm lightly around Biel's neck, pulling Jessica's head to her chest - delivering short, hacking left hands as poor Jess sputters. Biel awkwardly positioned - her right hand splayed upon Garner's straining midsection.

Scene 50: "The Quit in Jen Garner"
Jen's back to carpet in the foreground - she's on the verge of blubbering, reaching up with both hands in a plaintive 'stay away' gesture. Biel on her knees just off Jen's right hip - grinning down as she snaps her bottoms back in place. From this posture - Biel stabilizes Jen with her left on Garner's chest, pounding washerwoman right hands down onto Jen's quivering abs. Then it's a long finishing sequence - Garner sobbing, whimpering as Biel forces herself on top. Jennifer wriggling, writhing, squirming, but always under pressure - Biel working to keep turning Jen's back to the carpet, forcing her wrists down, forcing her shoulders down. Biel trying to get mount positions; hunkering down to force Jen over onto her back; it's inevitable, but Jess has to keep working for it! Jen finally too exhausted to kick out, gives up a weepy three count, her face turned to the camera as Jessica laughs cruelly, her hot breath against Jen's left cheek. Garner's reward? Grinning Biel wraps up a beefy cradle; her back against Jen's hot, trembling belly; right arm cinching up Jen's head, left arm cinching up Jen's right leg; chicken grip tight at Biel's tummy as Garner is all cramped up and hurting.