A Decade of Dominance: Ali Landry's Greatest Battles (from the DVD) by simguy


The cover shows Ali in gold Maxim Mag cover bikini to the right of the box - to the left a flowing collage of Ali brawling, wrestling, kicking and punching a bevy of hot celebs.

Back cover reads: "At last, the most dominant celebrity fighter in the world in her most thrilling, most savage encounters! 14 brutal, full length contests in a two DVD set, plus hours of bonus special features:

- Scene selections!
- Mini Doc with Ali!
- Ali photoshoot coverage (Maxim, FHM, Beach Beat, etc)!
- Bios on Ali's toughest opponents!
- Rare, never-before-seen footage of Ali's pageant fighting days - local, state, regional level contests! (Simguy note: mostly boxing with headgear, but some submission stuff, leg scissor and body blow contests etc.)
- Audition fight footage, including the kidney pounding that won Ali the coveted Doritos spot and the headscissors that earned her the starring role in Repli-kate!

Chapters:
1.) Jenny O'Dell: Casino bout, Las Vegas
2.) Jenny O'Dell: Playboy mansion,
3.) Tricia Helfer: Apartment, Vancouver
4.) Torrie Wilson: Apartment, New York
5.) Torrie Wilson: Outdoor barn bout, Arkansas
6.) Stacy Keibler: Apartment, Baltimore
7.) Heather Kozar: Poolside, undisclosed (probably LA?)
8.) Nicollette Sheridan: Apartment, Los Angeles.
9.) Katherine Heigl: Apartment, New York
10.) Catherine Bell: Brunette Challenge of Champions, Apartment, Chicago
11.) Kim Cattrall: Apartment, New York
12.) Gena Lee Nolin: Oil wrestling on 'Fear Factor', Los Angeles.
13.) Rachel Hunter: La Conquista, Rio de Janiero.
14.) Brittany Daniel: Apartment, Los Angeles.
********
Special Features: scene selections.
(Here's a random selection of a few choice scenes)
Scene 5: "Hair Ref!"

Beige shag carpet, bed with cream coloured sheets in the background.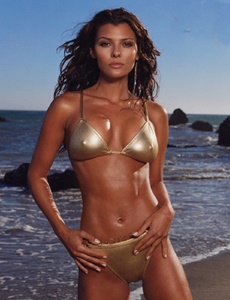 Ali on her knees to the right of the screen in gold bikini, Tricia Helfer on the left in a metallic baby blue bikini. Helfer scowling as she pulls at Ali's hair - both hands - arching Landry backward and drawing howls of pain. Trish hurls Ali face-first to carpet - Landry hitting hands and forehead, whimpering. Helfer wants more, inching forward on her knees, reaching into Ali's luscious mahogany locks to pull her head up and back: Ali's shellshocked face, mouth agape; deep cleavage of Ali's breasts as she props up on her elbows for a moment, showing off her world-class torso. Helfer dashing Ali down again - forehead hitting carpet with muffled thud. Tricia reaching: right hand on Ali's golden brown, rounded right shoulder, left hand reaching into the tangled curls of hair for more.
Scene 71: "Motrin Moments"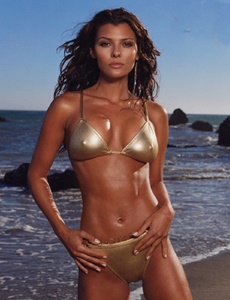 Ali in black push up and panties pummels Brittany Daniel (wearing a crimson bikini) with a series of pro-style right hands to the pate in apartment action. Ali stabilizing Brit with the left hand grabbing blonde tousle, right hand delivering pounding blows to the hair line. Daniel dazzled - just facing up into the blows, stricken expression, arms limp at her sides as bigger woman has her way. Daniel beaten from pillar to post, sometimes standing, sometimes swaying on her knees - Ali patiently just walking her down and applying hurt.
Scene 22: "Spooning"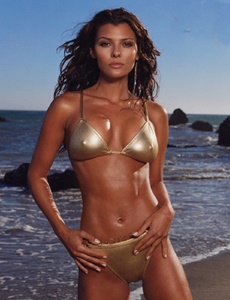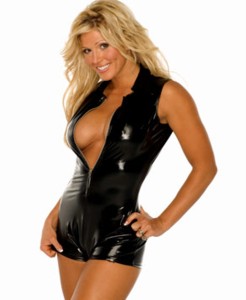 Ali in a white bikini on white shag carpet, lying on her left side. She's got her arms belted around Torrie Wilson's (pale blue push up and panties) gut from behind, torturing the blonde with a bearhug. Torrie's backside spoons into Ali's lap - Landry lazily tossing her right leg over Torrie's thigh on occasion, then bringing it back, just working that hold. Torrie's whimpers and panting fill the room as she pushes at Ali's forearms; her face contorted in a tight grimace - but it's no use. Ali smiling, sometimes picking her head up off the carpet to whisper hot into Torrie's ear, taunting the struggling blonde. Ali smiling, playfully biting the ear - not hard, just a little nip now and again - teeth perfect and white. "Mmmm, nummy!" Ali purrs. "Tastes like chicken!"
Camera close up/pan on Ali's legs, Torrie's tanned midriff. Ali's triceps bulging when she flexes - her left hand gripping her right wrist as she cinches up tight under Torrie's belly button. Muscles of Torrie's ribcage ripping into view as she pushes and writhes.
Two minutes later, Torrie still gut-harnessed - just crying on her left side, her right hand flat on the carpet. Ali cinching up, spooning in closer, starts asking Torrie over and over, "Give?…Give?…Give?"
Scene 52 "Cradle"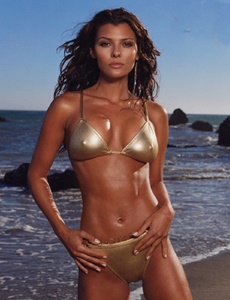 Heather Kozar in gold bikini has Ali (stunning in her black push up and panties) on her back in classic cradle position. Kozar laying her back against Ali's struggling brown tummy - blonde's right arm snug behind Ali's head, left arm under Ali's left leg, chicken grip clamped at Kozar's straining belly. Heather happy, but red-faced with effort - poor Ali suffering, breath huffing out in cramped pants: she's helpless.
Scene 37 "She Got Legs"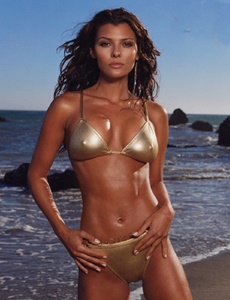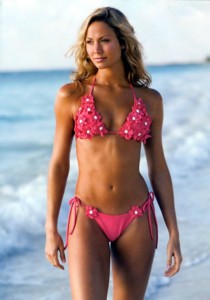 Stacy Keibler wearing a tiny pale blue bikini with bold white polka dots lies on her back on a messy kingside bed, crushing Ali's waist with the leg scissors. Keibs chin tucked in as she grins, loving the sight of Landry on her haunches, eyes shut tight, lips curled back, hands on Stacy's tanned thighs. Brunette sobbing, tossing her head back, wailing in protest. Ali leans over to her right, trying to crawl out of the hold: no go! Sinking back on her haunches, Ali clasps her hands and drops a desperate ax-handle into Stacy's tightened abs: Keibler grunting, fists clenching at the bedspread as her quads harden into sculpted bronze. She's squeezing so hard now Ali can only scream, hands tearing her hair as Stacy pours it on!
Scene 45 "Blackjack"

Footage from a Vegas security camera overhead - Ali in red cotton tank and panties, trading bareknuckle blows with Jenny O'Dell, wearing baby blue cotton tank and panties, in a running casino brawl. Big backswings - girls taking robust wallop on chins, spinning around and staggering away. Cotton-clad hooters swaying to and fro in the reeling battle as girls take turns walking each other down. Gamblers loving it, moving to get out of the way. Sweaty tops bunching up above hips, cotton panties riding up - both girls adjusting themselves when the other's stumbling away. Ali grabbing Jenny by her tank top to stabilize her, then getting 100% Landry onto right hands to the chin - O'Dell getting hammered senseless. Jenny punched so hard at one point, she's rocked back over a blackjack table, scattering chips - nice overhead shot as she reclines all hurt, hands up above her head, lips pouting as she tries to shake off the poke.
Scene 55: "More Tummy Please!"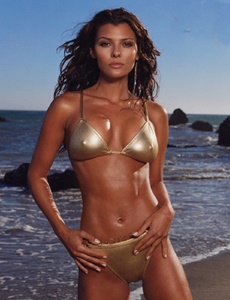 Ali in black push up bra and panties on the left, reaching her left arm to guide Heather Kozar in gold bikini. Seems to be poolside as white deck chairs and tables are in the background, outdoor lighting. Kozar with an anguished expression, stumbling forward into Ali: Landry shifts her hips and drives her right fist thick to Heather's tanned paunch. Shout of pain as Heather crumples into Ali's arms, Kozar reaching around the brunette's back and just laying in there crippled. Looks like Ali's setting herself to hip-toss Kozar to ground.
Scene 27: "Spread 'em"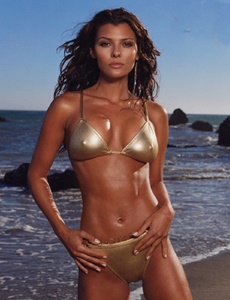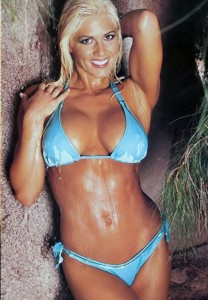 Ali in white bikini, lying on her left side, smug contentment on her face, stretches out Torrie Wilson's legs. Torrie (baby blue push up and panties) seated with her back snug against Ali's waist: Ali's legs scissoring up Torrie's right leg, Ali's arms wrapped strong around Torrie's right leg (left hand clasping right wrist). Wilson grimacing, wriggling - she'll toss her head back and moan, push down on Ali's ribs or thigh, clutch at her scalp and shake her head in pain. Landry patient, just working the big woman slow and easy.
Scene 62: "Bombardment"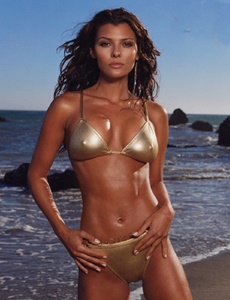 Ali in black push up and panties against an oak-paneled wall, wrists crossed at her breasts as she grimaces, under siege. Nicollette Sheridan (wearing her hair up in a messy twist, lavender lace push up and panties) is standing straight up, volleying straight lefts and rights from her shoulders; palms down, knuckles stamping flat into Ali's upperchest, shoulders and biceps. Landry turning her torso, sliding to her right along the wall - Nicollette just stepping with her, punching mechanically - almost looks like she'd fall forward except for the repulsive effect of the punching. Fists making high, bright spanking noises as they pelt off Ali's flesh - Landry helpless under the onslaught.
Scene 73: "Mauled"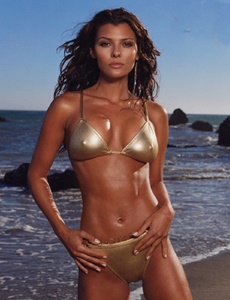 Ali in black push up and panties lolls outstretched between Brittany Daniel's legs. Daniel in a scarlet bikini, seated against an apartment wall - extended sequence of moves sees her torture Ali with exquisite precision. A long tummy-claw - grinning and happy Brit with her shoulders hunched, gripping at the offending belly in her lap - Ali's hands pulling at Brittany's while brunette lays sprawled over Daniel's legs, head tilted back to the carpet in anguish. Squirming brawl continues until Ali's upperbody is in Brittany's lap as blonde now sits almost crosslegged, reaching over Ali's shoulder to maul her chin and cheeks. Ali reaching up with her right arm, pulling at Brittany's golden shoulder.
Scene 21: "Clamp!"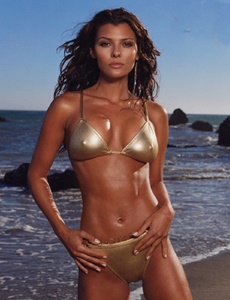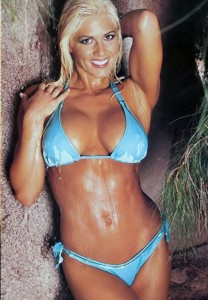 Torrie Wilson again, this time in baby blue push up and panties, sits on her haunches behind Ali in white bikini, tightly hugging Landry up under her breasts. Wilson's right hand clasping her left wrist, hair dishelved - she's crowing, loving it, snuggling her chin into the crook of Ali's neck at times to emphasize her delight. Ali in stupor, legs outstretched, jugs pushed up into an outrageous bulge by Torrie's forearms. Brunette head back against blonde shoulder - Ali's eyes shut tight in a frown of complaint, lips parted. Ali suffering, hands on the carpet, biceps pudging against Tori's muscular arms. Ali struggles - lifting her arms and writhing sadly, side to side - Torrie just riding it out with a blissful smile.
********
Special Features: Mini-Doc with Ali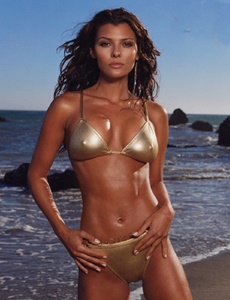 White letters on black background "JENNY O'DELL" - holds for a long count, then shot opens on Ali doubling Jenny O'Dell over with a right hand to the gut out of the wrap (Vegas security cam shot), quick cut to Ali on her knees in gold bikini, moving in on Jenny (black bikini) on her back in an apartment. Ali's voice-over: "Jenny O'Dell's always been a disappointment to me."
Ali onscreen, left hand pushing at Jen's chin while right hand delivers workmanlike body blows to sobbing blonde, then cut to Ali in satin baby blue blouse, cream pants, legs tucked up underneath her on an ivory couch. "I've always felt she could be more, do more with her physique. Her arms are underdeveloped and I feel she has fat hips: that's just lack of commitment."
Cut to shot of Jenny on her back, struggling in a pink bikini to fight off a Landry (pale blue bikini) pin attempt on the lawn of the L.A. Playboy mansion. "She thinks she's so strong, but I've always gone right at her and had great success. I feel I can overwhelm Jenny, and I usually do."
Cut to Ali on the couch: "She beat me in a sauna battle - it's true - but I was at 50% for that fight. If you look at the DVD of that fight, you'll see I was out of shape, for me - I admit it. The heat really got to me and even though I was easily handling her, I got exhausted. Plus, she cheated. Next time I'll really clean up on her."
********
Black background, white letters: "TORRIE WILSON"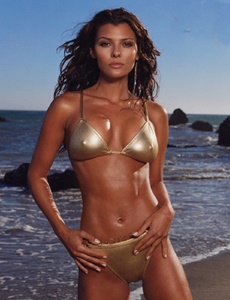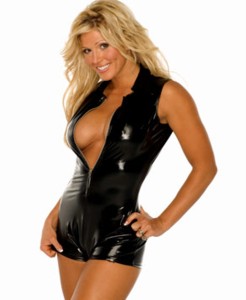 Shot opens on a barn scene - bales of hay, open barn doors. Ali in black bikini, black cowboy boots - Torrie in silver/white bikini, white cowboy boots, hipster belt with silver disks and Turquoise inlays. Torrie's holding her tummy and staggering away as Ali hurries after her. Landry's voice over: "Torrie's special - I love fighting her. She's so big and strong, but so stupid: all I need to beat her is a good night's sleep the night before. (Cut to another shot of the barn fight - Ali ducking under Torrie's swinging right hand, then slamming Torrie up against the wall of the barn. Ali's hands splayed on either side of Torrie's ribcage, just beneath the breasts: blonde hair in Torrie's eyes, head tilted back, mouth open with hurt.) "I pay special attention to her arms and shoulders - if I can wear her down up top, I know she's mine for the night". (Cut to an arm bar sequence, Torrie grimacing in pain on the right of the screen in stars and stripes bikini - Ali in white bikini wrenching the left arm, her back arched, legs straight, knees locked back as she pours it to Wilson). Cut to Ali on the couch: "Torrie's got an exceptional bearhug - it's a fight-winning hold for her."
********
Black background, white letters: "STACY KEIBLER"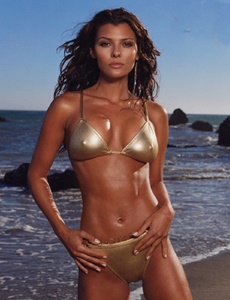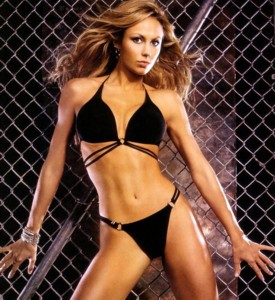 Shot of Stacy in pretty blue bikini with white polka dots, snarling, circling, under threat from advancing Ali in apartment action. Landry's voice over as Ali tries to grab Stacy's wrist: "I don't consider Stacy a rival. She's in the DVD because she fought me tough and people liked how we looked, but I felt I dominated the fight. Like Torrie, she's a quitter - not a great competitor - and she's basically got the leg scissors and nothing else. And she's tall; sometimes that's a problem. (In the match, Ali throws an awkward left hand punch - Stacy ducks and tackles up around Landry's waist - both women tumble to carpet).
********
Black background, white letters: "TRICIA HELFER"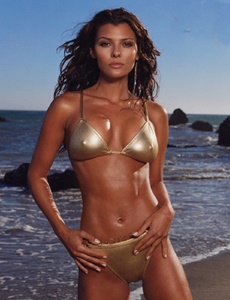 Ali on the couch: "Tricia...you know, she pulled my hair, she kneed my crotch…"
Cut to Trish standing on the floor, wishboning Ali's legs on the bed and pressing her left knee to Ali's crotch: Landry groaning, head lolling side to side on the bed; Tricia's back to camera, the sweet line of her right buttock cutting tight as she plants on that leg.
"…she did all this stuff…"
Cut to Ali on all fours, right side to wall, shocked as Helfer on her buns, hands behind her for support, stomp-kicks rapid left/right feet against Ali's left hip and exposed ribs.
Cut back to Ali on the couch. "…but in the end I got her right here (sits upright, legs spread as she crouches forward, showing how she had Tricia between her legs off the couch.) "Once I got control, she was putty in my hands. We're talking cake. Trish Helfer's not strong enough to hold me off".
********
Black background, white letters: "HEATHER KOZAR"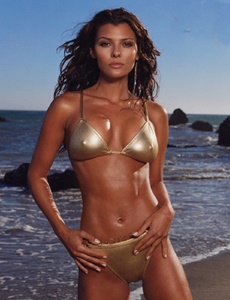 Ali on the couch, playing with a lock of her hair as she contemplates, "I think she's the best of the Playmates, I really do. She's strong, she knows herself as a fighter and she keeps trying, even when she knows it's all over. I've beaten her many, many times, but it's never what I would call easy
Cut to rolling brawl under bright sunshine at Playboy Mansion - girls embraced, Landry on top, now Heather, now Ali, thighs and backsides trembling. "Heather's what I call a 'trophy win.' You beat her and people know you can fight."
********
Black background, white letters: "THE WORK"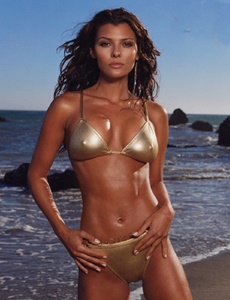 Shot: Ali scooping a tired Jenny O'Dell up in that mansion match, slamming her down onto the plush green lawn with a grassy thump. "I don't bodyslam girls much - not as much as I should anyway…"
Cut to shot of Ali reaching under Kristin Kreuk's arm pits, hoisting Kreuk aloft and swinging her bodily onto a bed - Kreuk all jostled and shocked as she bounces.
********
Cut to: Body punch montage - Jenny, Tricia, Gena Lee Nolin, Asian Pageant no-name, Rachel Hunter all taking hard right hands to the pit of the stomach, cringing and cramping up in apartments, on beaches, in beauty contests etc.
"I love to punch to the body," says Ali. "Nothing discourages a girl more and takes the fight out of 'em like a sweet body shot. I take a good body shot, so I'm never afraid to mix it up downstairs. I feel like, if a girl wants to swap to the body, she's going down."
Cut to: Ali at various weigh-ins, grinning on the scales, flexing her biceps, clowning with press in her skivvies.
"I really and truly feel pageant girls are superior to every other class out there. We're bigger and stronger than the super models - more regal than actresses - more disciplined than singers or playmates. I think, knowing I'm more beautiful than the opponent - actually knowing it - is a huge bonus for me. I've seen other girls freeze when they see me at weigh in for the first time - you know, it's the first time they've seen my tummy or my thighs or whatever. They just get weak in the knees and they wonder what they've signed on for. It's great!
Cut to shot of Ali with reverse sleeper on Jenny O'Dell - Landry working hard, lips pressed tight as she cinches up on blonde skull.
"There's been a lot of talk about who's really the best at smothering, but when it comes to Jugs of Mass Destruction - I'm definitely it. Lots of girls have the equipment, but I'm a closer. I'm the real thing. When I get you in there - you don't wriggle free. You know, it's the jugs, but it's also the arms, the shoulders, your back - you really need to have the total package to smother girls out. That's where I feel girls like Kelly Brook or Jenny O'Dell, or Jennifer Love Hewitt fall down.
********
Black background, white letters: "ALI ON ALI"
Ali on the couch, holding a white bowl-cup of tea. "If I had to fight myself? Whew - what a fight. I don't know, I mean, it's so hard to prepare for a girl like me. I could just come with straight up pressure, bowl you over, throw you around. I could lock up and work you over with standing holds, or take you down and clamp on with my legs. You have to watch out for the smother, but if you stay outside, there's my punch to worry about. I'm the total package, you know? And I'm the only one who truly is. Every other girl out there has a weakness - some kind of blindspot that you could exploit. Think about it: I've got the brawling of Jenny O'Dell; the leg strength of Stacy Keibler; the bearhug of Torrie Wilson; technique that's second to none and I refuse to lose. I don't want to say that I'm God's gift to celebrity wrestling or anything, but what would you call it?"
********
Special Advertising Supplement: "Other DVD's from 'The Simguy Collection':"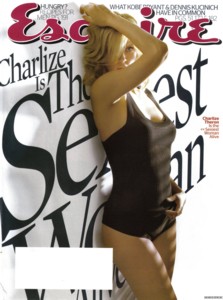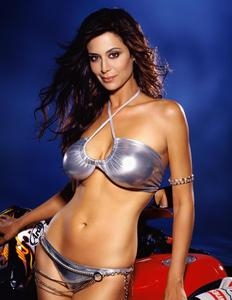 "The Rivalry: Charlize Theron vs Catherine 'Cat' Bell" - EVERY FCBA fight complete with pre- and post-fight interviews/shenanigans. In depth interviews for the DVD with both fighters, industry executives, money-grubbing suits who have road the gravy train all the way up. Mammoth 6 DVD box set includes all the apartment action with fight-specific interviews at the time; all the catfights; news footage of impromptu explosions in public. A must for fans of celebrity fisticuffs!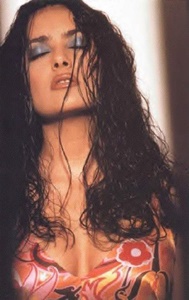 "101 Celebrity Knockouts" Highlight reel DVD - mostly boxing, but some ground n' pound apartment KO's as well. Couple of unusual KO's: body punching bout between Carmen Electra and Salma Hayek that left Electra on her back plus a behind-the-back kicking contest between Molly Sims and Tricia Helfer that ends with a disturbing whack!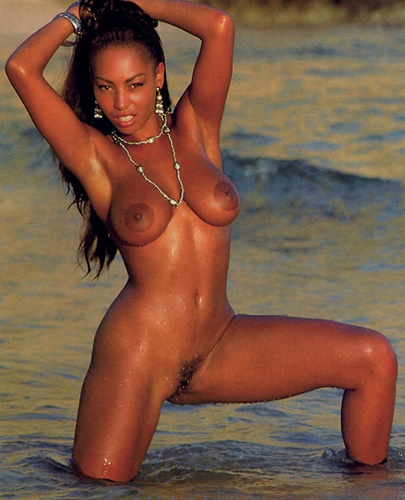 "Wipeouts, Beat-downs, and Mismatches - Celebrity Fighting's Most One-sided Bouts" Another compilation tape; highlights of some truly heinous one-way beatings - many of which were 50-50 on paper going in!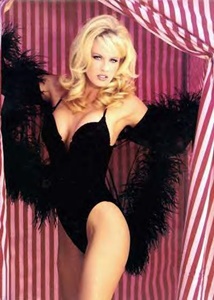 "Playboy Mansion Easter Egg Hunt" - Wild 'n' whacky fun at the Mansion. Playmates search for hidden easter eggs AND ambush each other to steal what they haven't found for themselves. Tasty, savage, sudden beatings dished out, eggs taken until all reside in one basket - features girls like Heather Kozar, Kitanna Baker, Jenny McCarthy, along with other more Playboy-specific names.