Trials of Teri Pt 1: Teri Hatcher vs. Lucy Lawless by Rob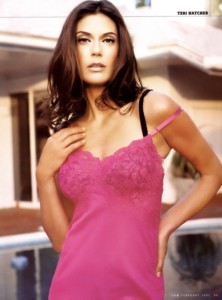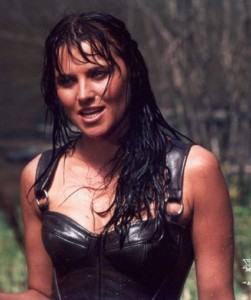 It was an exciting night in the arena as two fighters entered the ring. It was billed as "Xena vs. Lois Lane" and the fans were going crazy. Lucy Lawless came in first wearing her Xena outfit, all leather and metal. After doing a turn around the ring for the crowd, she stripped down to a black one-piece bathing suit. The top barely contained her big breasts and the high-cut sides showed off her curvy behind to perfection.

Next, Teri Hatcher walked out to the theme from "Superman" and strutted down the ramp to the ring in a white bikini that only just covered her goodies. She smiled as whistles and cat-calls rang out around the auditorium. Lucy got a running start at Teri and bowled her over to begin the match.

As the dazed Teri stared up at her, the 'Warrior Princess' told her, "Get ready for a beating, doll! I'm gonna leave you in a mess even Superman can't fix!"

Then Lucy yanked Teri off the mat by her dark hair and put her in an airplane spin then slammed her to the mat. Teri landed with a crash and stayed down to Lucy repeated the move several times. Teri grunted and moaned with pain each time her bod was blasted to the canvas but she couldn't seem to stop Lucy from thrashing her. After five hard slams to the mat, Teri was limp and crying but Lucy showed no mercy as she rolled Teri over and applied a Boston Crab that had her screeching in pain.

"Ah! Ah! Eeeeyowww! You...you're killin' me!" Teri choked as she clawed helplessly at the mat. "P...please...lemme go!"

Lucy finally released the hold and stood over Teri smiling down at her. Teri slowly gathered herself and began to crawl to the corner, hoping Lucy would let her recover but ... no such luck! Lucy jumped astride her skinny back and, roaring with laughter, rode her like a horse. The crowd was laughing and jeering poor Teri, who was just trying to get away before Lucy could heap more indignities upon her. But she collapsed in a heap of sweaty flesh, apparently out of commission. Lucy climbed off to the cheers of the fans and strutted around the ring.

Behind her, however, Teri was slowly climbing to her feet. Lucy turned around just as Teri, with her last ounce of strength, let go with a monumental haymaker. If it had missed, Teri would have probably fallen over from the effort. But it just happened to connect with Lucy's jaw. The big girl staggered to the corner, stunned by the blow and almost out cold. Had Teri chosen to finish the fight right then, she would have been the winner. Instead, she took the time to shred her rival's top, letting those beautiful breasts spring free.

"Now, bitch, it's payback time!" Teri growled and proceeded to slap and pound those massive boobies as Lucy could only hang on to the ropes and moan. After almost a minute of boob-busting, Lucy began to slide to the floor and Teri smiled at her fallen foe. "There, THAT'S how I like my opponents," she said with a wink to the crowd. "Naked, out cold and flat on their back!"

But Teri was not only overconfident, but careless because Lucy wasn't finished yet. The big brunette could take a lot more punishment than most starlets and she'd come back from even worse beatings than this as Leah Lail, Lisa Kudrow and Sarah Chalke could attest - well, they could if they hadn't all been unconscious and naked at the end of their nights with Lucy! Now Teri sauntered over for the pin, but as she bent over her, Lucy's hand shot up and landed a solid punch between Teri's long, shapely legs. Teri's eyes went glassy and her legs wobbled.

"Oh! Oh! My c...c...cunt!" she stammered as she dropped to a seat on her knees and slowly sat down, her hands between her spread legs massaging the ache in her groin and almost out of it entirely.

It took her a while, but Lucy managed to get to her feet and then as she strutted around Teri, she lectured her, "So, you wanted everyone to see my big boobs, huh? Well, here they are and I'll tell you something, skinny; they're a hell of a lot finer than your flabby tits!"

Teri could only stare up with a stupid expression on her pale face; seeing three or four Lucy's all of whom were saying something to her, but she'd couldn't make out what it was. She simply nodded and mumbled, "Oh...oookay Lucy. Wha...whatever you say!"

The fans went absolutely wild when Lucy yanked Teri to her feet, stripped off her tiny bikini, then pounded Teri's face, her big tits and her soft stomach until she was a sobbing wreck. For her grand finale, Lucy slowly and erotically worked her three middle fingers up into Teri's pussy, then used the grip to parade the trembling, weeping actress slowly around the ring, pausing at each side to fondle Teri's big, soft tits for the leering, jeering crowd. Teri's body quivered and quaked and tears streamed down her blushing cheeks as Lucy made an example of her.

"I surrender! I give! You're the best! I'm nothing - NOTHING!' Teri kept howling over and over in anguish until Lucy finally put her out of her misery.

Lucy wrapped her free hand behind Teri's head and, as she fingered her to one orgasm after another before she pulled Teri's red face between her breasts and breast-smothered the unresisting smaller woman. Sometime shortly after her final climax, while her flushed face was covered by Lucy's mountains of breastflesh, Teri lost consciousness. When Lucy let Teri's limp figure go, she slid slowly down Lucy's torso to crumple to the mat at her feet. Only then did Lucy sit on Teri's deflated chest and hum the theme from "Xena" as the ref counted Teri out!
******
Trials of Teri Pt 2: Teri Hatcher vs. Gillian Anderson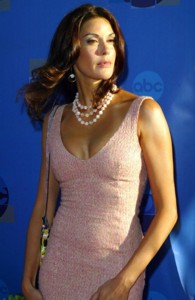 Teri won her next two matches, handily overpowering petite Jeanne Garth and then beating Britney Spears in a hard-fought contest that left both Britney and the audience drained. Regaining her old cockiness, Teri talked her friend Tracy Scoggins to arranging a boxing match with the much shorter Gillian Anderson.
Gillian entered the ring first wearing black gym shorts and a black halter top. Teri came in as the loudspeaker played the "Superman" theme wearing a tight blue jog bra with the Superman logo between her bulging breasts and tiny g-string panties.
As they met in the center of the ring, Teri sneered at her shorter foe, "Ready to get your ass whipped, you flat-chested little girl? Don't you wish you had a set like these beauties?" she taunted, cupping her heavy hanging puppies in her gloved hands, thrusting them at Gillian who just sneered and turned her back on Teri and stormed angrily back to her corner..
The bell rang and both women came out cautiously, at first just feeling each other out and sparring lightly until they got warmed up. Teri had the longer reach and she was a bit quicker and she used both to her advantage well, popping the redhead over and over before Gillian could get within reach. Soon, the redheaded X-Files star had two puffy, watering eyes and seemed to be getting frustrated.
Seeing that, Teri got a little too cocky as she moved in close. Gillian made her move; faked a right and dug a left hook to Teri's ribs. Teri grunted out loud and her eyes flew wide open. Gillian gave a little smile and moved in again, pumping hard rights and lefts low and hard into Teri's flat stomach. When Teri covered up to protect her belly, Gillian went upstairs for some "jug mugging", her ripping punches making Teri's proud tits bounce in the tight top from blow after blow.
"You...you bitch!" Teri hissed, quickly moving away and trying to get back to her plan of hit-and-run just as the bell rang to end the first round.
Both ladies went to their corners and Teri groaned softly as her corner girl Tracy Scoggins, sponged her face and chest.
"Jesus, that runt can hit!" Teri muttered.
"Look, chesty, you were winning until you got too cocky," Tracy told her. "Stick and move! Don't let her get you in a corner or you're sunk! Got it?" Teri nodded.
The bell rang for round two and this time Teri decided to use some dirty tricks she'd learned in the gym. Soon, Gillian was on the receiving end of knees to the groin, kidney punches and late hits. After one minute of this abuse, with a low moan, Gillian sank to the mat on her knees. Teri strutted around the ring, her hands raised in victory but Gillian beat the count and slowly rose to her feet at eight with fire in her eye. She ran up behind the still-celebrating Teri, grabbed her arm and spun her around, then landed a tremendous right to her jaw. The busty brunette was knocked ga-ga! Teri went staggering away on wobbly legs, her eyes glassy and almost crossed, her mouth hanging open with a thin string of drool running from the corner of her open lips.
Gillian fairly flew into the brunette, swinging with both fists like a whirlwind. Teri didn't seem to know what planet she was on. She had been winning the fight and now suddenly the wimpy little redhead had turned into a tigress. The brunette sexpot tried to focus but she could see three or four Gillian's in front of her - all of them firing punch after punch up into her aching tits.
Then Gillian threw off the gloves and grabbed Teri by the nose, leading her hapless opponent around the ring while the vocal crowd screamed, "STRIP HER!"
Gillian was more than eager to comply and she ripped off Teri's skimpy outfit, throwing the scraps to the fans. Teri raised her hands, feebly trying to prevent Gillian from stripping her, but the irate redhead slapped her gloved hands aside and completed her task as Teri blubbered and sobbed; her mind foggy, but aware that she'd once again been soundly thrashed and stripped in front of a large, appreciative, crowd.
"Nooo...n...noo m...more!" she pleaded. "I can't t...take any m...more!" she whimpered.
Gillian smiled, enjoying her hard-won but satisfying victory. "Well then, pucker up, sweetheart! I've got something to put you out of your misery, but I want you awake to see it coming!"
The tough redhead pinched and tweaked Teri's nipples as she tugged her lush pelt of dark, pubic hair; leaving Teri bent forward from the waist as Gillian pulled her tits down but with her hips back as she tried to escape the pubic pulling. The dual shocks of pain brought her back to full consciousness, just as Gillian had planned.
"Wha...what did you do to m...me?" Teri stammered, awake but as oblivious as any blonde to what was happening.
"Oh, just a little something like... THIS!" Gillian snarled as she reared back and slammed a hard uppercut to the point of Teri's jaw.
Teri's body shot straight upright, then her knees unhinged and she dropped straight down on her knees. Her eyes rolled back in her head and she tipped over onto the canvas. She was out cold before she hit the canvas on her knees, chest and face. She came to rest with her arms tucked under her and her shapely butt jutting into the air. She was still like that as Gillian strutted around the ring with her hands raised and Teri watched little birdies chirping as they circled her head.
******
Trials of Teri Pt 3: Teri Hatcher vs. Charlize Theron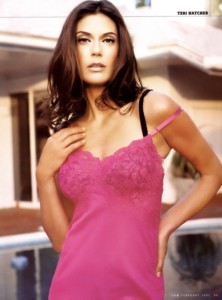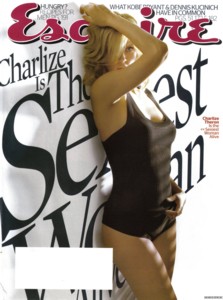 It was almost 8:00 PM and Teri's opponent for the evening hadn't shown yet. Her best friend (or so Teri thought) Tracy Scoggins, had been lining up 'soft touch' opponents for her. Teri's confidence had been shaken by her loss to Lucy Lawless, but she'd been devastated by her crushing defeat at the fists of Gillian Anderson. Both losses had seen the tall, shapely brunette stripped and then left unconscious, "tits up" flat on the mat.
Trying to rebuild Teri's confidence, Tracy issued challenges to girls both sheh and Teri felt Teri could easily defeat. So far it had worked admirably. Holly Marie Combs, after a brief scuffle, folded like wet laundry. Then Leah Lail from "V.I.P." proved to have a glass jaw and Teri turned her lights out with a thunderous right cross. Next up (or down in this case) came Thora Birch, whose big boobs got beaten black and blue before she finally gasped out her teary surrender.
With three easy victories under her belt, Teri was back to her old bitchy, cocksure self. She bragged to anyone who'd listen - and annoy those who wouldn't until they pretended to listen just to get rid of her - that she was the toughest chick in Hollywood! It didn't take long for Tracy to tire of hearing Teri boasting and she decided to teach her 'friend' a lesson by lining her up with someone a little "tougher."
Tracy called on her friends at the so-called, "Porn Star Fight Club" and asked for a recommendation for someone who could "...bring Teri down a couple of notches." There were plenty of members and more than a few associate members eager to show Teri the inaccuracy of her inflated sense of her 'toughness'. But in the end, it was Jeanne Pepper and Danni Ashe who came up with the 'perfect solution.' They could solve Tracy's problem and send a little message of their own to the nettlesome Sunny McKay who was making Danni's life difficult.
Danni arranged for Barocca to 'rent' out Charlize Theron to Tracy for the weekend, long enough for Tracy to 'prep' Charlize for the fight with Hatcher. And it didn't take much 'persuasion' to convince Charlize who was not only 'tough' but was also a long-time nemesis of Teri's going all the way back to their appearance together in one of the great movie catfights of all time in the classic, "2 Days in the Valley."
"She's probably chickened out," Teri said as she paced the floor waiting for her still unknown opponent to arrive. Teri's robe covered her favorite white string bikini, her high heels clicking on the wood floor and making her big breasts sway gently on her excitedly rising and falling bosom. "Probably a good thing for her, too! I feel like tearing up some little starlet bitch tonight!"
When Tracy reminded Teri the loser of the match had to suck the toes and lick the feet of the victor, Teri bragged, "Ha! She'll be down on the floor licking away when I'm done with her!" Teri could have been right if her foe been another creampuff, but Tracy had other ideas tonight which was why she'd carefully chosen Teri's opponent. "Ooooh, where is that stupid little bitch" Teri growled just as the door opened and the tall, beautiful blonde strolled in as if she owned the place. Teri's jaw dropped in shock and she stared stupidly as she recognized Charlize Theron, lithe and shapely as always, with her honey-blonde hair pulled back and wearing a tight black two-piece suit.
"B...b...but she's as big as me!" Teri murmured to Tracy. "I...um...I dunno 'bout this."
Charlize just smiled at the surprise and fear on Teri's face, purring confidently, "Well, I guess you're ready to start kissing my feet now. Or do you want to get your ass kicked first?"
Teri looked more than a little frightened, but she put up a brave front; her confidence bouyed by the stories she'd heard about Theron's 'adventures' in some porn club fights and one in particular she'd witnessed in person at the 'Put Up or Shut Up Club' when Charlize had been demolished by Natasha Henstridge.
"We'll see who gets her ass kicked, you South African bitch! Let's go!" Teri growled.
With that, both ladies kicked off their shoes and charged to the mats that had been spread out in the center of the room. Charlize raised her hands and went for Teri's hair. "Typical porno opening move," Teri thought as she ducked low and tackled Charlize around the waist, driving her shoulder into the blonde's belly as they went tumbling to the mat. Teri came up on top and tried for a quick "schoolgirl pin" which she almost got. Charlize's frantic bucking almost threw her off so Teri wound up and slammed a hard right hand to Charlize's jaw.
"Hey, that's against the rules!" Tracy pointed.
Teri just shrugged and smiled. "Hey, whatever gets the job done, right?"
The blonde was a little stunned and she had a trickle of blood running down the corner of her mouth, but she was more surprised than hurt. She suddenly swept out her leg, sending Teri sprawling to land flat on her shapely butt. Charlize leaped to her feet, grabbed Teri's dark hair and yanked her to her feet. The brunette struggled to get loose while Charlize hung on and walked Teri to the center of the mat.
"Owww! You're pulling out my hair, you cunt!" Teri squealed.
"Hey, whatever gets the job done, right?" Charlize answered, then let go of Teri's hair with one hand, wound up and landed a crunching right to her foe's chin. "Ooo, that felt so good, I think I'll do it again."
Charlize shot several hard punches to Teri's face, then sank her fist in the dark-haired woman's soft tummy. Teri groaned and would have fallen to the floor, except Charlize held her up. Charlize waited a moment and when she saw Teri could still stand, stepped back and landed a spinning side-kick to the side of Teri's head. The tall woman's eyes rolled in her head and she thought she could hear bells ringing.
Teri reeled but made a desperate grab at Charlize's perky tits. She missed, but she managed to pull down Theron's top and those small, firm tits popped out. Teri grabbed again, this time latching onto Charlize's notoriously sensitive nipples. As Teri began pinching and tugging, Charlize screeched with pain as she hopped back and forth from one foot to the other. Teri took advantage of the opening this provided and snapped a kick up between the blonde's wide-open legs. Charlize groaned as she dropped to her knees gasping.
"How's that - THUMP - feel, blondie?"
"Can't take the - THUD - punishment, eh?"
"Thought you could - THUNK - beat me?"
"Here, want - WHUMP - another?"
Teri punctuated each question by slamming her foot in Charlize's throbbing, aching, womanhood. Charlize's eyes rolled back in her head and she looked ready to go...one more pussy punt and Theron would be out cold! But as usual, Teri couldn't resist the urge to strut and brag about her superiority and she released her grip of Charlize's nipples to turn to Tracy and posture.
"Didja see that?" she beamed. "I almost pulled the bitch's nips clear off! She's so finished!"
But the sexy brunette had underestimated yet another opponent and as she strutted and preened for Tracy, Charlize shook her head clearing the cobwebs and got to her feet, walking up behind Teri. She tapped her on the shoulder and when Teri turned around, Charlize let her have it with a whipping right to the chin. Teri staggered back stunned and Charlize waded in, swinging with everything she had. Rights and lefts pummeled the dark-haired bitch until Teri slumped to her knees a blubbering wreck. That's when Charlize stepped up close, took a handful of Teri's disheaveled hair to hold her head up, threw her shoulders back and thrust her firm little boobs out, then began twising her torso left and right; using her small breasts to slap Teri's face. When Charlize let her go, Teri toppling forward on all fours, her head hanging down between Charlize's knees.
"I...I give!" Teri groaned, her ass in the air. "I ca...can't take anymore!"
But Charlize had other ideas, "Oh, no! You don't get off that easy, you wimpy bitch. I told Tracy I'd destroy your sweet ass, honey, and that's exactly what I'm going to do!!"
And for the next few minutes, Charlize lived up to her promise. She alternated hard punches to Teri's flat belly, her bulging boobs and she paid 'close attention' to Teri's pelvic area; finishing up with several kicks to Teri's weeping face that knocked her silly and left her spread-eagled flat on her back.
Once she had Teri down, Charlize ripped off the brunette's suit then pinched, pulled and twisted her tits while Teri shrieked with mindless pain. Charlize pulled Teri up by the hair and flipped her over her shoulder three straight times to, as she told Tracy, "...to tenderize her." Then, to finish Teri off, Charlize stepped back to admire her handiwork. Teri was a wreck, one eye rapidly swelling shut, her nose red and swollen and her sexy lips tattered and bleeding.
"Please, please, Tracy, help me!" Teri whined. "I can't take any more. Make her let me go! Please!"
Tracy just giggled and shook her head, "Sorry baby! But you've had this coming for a long time."
Teri's knees buckled and and she slumped back to her hands and knees, her head hanging down with her sweaty, matted hair covering her eyes as Charlize stepped up behind her, grabbed her hips and jacked her ass up a bit higher.
"Get ready, Teri honey," Tracy laughed. "HERE... IT... COMES!!!"
Teri's eyes bulged wide as if they were going to pop out of her head as she wailed, "OOOOO ....WOOOOO! WOW-OWWWW ooooo....!" Charlize thrust two strong fingers in Teri's ass and roared with laughter. "Yo...your fingers! M....my ass! Please!.... I'll do anything! ANY-thing! Ju....just stop!" Teri babbled.
"Well, let me get comfortable on the couch here, then you can start sucking my toes," Charlize told her whimpering captive. "And you'd better make it good or you'll really get it!"
The cruel blonde pulled her fingers out of Teri's tortured behind and wiped hem on Teri's back, then sauntered over to the sofa and took a seat next to Tracy. Teri lay on the floor with her face in her hands, sobbing for quite a while before she began the painfully long, slow crawl over to Charlize and began kissing her bare feet.
"Now, suck them good, you wimp!" Charlize ordered as Tracy put her arm around Charlize's shoulders, grabbed a handful of blonde hair and pulled her into a hot, steamy kiss. Teri looked up at the two women as they kissed; her best friend Tracy with one handful of Charlize's hair and the other cupping her small, firm breast, teasing the long, hard nipple.
Teri was weeping uncontrollably, but she nodded. "Yes, yes ma'am. I will!" she murmured, then began licking and sucking Charlize's toes.
"Mmmm, you like to do that, don't you?" Charlize teased as Tracy bent and took one of her nipples into her mouth.
They could both see Teri had been totally humiliated and hated what she was doing, but her head bobbed up and down vigorously, knowing if she didn't please Charlize, she'd just receive more punishment.
"Yeah, you like sucking her toes, don't you?" Tracy laughed as her fingers wiggled between Charlize's spread thighs, bringing a soft groan from the tall blonde.
"Mmmf mmmummm," Teri said.
Tracy supposed she meant, "Yes ma'am" but with half of Charlize's foot in her mouth, the whipped brunette couldn't speak very clearly. But Teri could, and did, slurp and lick madly, hoping to avoid another beating. Soon, both of Charlize's feet were wet with Teri's saliva and tears. When Tracy tired of Charlize having her feet licked, she went over to a gym bag in the corner and and pulled out a small silver chain with two little alligator clips on either end. She strolled back to Charlize and handed them to her, nodding down at their dark-haired victim.
When Charlize looked up at Tracy as if questioning whether this was really necessary, she growled, "If you don't put 'em on her, I'll put 'em on YOU! Remember what they told you at the Club when they gave you to me!"
Charlize quickly dropped to her knees in front of Teri and attached the clips to her brown nipples. Teri winced with pain as Charlize pulled her to her feet by yanking on the chain. Then the tall blonde led Teri around the room, laughing as she sped up forcing Teri to almost run to prevent her tender nips from being stretched or even torn.
"Oh, God, no!" Teri begged. "You're killing me! My-my nipples are so raw! Stop! You're the best! I'm NOTHING! Just leggo my titties!"
Charlize looked at Tracy who nodded, unable to stop grinning after seeing Charlize humiliate her 'friend.' Tracy figured Teri had learned a hard, painful lesson tonight and was now ready for the next part of her plan.
Tracy told Charlize to, "Go on back to the club. I'll call Danni in the morning and tell her how pleased I was with your services."
******
Trials of Teri! Part 4: Teri Hatcher vs. Bridget Fonda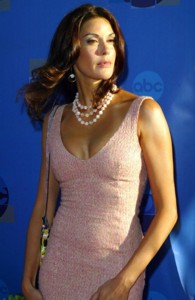 Bridget Fonda had shopped for hours and her nerves were frazzled. Who'd have thought it would be so hard to find just a simple black dress? Still, she'd saved her favorite dress shop for last, hoping she'd find the 'perfect outfit' for the big awards show the following week. It was almost closing time when she entered the store and the lady who ran the place, Martha, was at the register.
"I'll only be a minute, Martha!" Bridget called out as she headed to the back of the shop.
The shop had a special black evening gown in the back room Bridget had spotted the week before and she thought it would be perfect for her. It was indeed still there, but a tall, shapely, dark-haired woman was already looking at the dress.
"Excuse me, but I think I'm going to buy that gown," Bridget told her smiling.
Teri turned and faced the blonde but unlike Bridget, Teri wasn't smiling.
"Well, that's just too bad because I'VE just decided I want it. So you should forget it. Besides, from the looks of you, this dress would be too small in the hips and too big in the bust for your.....um...figure!"
Bridget bristled at the insult. She knew she had a nice figure, but looking at Teri, she had to admit the brunette looked very sexy in a tight pink sweater, black leather mini-skirt and black boots.
"Well, Ms. Hatcher," Bridget purred. "You may have me beat in the boob department, but at least MY bra size doesn't dwarf my IQ!" Bridget told her, smiling sweetly.
The sales clerk Martha, having locked the shop doors, came rushing back hoping to avert a disaster, "Ladies, is there a problem?" Both Bridget and Teri started jabbering at once until Martha finally made a sign for both to quiet down. "OK, OK; you both want the same dress and neither of you will give in. In that case, I guess there's only one way to settle the matter."
Bridget was a little shocked when she realized Martha was talking about a fight. Teri just smiled for although she'd been beaten soundly in all three of her most recent fights (she still suffered from nightmares of Charlize Theron) she was sure she could take Bridget, a much lighter woman, in an all-out catfight.
"Look, blondie, I'm taking the dress," Teri huffed. "You can step aside or you can get hurt - it's up to you!"
Naturally, that got Bridget's Irish up and she snapped, "Well then, let's get on with it bitch! We'll find out who the Queen Bee is around here! In fact, the sooner I whip your boney ass, the sooner I'll be leaving with MY dress!"
That was the last either woman spoke for a while. Teri started the action by stepping in close, grabbing the top of Bridget's outfit and, with an impressive show of strength, ripping it down the middle. Bridget was left wearing only lime green bra and panties, with white thigh-high stockings and high heels. She was shocked to be nearly naked so soon into the battle. Teri followed up the disrobing by grabbing Ms. Fonda's hair and pulling her around the room.
Bridget shrieked, both with pain and indignation at her treatment from this tough-talking brunette.
"Go ahead and scream, you cream-puff!" Teri told her. "I love it when they scream!"
The blonde tried to hit Teri but she was bent over at the waist and couldn't reach her. Her hair felt like it was being pulled out by the roots and she felt hot tears welling up in her eyes. Finally, Bridget managed to snake out one leg and trip Teri. She landed hard on her shapely ass with a look of surprise on her face.
"Now let me return a little favor!" Bridget snarled as she began to rip away at Teri's pink sweater. In a few strategic yanks, Bridget left the sweater in rags on the floor, then grabbed hold of the flimsy black bra Teri was left wearing. One fierce yank, a yelp of pain and the brunette was topless, her lovely breasts bouncing freely. Now that they were a bit more even in the clothing department, Bridget felt better.
"So, still think you're walking out of here with that dress, honey?" she shouted at Teri, who was still sitting groggily on the floor. "Or do you want to give up now?"
Teri answered by leaping to her feet and charging the blonde, screaming curses and threats. That's when the action really got wild. The two women exchanged ferocious lefts and rights, some missing but others thudding home. Bridget caught an uppercut under her chin that rattled her teeth, but countered with a right that snapped Terri's head back and left her a little cross-eyed. Martha could barely follow the action as both combatants fought across the floor. Grunts, groans and curses filled the air. Then Teri moved in close and began hammering hard punches to the blonde's soft tummy. Bridget moaned in pain and wrapped her arms around the other woman, trying to stop the devastating blows to the stomach.
"Much more of this and I'm finished!" she told herself.
Teri struggled to get loose from the bearhug but Bridget had just enough left to hang on until she was recovered. Soon it was Teri who was gasping and groaning as Bridget's strong arms mashed the wind from her lungs.
"Ggghh - n-no!" Teri whispered as Bridget increased the pressure.
Teri was seeing spots before her eyes and knew she had to do something, or it would mean another defeat. With the last ounce of her strength she stamped hard on Bridget's toes. The blonde yelped and loosened up her grip which gave Teri just enough room to push one hand up between their nearly naked bodies. She rammed the heel of her hand under Bridget's chin. The blonde head snapped back and she completely released her hold as she staggered, her eyes a little glassy.
Teri also took a step back. Both women were tiring and Martha, who had seen many a catfight in her little shop, knew that the end was near. Bridget's lips were puffy and her stomach was red from Teri's hard punching. Teri had one eye swelling shut and her hair was a sweaty mess. Her skirt had come loose and now she only wore a pair of tiny black panties and her black high-heeled boots.
The brunette sprang forward, tackling Bridget which sent both ladies sprawling on the floor. After a few minutes scrambling, Teri managed to get her long muscular legs around Bridget's waist and began to apply a scissors hold.
"Uuuuhhh - nnnoo- no!" Bridget grunted as the brunette poured on the pressure. "It - it's like being cut in half! I - I can't breath!"
Teri just gave her a cruel smile and kept squeezing, alternating the pressure just to hear Bridget moan and gasp. The blonde was nearly done and Teri took the opportunity to remove her opponent's bra, letting Bridget's firm tits pop out. After one last great squeeze, Bridget went limp and Teri released her hold. She slowly stood up and surveyed her foe. Bridget sprawled out, her eyes glazed and her chest rising and falling rapidly.
"Well, looks like I'm not the chick getting her ass kicked this time!" Teri bragged, sounding a little surprized; but three humiliating losses in a row will do that to a girl. "And now," she said, turning to Martha. "I believe there's a dress waiting for me!"
Then, to her complete astonishment, she heard a voice behind her say, "Not so fast, sister! We're not finished yet!"
Teri couldn't believe her eyes. Bridget was back on her feet and ready for more. Her perky breasts still heaved as she took deep breaths but otherwise she appeared as fresh as ever. She had pretended to pass out just so Teri would let up on her deadly scissors hold. The sexy brunette was dismayed. It had taken everything she had to subdue Bridget once. Deep down, she knew she couldn't do it again.
"Oh, no, not again, please!" she thought to herself.
Yet before she could think of a graceful way of backing out, Bridget was all over her. After absorbing several hard punches to the face and tits, Teri found herself in a painful headlock as a laughing Bridget led her in a circle. The blonde kept squeezing and grinding on her head until Teri squealed in pain! She threw Teri to the floor and applied a "surfboard" hold to the gasping loser.
"You thought you were so tough, didn't you" Bridget sneered, yanking back hard on Teri's arms as she pushed her foot into the brunette's back. "Now, it's your turn to scream, you skank!"
The black-haired vixen shook her head and whimpered helplessly. "I - I'm finished! You're breaking my back! LEMME GO! PUH-LEEZE!"
Bridget smiled, knowing the victory was hers now, but she wasn't finished just yet. She'd gone through too much pain and suffering herself to simply let Teri escape. She meant to see that Teri paid, and paid dearly, for starting a fight. She released Teri's arms and the taller woman lay limp on the floor, sobbing softly. Bridget flipped her onto her back and then applied her favorite finishing move, the figure-four leglock. She had once dated a professional wrestler and knew just how to use it to bring the maximum amount of suffering. She could soon tell from the look of total anguish on Teri's face that she had applied the hold correctly. Teri was reduced to a blubbering, begging wreck of a woman in just under a minute.
"Oh please, oh please, oh please ... MY LEGS! ...UHHHH! You win, you win, oh God you win!" Teri sobbed.
Bridget giggled and slapped the tense muscle on Teri's trapped leg. "I want to hear you tell me who is the best!" Bridget told her, racheting up the pressure still more.
"YOU! YOU! YOU'RE THE BEST!" Teri howled, her hands yanking at her own hair as the pain grew worse. "YOU WIN! YOU'RE THE BEST! THE BEST! YOU'RE THE QUEEN! I'M NOTHING! NOTHING!"
At last, Bridget released her victim and stood up slowly. "I always say, if you can't fight dirty, what's the use in fighting?" she told Martha and both had a good laugh while the sobbing Teri slowly climbed to her feet. It was obvious her legs were aching and wobbly. "Just one more thing, my dear!" Bridget told her. "This is a little thank-you for ripping my clothes to shreds."
With that, she stepped up close and landed a tremendous uppercut on Teri's chin. A completely defeated Teri took the final blow to the face, flew backwards with arms and legs spread wide and crashed into a store mannekin. Both unconscious brunette and mannikin then collapsed on the shop floor.
"Look, Martha, two dummies on the floor!" Bridget said with a twinkle in her eye. "But you can tell which one is the real dummy. She'd got big tits and a black eye!"
Martha simply smiled and said "I'll wrap the dress for you."
******
Trials of Teri Part 5: Teri Hatcher vs. 'Downtown' Julie Brown by Bob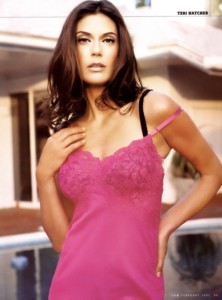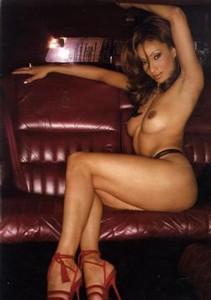 When Teri learned she was to face her old foe, Downtown Julie Brown, she knew one thing for sure - she was going to get her ass whipped. The perky brunette hadn't fared well against Julie in the past and while she'd surprised everyone beating Julie in their first battle, she'd been beaten in the ring in their second encounter, then again in a bar by the 'Dark Destroyer.' She still shuddered as she remembered the sensation of Julie's flashing fists pounding her until she whimpered for mercy.
Then, of course, Julie had always rubbed it in; laughing and embarrassing her each time they met. So when this fight was scheduled Teri turned to her cohort, Kim Cattrall, for help and together they hatched a "can't miss" plan that spelled trouble for Julie who was surprised to hear Teri had talked the league into changing the fight from wrestling to boxing, but she wasn't worried - she fondly remembered how much fun she'd had before leaving Teri in a sodden heap on the floor of that bar.
The night of the fight, the whole Hollywood crowd was on hand to witness the contest. Alyssa Milano was named the guest referee and she led the two gorgeous ladies to the center of the ring. Teri was wearing a black, low-cut bra and tiny panties while Julie had on a more sensible tank top and gym shorts ensemble. Alyssa checked their gloves, stepped back and the bell rang.
ROUND ONE
Julie walked right in, jabbing and circling. Teri kept her guard up, not really mounting an offense. She kept so far away the crowd was soon booing and jeering at her.
"You can run but you can't hide, dearie!" Julie told her. Sure enough, she soon worked Teri into a corner and landed several crisp combinations that had Teri gasping in pain. They clinched and Alyssa separated them. For the rest of the first round Teri managed to stay away from Julie's dangerous right hand!
When the bell rang to end the round, Teri returned to her corner looking a little shop-worn, but still upright!
"How you doing, babe?" Kim asked the panting blonde. Although she was working Teri's corner, Kim was dressed in a very sexy red lingerie outfit. Also in Teri's corner sat the third member of the little conspiracy, Salma Hayek.
"Not so good - she's a tough bitch, for sure!" Teri groaned.
"Don't worry. The plan is about to go into effect!" Kim told her.
With that, Salma strode into the ring and approached Alyssa. "Excuse me, but my halter top is loose. Do you think you could re-tie it for me?" she asked.
As if to demonstrate the problem, Salma's top suddenly fell, exposing the most luscious tits in show business. Every person's eyes in the auditorium were on those bouncing boobs, including Alyssa's. But while everyone was watching the center of the ring, Kim was busy changing one of Teri's gloves.
From their ringside seats, however, Halle Berry and Naomi Campbell spotted the glove switch.
"Hey, Halle, I think there's something fishy going on," Naomi whispered. "What do you say we get those two sleazebags back in the dressing room and find out what they're up to?"
ROUND TWO
As the second round started, Teri went right back on the attack. She threw several quick jabs at Julie then drove her right deep into Julie's taut stomach. The muscular Julie gasped in pain and covered up. She couldn't believe the sudden power of the lanky brunette. It felt like Teri's fist had gone clean through her! Teri giggled as the pain and surprise in Julie's expression.
"How ya doing, you Brit bitch?" Teri taunted. "I'm going to beat you till you beg for mercy. Then I'm going to strip you and knock you out cold!"
She landed another right to Julie's ribs and the tall woman groaned out loud. Teri followed that up with several jabs to Julie's unprotected face. Then, when the black woman brought up her guard she again dug that killer right into Julie's stomach.
"Gggg-nunnhh!" Julie gasped as she sank to her knees. The pain was incredible!
Alyssa began counting and Teri strutted around the ring, laughing and pointing at Julie. But when the bouncy brunette glanced at her corner, she was surprised to see that Kim and Salma had disappeared. She suspected something was up so she decided to finish the fight quickly. While she had hoped to make Julie suffer more, it might be better to wrap it up before something went wrong!
Julie had grasped the ropes and began pulling herself to her feet. Teri moved in to polish off her beautiful foe but Julie wasn't ready to give up. She fought back, desperately trying to hold Teri off with her jab until her sides stopped throbbing.
"Why won't you fall?!" Teri hissed, banging her leather hammer to Julie's jaw.
"I refuse to give in to a stupid cunt like you!" Julie told her through clenched teeth.
Mercifully, the bell rang to end round two and Teri heard a big commotion. She looked around to see Halle and Naomi marching a weepy Kim and a disheveled Salma up the aisle and into the ring.
Both Kim and Salma had been roughed up. They were scratched and bruised and what little clothing they had left on had been rippped to shreds. The two triumphant women pushed their defeated foes into the ring and stood over them threateningly.
"Oooo! Owww! Please! You - you're breaking my arm!" Kim whimpered.
"She beat me up! And she twisted my poor boobies!" Salma blubbered to an astonished Alyssa.
With a little "prompting" the two villains sobbed out their confession that while Salma distracted the crowd, Kim and Teri had switched Teri's right glove for one loaded with lead shot, giving her that amazing punching power that almost finished off Julie.
Alyssa wanted to end the fight right there, declaring a disqualification, but Julie would have none of it. "I'll teach that cheating tramp a thing or two about fighting!" she vowed. "Let me at her!!"
Teri knew she was in serious trouble, but after looking over her bruised opponent she reasoned that she still had the upper hand.
"Look at her!" Teri sneered. "She can hardly stand - I don't need special gloves to finish her off now!"
Eventually, things got sorted out. The cringing Kim and Salma were left at ringside, guarded carefully by their conquerors, while Teri and Julie went out to go at it bare-knuckle. But what Teri hadn't counted on was the fact that Julie was even angrier than she was hurt. She studied Teri's "real and spectacular" breasts, her big brown eyes and that pointed chin.
'All perfect targets,' Julie thought.
ROUND THREE
The bell rang and the two combatants moved tentatively toward center ring. Teri started with a wild haymaker that completely missed which suited Julie just fine. She stepped inside Teri's reach to beat a steady tattoo of short, hard, jabs to the taller woman's ribs followed by two cruel, mean-spirited uppercuts to Teri's jiggling boobs. The impact popped them both completely up out over the top of the cups of her black bra. Teri yelped with pain and frantically tried to cover up but with her hands full of her own boobs, Teri was wide open for Julie's crunching punches to her unprotected face.
"Uh! N-no! Stop!" Teri gasped as Julie methodically took her apart.
The shapely Julie couldn't stop grinning as she gleefully pounded away at Teri who couldn't believe how quickly the momentum had changed. First her face, then her body. Julie's flying fists hammered her stunned foe while Teri staggered like a drunk. At one point, Teri completely turned her back on Julie and cowered hunched over in the corner. The black chick chuckled, politely tapped Teri on the shoulder and when she peeked back over her shoulder and…WHAM! Julie spun Teri around with a tremendous overhand right to the chin!
Topless and exhausted, Teri would have gladly stayed down, but Julie was angry and no one objected when she hair-hauled Teri back up to her feet to continue the beating. Julie drove Teri into the ropes and landed a vicious left-right-left to her face. She then pushed Teri back and draped the groggy brunette's arms back over the top rope and snapped the middle rope over them, binding Teri's arms in place.
Teri was in a terrible spot. She was bent backward, her body arched with her prominent boobs pointing at the ceiling; her legs were like rubber and, unable to focus, she could see two angry Julie Brown's eyeing her much-abused tits which - from the way they were jutting out - seemed to be begging for more punishment.
"You worthless, cowardly cunt!" Julie snarled as her narrowed eyes glared at her wrecked foe. "THIS is where you're gonna pay for your cheating ways!"
"Please - I give up! I surrender! Somebody HELP...she's gonna beat my tits flat!" Teri wailed. "PLEASE! I don't wanna end up like Theron..."
Teri wasn't too far from the truth - which was obvious when Julie began 'speed-bagging' Teri's once-proud knockers; first up and down; then side to side. Teri howled and screeched to no avail. The crowd was hooting and jeering, glad to see the sneaky would-be champ get her comeuppance.
When Julie tired of using Teri's boobs as punching bags, she stepped back and laughed as Teri's head lolled forward onto her battered bosom, her tongue hanging out and her eyes rolling around.
Teri was babbling, almost out of it, mumbling, "I was tough once - but she's the toughest now. She beat my boobies flat." Then she sobbed, "Boo-hoo...I can't beeeeeat ANYbody!"
Leaving the bruised and spent Teri tangled in the ropes, Julie took a victory strut around the ring, basking in a huge ovation from the crowd. Even Alyssa was laughing merrily to see Teri's "udder" humiliation. Then Julie turned her attention to Teri's corner, where Kim and Salma were cowering under the baleful glare of Halle and Naomi; looking up fearfully at the angry victor.
"Bring those two cunts up here!" Julie ordered. "And gimme me that loaded glove!"
Both losers burst into tears, knowing they were in for some serious pain. Still, no one made a move to stop Halle and Naomi as they dragged the sniveling sluts up the steps and pushed them through the ropes into the ring.
"Please, don't hurt us!" Salma begged. "We - we're really sorry! We won't do it again!"
Kim nodded vigorously in agreement, "Yeah, we're so sorry! And we already got our asses kicked, didn't we, Salma?" But all their pleading fell on deaf ears!
"Line 'em up!" snapped Julie as she pulled the weighted glove onto her right fist.
She dragged the dizzy and drooling Teri to her feet and marched her to the middle of the ring to join her coconspirators. All three losers were blubbering as they pleaded for mercy. But their pleas were cut short when Julie wound up and let loose with a sweeping right cross that ricocheted with crushing power across all three chins of the losers; cutting off their teary pleas and changing their expressions from wide-eyed fear to dreamy-eyed goofiness.
Salma and Kim would have then collapsed if they hadn't spun toward each other and fallen into a mutual embrace.
"I f...fe...feel so fu...fuh...funny!" Kim stammered, her knees locking with Salma's thighs.
"Wha...wha hoppen...." Salma murmured, swaying gently, her face dropping into Kim's cleavage.
Both women just stood there like lovers hugging, on the verge of being out cold, yet still upright.
As for Teri, Julie's Sunday Punch left the poor brunette in 'La-La Land'; her eyes crossing and uncrossing; her long, spindly legs like limp spaghetti as Julie held her up with a handful of hair as she stared into Teri's blank eyes.
"Say goodnight, Teri!" Julie ordered.
To the delight of the crowd, Teri had just enough left to mumble, "Goob neigh Ter..." before she crumpled in a sweaty, bruised, topless heap of hurt on the dingy canvas at Julie's feet.
Julie strutted in a circle around Teri, then dropped to one knee and unfastened her loose bra, pulling it from around Teri's body. After using it to tightly bind Teri's wrists behind her back, Julie pulled Teri's thong panties down around her ankles, gave them a couple of twists and turns to tie her feet together, then she slapped Kim and Salma awake. Julie forced THEM to drag Teri around the ring on her chest, her tender breasts scraping and scuffing across the rough canvas. For the two weeping conspirators, it was a preview of the pain THEY would endure later at the hands of Halle and Naomi!
NOTE: As more episodes of Teri's Trials are made available, they'll be added to THIS file!