Madonna vs. Liz Hurley by Blizzard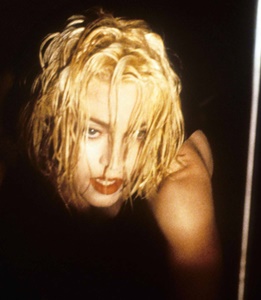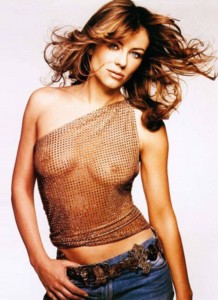 Madonna peered out a window of the Wiltshire, England home she shared with husband Guy Ritchie, although to call it merely a 'home' was a gross understatement; 'estate' far better described the lavish residence and surrounding acreage. It was a wonderful day for a walk along the numerous footpaths that traversed the 1000 acre estate, what with bright sunshine quickly warming the chilly morning air to a comfortable temperature as a taxi from town rolled up the long pea stone drive and stopped. The driver stepped from the vehicle and hustled around to open the door for his passenger, Elizabeth Hurley, who appeared with a helping hand from the driver. The long haired brunette Brit gazed around briefly to admire the well manicured grounds.

"Ain't she a beaut! And prompt, too!" exclaimed Madonna with a grin as she hurried to the majestic front door, threw it open and strode outside into the warm sunshine. "Welcome, Liz!" she greeted with a smile.

"Thank you, your Highness. The place is splendidly charming!" answered Liz.

"Your Highness?" giggled Madonna. "C'mon, we're all just broads here. Call me Madonna."

"We're off to a great start so far, aren't we Madonna?" asked Liz.

Madonna looked at the driver and flicked her hand, motioning for him to scoot.

"Two hours, Miss?" he asked.

"Yes, come back for me in two hours," answered Liz.

The uneasiness that had nagged Liz during the drive was quickly evaporating, much like the dew on the grass in the morning sun. She'd been surprised when she received the call from Madonna. The Material Girl explained she felt horrible about the way she'd treated Liz at the "Put Up Or Shut Up Club" in Hollywood. Emotions had run high at the Kate Beckinsale-Gwyneth Paltrow fight and Liz and Madonna had nearly turned it into a 4-way battle. But now, Madonna insisted Liz join her in Wiltshire so they could bury the hatchet, so to speak, and put that night of ugliness behind them. Liz too regretted her behavior that evening and she accepted the invite, albeit with some reservation. She wasn't convinced Madonna was completely sincere with the olive branch offering, but she felt the bleached blonde deserved the benefit of a doubt. As the taxi sped off, Madonna motioned for Liz to accompany her inside. Avoiding the inevitable subject of the tiff that prompted their meeting, they wandered through the estate house engaged in trivial conversation. They paused as Liz marveled at the view from the second story balcony.

"Why don't we go for a stroll," invited Madonna eagerly. "A little nature walk one of my favorite trails and clear the air." She surveyed Liz's outfit and smiled, "You're dressed appropriately for it."

Liz shrugged as she acknowledged the comment. Clad in a soft canvas shirt, tan shorts and flats, the Material Girl had a point.

"I wanted things to be casual," she explained.

"That outfit's perfect for a short hike," said Madonna. "The trails are well groomed so your shoes should be fine."

Off they went on their hike, Liz admiring the beautiful meadows they traversed before reaching the forest on the firm graveled trail. Before long, Liz heard the rushing flow of a stream that finally came into view when the trail dipped down a slope to run beside it. Madonna paused with Liz beside her, staring at the lazily swirling current of the chest deep pool before them.

"I realize emotions were running high the night of the fight," Madonna mused, gazing into the water.

"They certainly were!" agreed Liz, glancing at the bleached blonde.

"Words are spoken in anger in such situations," continued Madonna, suddenly turning to clap Liz firmly on the back. "Ya know?"

The fine hairs on the back of Liz's neck bristled as she muttered with some irritation, "Yes, without a doubt!"

Both women took a step back as they turned to face the other during the uncomfortable pause in the conversation. Finally, Madonna broke into a bogus smile as she stared into Liz's eyes. The long haired brunette smugly returned her false grin and chuckled.

"Now, you didn't REALLY mean all those terrible things you said that night….did ya hun?" asked Madonna icily.

As if on cue they both lunged at each other and their fingers twisted in the other's mane. They struggled back and forth on the gravel path as shrill shrieks and yelps echoed through the forest over the burbling sounds from the stream.

"You know I did, bitch!" hissed Liz as she fiercely yanked her rival's mane.

Madonna laughed crazily as they continued to grapple on their feet in an epic hair-pulling battle. The blonde's trail shoes with the aggressive tread dug into the gravel and gave her sure footing as she violently yanked Liz's hair. The brunette's smooth soled shoes slipped and skidded, causing her to bent at the waist. Madonna maintained her leverage, using Liz's long hair as she stepped to one side and drove a knee into the brunette's belly. Liz's feet left the ground briefly as she grunted in pain, her hands slipping from Madonna's hair as she instinctively clutched her belly. A follow-up knee lift to Liz's forehead immediately sent the yelping brunette reeling backward off the trail and sent her skittering on her ass over the plush moss-covered duff near the stream bank. Liz rose a bit too quickly, wavering back and forth on rubbery legs, in a head-spinning daze. Liz only vaguely realized her rival's rapid approach as she pitifully swung her arms, slapping wildly at the air in front of her trying to fend Madonna off to give her time to recover her senses.

"I KNEW you'd be pathetic!" laughed Madonna as she unleashed a wicked slap across Liz's cheek that staggered her to the side with an anguished cry. "You should see yourself!" teased the nasty blonde.

A burrowing punch driven low into Liz's belly sent the gasping brunette crumpling to her knees, then her head pitched forward and sank to the moss as she tumbled over and curled up in a groaning ball of pain. Madonna roughly yanked up Liz's head by a fistful of hair and then cracked her in the back of her head with an elbow strike. Liz grunted as her head was slammed back down into the damp moss. She rolled on her side moaning deliriously as she faded in and out of consciousness.

Madonna couldn't keep from grinning as she stepped behind the devastated brunette and rudely hauled her back up and held her in a kneeling position in front of her. Liz slumped back against Madonna's muscular thighs, offering no resistance as she drifted in dazed oblivion while Madonna leaned over giggling and tore open her rival's shirt, scattering buttons on the fertile soil. Madonna pulled the tattered shirt off Liz's limp body and dropped it on the ground.

"Come, take a look at my beautiful stream!" she invited.

Madonna grabbed two handfuls of Liz's hair and began to drag the moaning brunette across the moss on her belly. Liz's legs thrashed weakly as she was pulled to the edge of the stream. She saw her reflection in the pool as Madonna worked her head over the edge of the bank. Liz's eyes widened as she felt Madonna's hands tighten their grip on her hair, then………..she shrieked as...

SPLOOSH!

Her face was plunged forward into the icy water where it was held submerged by the cackling blonde. Liz's arms flailed wildly for a moment, then she began to throw blind elbow strikes back behind her in hopes of landing a lucky blow. Madonna yanked Liz's head out of the stream and immediately Liz connected with her elbow to the Material Girl's shin.

"Owww!" winced the blonde in an aggravated tone.

Liz smartly grabbed Madonna's near ankle and gave a sharp tug. The blonde cried out in surprise as she lost her footing and plopped on her fanny beside Liz. Both women scrambled back to their feet, Liz with her back to the stream and Madonna several feet away facing her. The brunette snarled and cocked her fist, "You devious little skank!" Then Liz lunged forward, but Madonna pivoted on her heel and came up with a quick, accurate side kick that SLAMMED Liz between the bra cups and sent the grunting woman flying backward through the air. With a spectacular splash, Liz landed in the water. After a couple of seconds, she broke the surface sputtering and gasping for air, stanind in the waist deep water.

Madonna snickered as the bewildered brunette struggled to get back to the stream bank. Liz slipped and slid as she clambered back onto land but as soon as she had her feet under her, she launched another haymaker at the approaching blonde. The slick soles of Liz's shoes skidded on the wet moss and she groaned as she stumbled and fell to her knees, negating the intended punch. Madonna laughed complacently and held her stance as Liz angrily struggled back to her feet. As soon as the brunette was up, Madonna rudely shoved her, sending her for another dip in the stream!

"Woo-Woo!!!" taunted Madonna smugly. "Just kicking ass and takin' names I am!"

Liz was beside herself with rage as she splashed her way to shore, screaming, "YOU FUCKING CUNT!"

When Liz again had scrambled up onto dry ground, Madonna was there waiting for her. She wrapped the chilled, dripping woman in a side headlock before Liz had straightened up. Liz cursed and beat and slapped at Madonna insanely with her free hands as Madonna wrenched on the hold, violently yanking Liz's head up and down. The brunette clawed and gouged her blonde rival's arm as she was pulled away from the stream toward a tree. There, with a grunt, Madonna slammed the top of Liz's skull against the trunk, jarring the brunette and making her cry out sharply as her knees buckled.

"I am so glad..." hissed the blonde as she rammed Liz's head on the tree again. "...you accepted...." she continued, delivering another teeth-rattling head slam that dropped the dazed, yelping brunette to her knees, "...my invitation to slaughter!"

Madonna roughly threw the groggy Liz over backward, watching her sprawl on her back with a devastated moan. Liz was on the verge of passing out and was completely defenseless when Madonna slid Liz's shoes off and unfastened her shorts with a devilish twinkle in her eyes. Then she peeled the soggy shorts off her limp rival to expose a pair of soaking wet white silk string bikini panties that were now translucent.

"Let's have a look at you!" teased the blonde as she knelt and hauled up on the waistband of Liz's panties to peek at her snatch. "Well now, that ain't a bad lookin' gash at all!" she exclaimed, giving Liz's mound a comforting pat.

Liz could only muster a soft moan as Madonna worked her panties down her legs and off, leaving her completely naked save for a soaking wet bra. Madonna got to her feet and untied her trail shoes, slipping them and her socks off. Next, she whisked her windpants over her hips and down to her ankles, exposing a thick, dark, lush bush.

"But feast yer eyes on this beauty!" she announced.

Liz's eyes stared upward vacantly, unable to focus in her battered condition. Her blonde adversary played with herself briefly, her fingers dipping briefly into her slit as she teased her hardening clit. "Now, lemme give you a closer look...you're not really paying attention," Madonna sighed as she stepped out of her bunched up nylon pants and pried apart her swollen pussy lips, giving her thunderstruck opponent an X-rated view of her pleasure palace. "You've met the stream.....now say 'Hi' to the beaver!"

A feeble whimper escaped Liz's lips and she made a desperate attempt to roll away but Madonna caught her shoulder and aggressively forced back onto her back on the ground. As Liz writed, Madonna dropped to her knees pinning Liz's shoulders to the soft ground with a well placed schoolgirl pin. Liz squirmed ineffectively as she raised her legs and kicked her feet, trying to buck her tormentress off. Liz cursed when her attempt to dismount Madonna only bounced the blonde and slid her pussy even nearer her red face.

"Be patient, princess, I'm gettin' there!" teased Madonna, giving Liz's cheek a pinch.

The blonde caught Liz's clawing hands, secured them by the wrist and grunted as she wrestled them down and pinned them to the ground. She wisely refrained from immediately placing her vulnerable pussy on Liz's face for the brunette was starting to revive and she wasn't happy! Madonna bounced her ass off the brunette's chest with breathtaking force and Liz groaned as she felt the brunt of her body weight, then gasped out loud when Madonna drove her ass down heavily into her stomach. Madonna continued her bouncing assault and she resembled a rodeo rider on a pissed off bull as she bounced on Liz's torso with overwhelming force as she giggled wickedly.

After giving Liz a final squash, Madonna paused and looked down at her breathless, grimacing rival, her eyes twinkling with delight. She'd come to rest back in the schoolgirl pin position and shifted her weight to one knee while drawing the other back away from Liz's face. The pinned brunette was jarred by a sideways knee to her jaw that snapped her head to the side and left her dazed and her mind reeling again.

Deciding Liz was sufficiently softened up, Madonna eased forward on her knees as she twisted the brunette's face back toward her, then plonked her tingling cunt on Liz's face. Madonna immediately moaned as her engorged clit responded to the touch of Liz's lips. The brunette had been rendered defenseless by the ass splashes and knee strike and her resistance to Madonna's inspired thrusts was both modest and futile. In less than a minute, Madonna's furious face scrubbing had her squealing and chirping in an intense climax as Liz's slack body jiggled and wallowed beneath her, the ripples coarsing through Liz's body keeping pace with Madonna's hip thrusts.

"Well at least you're good for SUMTHIN'!" sighed the quivering blonde as post-orgasmic electricity shot through her satisfied body. "I was beginning to doubt it!"

Madonna sighed heavily and shivered, enjoying the fleeting pleasure of her indulgence before getting to her feet. Liz was barely conscious, her only reaction to Madonna's rising were sporadic soft whimpers as she lay with arms and legs akimbo flat on her back on the damp ground. Madonna grunted as she hauled the Liz's limp body to a seated position, then with two fistfuls of long brown hair she pulled Liz to her feet. The exhausted, beaten brunette barely had the strength, let alone the desire, to stand and Madonna slowly eased Liz back to the edge of the stream holding her with an arm around her waist like a mother guiding a child taking it's first steps. She held the teetering brunette steady, put one hand between her bare breasts and then stepped into a powerful right cross that took Liz flush on the point of her chin. The dark maned woman cried out briefly, then her cold-cocked body toppled backward into the stream with a tremendous splash.

"Damn!" winced the Material Girl as she rubbed her knuckles and shook her hand in pain.

She looked at the floating and obviously unconscious Liz and muttered, then splashed into the stream where she gathered Liz's hair in her hands and dragged her unconscious body back to the bank of the stream.

"I'd love to leave ya here for the trout to nibble on, but that'd be a little extreme, wouldn't it?" she joked. "Besides, the Bobbies hereabouts are notorious for not having a sense of humor about dead Brit models."

Leaving the semi-conscious brunette face down on the bank with her legs still in the stream, Madonna gathered up Liz's clothes. The groggy Liz looked up just as Madonna dumped all of her clothing into the stream and watched as it floated away on the current.

"W...w...what...the HELL...am I s...supposed ta.....do now?!" mumbled the punch-drunk brunette as she struggled to her feet, staggered and swayed unsteadily on rubbery legs. "I can't take a taxi back....to....t...town naked!"

"Then go get 'em.......NOW!" ordered Madonna nastily as she stepped toward Liz who cowered and backed into the stream until she was knee deep. "Hell, you can swim downstream to the road, bitch!" said Madonna. "That taxi should be coming up the road for you in another hour or so. That'll give you time to dry off while you wait."

Liz spat with anger and took a few steps toward shore, raising her claws.

"Come on, bitch!" taunted Madonna menacingly. "It's your choice......another beatin' or a nice leisurely swim down to the road."

Liz hesitated and looked at the cocky blonde briefly, then turned and looked back over her shoulder to see her clothes sinking out of sight on their way downstream, "You crazy fucking SKANK!" Liz turned to wade after her clothes, muttering, "I'll get you for this!" She waded downstream until she was forced to swim. Madonna cackled as she watched the brunette dive underwater briefly only to surface empty handed. Two more dives still produced no clothing and Liz glared at her amused rival as she treaded water mid-stream. "I can't find my clothes, DAMMIT!" she screamed.

"Keep lookin' sweet cheeks!" replied Madonna as she finished dressing. "They're in there SOMEWHERE!" Then she headed back to the trail but paused and waggled a finger at Liz who was watching helplessly. "Don't dilly-dally creampuff......you may miss your ride!"

Madonna strode off up the trail toward home giggling at Liz's vehement cursing and splashing as she frantically searched for her clothing as the blonde put more distance between them. It was nearly an hour later when Liz reached a bridge where she climbed out of the stream at the base of a steep incline to the road. She'd failed to find a single stitch of her clothing, and had painfully decided she had to make it to the road in time to intercept her taxi. Actually, she wasn't convinced that she wasn't already too late. Save for her soaked-through bra, the brunette was totally naked as she grunted and groaned, crawling on hands and knees up the steep hill toward the road.

Just a she reached the top, Liz heard a vehicle coming. She stood at the edge of the road ready to flag down the taxi, but groaned when she saw a car speeding up the road in her direction. It wasn't her taxi, but at this point she needed to hail anyone who'd take her back to town.

"I hope you've a goddam blanket or something!" Liz muttered, holding one hand over her bush as she waved frantically with her other. "Help me! Please!"

The car rocketed up the road, then suddenly veered toward her. Liz froze momentarily as the car closed in on her without slowing. At the last second Liz screeched and flung herself out of the way, tumbling head over heels back down the steep bank and back into the stream.

KER-SPLASH!!!

Liz bobbed to the surface and cried out, her naked body newly scarred with several deep cuts and many abrasions. With her heart racing from the near disastrous collision, she slowly and painfully clawed her way back to the stream bank. Groaning as her sore and battered body made it's way out of the stream, she heard the car up on the road backing back towards the bridge.

"Stay outta the road ya dumb ass!!!" screamed Madonna out the drivers window after screeching to a halt at the edge of the road. "You tryin' to get killed or what?" Liz glared angrily up at the blonde who was leaning out the window of the car with a sinister smile pasted on her lips. "And put some fuckin' clothes on, ya HUSSY!" added Madonna with a raucous laugh as she chirped her tires on the road and roared away, honking the horn several times. Liz screamed in anger and cussed like a sailor as she slipped and slid, climbing the whole way back up the steep embankment to the road. She hoped her taxi had yet to come....and as she waited in the bushes, she promised herself the blonde bitch would regret this day....someday!