Match #1: Rocio Guirao Diaz vs. Brooke Burke by Jack Fac

It had been a 'fun day' for the actresses and models along with the 'talking heads' at the charity baseball game which was followed by a cookout at the beach in Southern California. The hitting and fielding star of the game had been Rocio Guirao Diaz the Argentine model who had slammed two long homers off Julia Roberts left handed deliveries. At game's end Rocio had sealed the deal with a stunning running one handed catch of Brooke Burke's vicious liner which had been hammered into the right center gap. Rocio's nabbing of this shot brought Brooke to a dead stop in mid stride between first and second as the stands erupted with cheers of "Rocio! Rocio! You the gal."

Brooke Burke's foot softly pawed the ground as she stood there head down while the frenzied crowd lifted Rocio on their shoulders. Diaz was smiling and grinning down at Brooke as she hurled a small taunt Brooke's way.

"Tough being a loser there honey. Try pool or something else. By the way, I think I got your old man's woody up in the stands over there. I think he even cheered for me!"

Brooke was enraged by all this dissing. "Get off those shoulders you little slut and I'll kick your smart ass.' 'You're nothing but a braggart and a loudmouth."

"Prove it!" challenged Rocio rising to the comment.

"There's a boxing ring right here on the beach," replied Brooke. "How about three rounds for charity?"

"Oh it won't take me three rounds to hammer you down there sweetie," taunted Rocio.

Naomi Campbell took all this in and volunteered to ref what appeared to be a 'barn burner' of a fight. So what we have is a pre-cookout boxing match. Rocio is decked out in her brown thong with both cheeks of her luscious ass showing. Brooke is in a blue thong.

Round One- Rocio is a swift and nifty boxer and slams Brooke hard with a volley of body shots. "Just the start there Mommy dearest," announces Rocio. Brooke fires a hard right to Rocio's left cheek but the Argentine deflects most of this and answers with more body volleys. Brooke bends to this punishment. Rocio then hits Brooke with a combination which sends the tall brunette down on her ass. The place is really loving the performance of this young aggressive Argentine against the 34 year old Brooke. Burke regains her feet and is glassy eyed already. Rocio fakes a straight right and wallops Brooke hard with a left hook to the jaw and Brooke falls again. Only pride brings Brooke Burke back to her feet as the bell sounds for the end of the round which Rocio has totally dominated.

Round Two- Burke has been counseled by former loser and manager Melanie Griffith to force the fight and get Rocio to exchange punches in mid ring. This strategy is employed immediately by Burke who motions Rocio to center ring with the chant "let's see who has the real firepower you chicken shit clown." Rocio isn't found wanting. In the ensuing exchange she batters Brooke's face continually with combinations and continues to evade any real counters from Burke. Rocio's right once again floors Brooke as she rolls hard on her ass as her long legs cartwheel over her head. Burke is being badly outclassed but won't admit it. She clambers once more to her feet and manages to nail Rocio coming in with a left /right of her own. Diaz backs up but then quickly retaliates with more body shots which again have Burke's face contorted with pain. Burke is half out on her feet and stumbles back to her corner at the round's conclusion. Rocio wheels around on her heels with her gloves held high as she's won the second round as well.

Between rounds- Melanie Griffith is imploring Brooke to quit and throw in the towel. "No way" snarls the stubborn Burke. Kelly LeBrock, Melanie's conqueror from two past bouts, observes this and throws her head back in laughter. "Having YOU as a manager all but GUARANTEES that someone will get their ass beat,"' chides Kelly.

Burke doesn't like hearing this from the former WOMEN IN RED.

Round Three- They touch gloves as a swollen faced but defiant Brooke Burke looks at her torturer Rocio Guirao Diaz who is smiling a sexy smile for the male onlookers. Rocio snaps back Brooke's thong and then brazenly rips it off of her.

"I'll need this to drag your bare ass around the ring in a few minutes," she tells Brooke who is now only in heels and with little hope. The blows from Rocio, who has draped the thong on the ropes for now, come harder and faster as Brooke is backpedaling as best she can but cannot win with this maneuver. Rocio claims Brooke as her boxing victim with a big left hook which buckles Brooke's legs as Rocio's final right slams her senseless body violently into the ropes. Burke's arms drop to her sides and she pitches forward on her face as her legs splay out and her right arm is over her head and left is at her side. Campbell could have counted to one thousand over Brooke's battered/beaten body.

Rocio lets the count end and then grabs the thong and ties it to Burke's ankles. She also undoes her own and uses that too as she parades naked around the ring dragging Brooke behind her. Rocio enjoys her post fight steak and wine with Brooke's husband as Burke is laid out for the night on a cot. Brooke does not come after Rocio the next day when she finds out that the Argentine has not only beaten her on the ball field and in the ring but also on the 'domestic side' shall we say.
******
Match #2: Linda Kozlowski vs. Halle Berry (V) by Jack Fac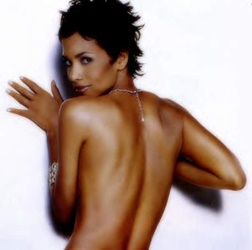 Linda and Halle had competed in the ring four times with each winning twice. They'd also gone against one another in basketball, beach football and running. Decidedly Halle was the faster opponent both with her fists and her feet as well. Basketball one on one had been her big domain over the slower and vertically challenged Kozlowski. Halle reveled in rejecting Linda's shots time after time while easily soaring over the blonde for uncontested scores. Still, Linda was a plodder and pursuer and never could be counted on to quit.
Their very first boxing match had ended in a stunning knockout for Kozlowski when things seemed to be going against her. Linda had also beaten Halle in a kickboxing match with Berry dressed as the 'Catwoman.' Two other times Halle had defeated Linda and in 2005 Kozlowski decided to 'retire' from the celebrity boxing, ceding the stage to Halle and others. During this lull Linda and Halle had met numerous times for lunch and dinner and developed into good friends, still, even with the friendship there was a tension and both wanted another shot at the other.
Linda broke down first, "Halle I have to admit I miss the adrenaline rush I used to get when we faced each other."
"Me too," gushed Halle as she touched glasses with her old foe. "You thinkin' what I'm thinking?"
"For sure," came the reply from Linda. "I think I can still take you too even though I'm jumping at 50 in the next couple of years."
"Ain't gonna happen that way Linda," smirked Halle. "I'm just gonna have to nail your ass once and for all and close you down Ms. Dundee, ain't I?" remarked Halle.
"I'm ready to go any time Halle…and you'll be berry, BERRY, sorry," laughed Linda with one of her really corny lines.
"California or New York?" snapped Halle angrily.
"I'll arm wrestle you for it," came Linda's answer.
They locked hands and Linda's shorter more powerful arm had the stronger grip and she beat Halle in front of quite a few other diners who were impressed and applauded her.
"That's only the start folks!" announced Linda. "Next month this gal is going to be lights out on the canvas courtesy of yours truly."
Halle was incensed and she quickly stood up with her hands on her hips and snarled at Linda, "You're the one who's gonna be damned sorry for this bullshit showboating and you'll find that out."
"Sure, sure," chuckled Kozlowski as she made it official that Madison Square Garden in the Big Apple was where they'd have it out.
The next month was fight night and Linda arrived in the ring first in her dark robe and flips it off to reveal a hard body in that great brown thong from 'Crocodile Dundee'. Linda's legs are in superb shape from many miles of road work.
Halle arrived wearing her 'Die another Day' bikini and the crowd loved the outfit! Pierce Brosnan sits in the stands near Halle's corner as part of her rooting section and Elke Sommer is the ref.
As they're introduced Halle suddenly grabs Linda and kisses her full on the mouth while running her gloves over Linda's bare ass cheeks.
"I like your man Hogan, blondie; he's mine after I knock you out!"
"Don't bet on it!" smiles Linda. "By the way, you just kissed your ass goodbye in case you didn't know it."
"Get fighting ladies," orders Sommer, struggling to contain her giggling.
Round One- Halle is using the ring with her quick feet and is feinting Linda effectively as she delivers a vicious right to Linda's midsection. Linda K. backs up and then plows in with a volley of her own. Her blows are sharp and on the mark forcing Halle to back up. Linda jackhammers Berry hard with a jaw shot which causes the tawny star's legs to quiver just a bit. Berry retaliates with a flurry of head shots which rock Linda. Those quick Berry hands are scoring points. Linda tries cutting off the ring to her advantage but Halle knew she'd do that. Halle had trained with Samantha Fox who also is built compactly and is strong but a plodding type. Berry finishes the round with several more good head shots to Linda and claims the first round on all cards by a slim margin.
Round Two- Linda must force the fight and knows it. Berry is dancing and looking for an opening. She attempts to pick off Linda's left hook but Linda then fires a great right cross behind it which slams hard into Berry's jaw. This blow sends Halle flying across the ring and down hard on her ass. She is back on her feet at six but her eyes are a tad glassy. She is trying to focus on Linda's midsection and attempts a body shot combo which Linda blocks and uses her harder punching power to punish Halle Berry with brutal shots to the solar plexus. Berry is in pain and looking to avoid more during this round. The blonde is pursuing her near the ropes and not letting up. Her strategy of forcing the fight is paying off very well. Kozlowski floors Berry again with a left hook. The darker fighter falls again and appears in trouble. It's questionable whether she is even competitive now. Halle's legs are rubbery as she gets up at eight. Linda rams her hard to the gut once more as the bell sounds. That was Linda's round all the way.
Round Three- Berry is confused and hurt as her corner gal Toni Braxton exhorts her to use her combinations and foot speed. Kozlowski does not let the momentum in her favor go away. Linda batters the wavering Halle Berry mercilessly all around the ring and slams her down once again with a right cross. Halle is on her knees trying to get back up. She is barely on her feet at eight when Linda wallops her with a left hook which drives her body backwards as she falls on her ass as her legs splay up in the air. Halle lies motionless now on her back with a swollen face as Elke Sommer counts her out and raises Linda's gloves. Kozlowski can now go out a solid winner over her nemesis of a number of fights.
The sequel- Halle throws a huge victory party for Linda Kozlowski who she declares her 'all time conqueror.' They kiss again on the dais and Halle raises Linda's right hand, then bows to her in signaling her total defeat.
******
Match #3: Oprah Winfrey vs. Joan Van Ark by Jack Fac


It was the week of the L'eggs Race in Central Park in NY and Oprah's show was being broadcast from the big apple that week. The day before the race Oprah had several well known guests on her stage including Joan Van Ark, Martina Hingis and WNBA point guard Sue Bird. All were going to compete in the race. Sue and Martina quickly showed a dislike for one another. "Everyone knows that basketball is the most grueling of all games" announced Sue. "Don't think so Bird girl" was Martina's rejoinder. "Ever try playing five sets of tennis?"
Bird pushed this off as so much blabber. "Once I finish people like you off tomorrow then we'll see who's got the conditioning now won't we there little Swiss Miss?" Sue liked her own rhyme and clapped with glee. "Looks like you're your own best audience there dribble girl," laughed Martina. "I'll beat your ass and you heard it here folks."
The audience was loving the exchange. Next Oprah chimed in about Joan being, "…an old, over the hill babe who was going to be a good sport and run to show that old broads like her wouldn't topple over."
But Joan had her own reply, "Bet this OLD BABE snuffs your ass, Ms. Self Important."
"You got a bet!" replied Oprah who then playfully pushed a box of Depends at Joan as a major diss before commercial break.
Sue and Oprah skulked off the show while Martina and Joan were joking with each other when it ended.
"Good luck tomorrow partner" Martina said to Joan. "Kick her ass!"
"Bet on it gal!" said Joan as she playfully pushed Martina's shoulder.
Race Day- The four celebs have attracted lots of extra attention with Central Park overflowing with onlookers. In front of the pack all through the race Martina and Sue were swapping first place. Now it's the last 1/4 mile of this 5 mile race and both runners let it all hang out. Sue is burning pavement for all she's worth. She sees the finish line looming up and glances over her right shoulder but Hingis isn't there.
"Look over your other shoulder, numbie," chortles Martina.
With that she blows by the jaw dropping Sue Bird and beats her over the line by about 20 steps. Martina's arms fly up in victory as her tennis buddies envelop her in their arms. She's beaten the basketball player. Sue's WNBA pals of the Seattle Storm are shocked. Several minutes later a similar scene occurs, but this time it's Oprah and Joan. Oprah is plowing along although Joan is right on her heels.
"Let's see that kick, fat ass," is Joan's challenge.
Oprah is all but out of gas. Joan isn't and she beats Winfrey in the upset of the day. Joan's hoisted up as the 55+ winner and Martina runs to Joan and embraces her warmly, then gives the surprised blond a long, hard kiss on the lips. Sue and Oprah are walking around with hands on hips muttering. Oprah heads towards Van Ark. Joan reaches out with her right hand to shake, but Oprah isn't in a friendly way at all. She shoves Joan and snarls, "You must be on 'roids."
"I'm not, fat ass, but I think you probably ARE judging from the size of your butt."
"I'm gonna kick YOUR butt, you old bimbo," is Oprah's comeback.
"Let's box, OK?" challenges Joan, wary of getting into a wrestling match with the much heavier woman.
"You got it!" says the confident Oprah.
Two weeks later they meet for 'Van Ark vs. Winfrey' with the celebrity referee Elke Sommer. Twenty thousand fans jam Madison Square Garden to greet Van Ark who proves she still has those great legs when she sheds her robe. But Oprah looks in trim herself and Graham Steadman, her steady, is at ringside among the many rooting for her - and putting down major $ that Oprah will shut the old broad up once and for all.
Round One- Oprah scores a solid right to Joan's chin driving her backwards but Van Ark's legs keep her up. Joan evades the left hook which flies at her head and delivers a series of hard body shots to Oprah's exposed gut.
"Got a fat gut too there lard ass," laughs Joan. "You're soft as butter Winfrey. Slow too…"
Oprah chases the taunting Van Ark. She swings combinations that hit only air. Joan skillfully counter-punches the charging sweaty Winfrey and decks her with a left /right. Winfrey falls hard on her ass as the crowd is on their feet. She gets up huffing and puffing wildly and again spends lots of energy as Joan slams her with a right cross. Oprah's legs are buckled as the bell sounds. Winner of the round is Joan Van Ark.
Round Two- Joan is circling the pursuing but ineffectual Oprah Winfrey. She's handing the talk show host a good head drubbing with scoring jabs around Oprah's eyes which are now swelling. Joan hammers Oprah to the canvas once again with a fierce left hook. Winfrey is looking confused and glassy eyed.
"Give it up doll" shouts Steadman.
"No way, no how" is Oprah's reply. "I ain't who I am by being a quitter."
Joan slams Oprah even harder with a harsh right to the midsection, then rams home a left uppercut and Oprah's legs are tottering. Oprah's stumbling around the ring. She does a full 180, right back to Joan who clobbers her once more with a devastating right to the jaw.
Oprah's senseless body flies back into the ropes, bounces off and crumples face down on the canvas with her right hand extended over her head and her left at her side. She doesn't move as Joan Van Ark parades over to her fallen victim.
After: There's no 'victory drag' by Joan as she's too tired to lift Oprah's weight. Instead she simply plants a stiletto heel on Oprah's quivering ass as she raises her gloves and poses while flashbulbs keep on a poppin'. Martina rushes the ring and picks the older Van Ark up and it's pandemonium at the Garden. Sue Bird frowns as she watches Van Ark and Martina celebrate.
"I challenge you, Swiss Miss," Sue yells.
"I accept chicken…oh, I mean Bird lady," is Hingis' reply.
******
Match #4: Martina Hingis vs. Sue Bird by Jack Fac


Martina Hingis had been issued a challenge to a boxing match by Sue Bird. Bird had lost the L'eggs mini-marathon to Martina and was infuriated by that. Each had been on the Oprah Winfrey show several weeks before and had engaged in an argument about whose sport was the most grueling.
The tale of the tape: Hingis 5'7" and 130 lbs.; Bird 5'9" and 150 lbs.
Before the fight, Sue and Martina both appeared on the Leno show together and each got in a few pointed barbs. Bird allowed that she'd been beaten in the foot race but claimed Hingis was lucky.
"Well you were real lucky to get a flunky opponent like Elizabeth Berkley to beat up weren't you Bird girl?"
"Look, I'll face you at your basketball game half-time like the flunky did OK?" said Martina.
"SURE!" was Sue's cocky reply. "Music to my ears. You're dead meat in front of my crowd Swiss Miss."
"I won't MISS hammering your eyes shut," shot back Martina.
A month later finds the two women in Seattle, Washington. 'Stormin Sue' is in her red, white and blue bikini with heels for the fight. Martina is in her tennis panties and she draws lots of oohh and aahh as she parades to the ring. Hingis looks ready! Naomi Campbell is interested in this fight as she has Sue in her stable on a continual basis having knocked out Bird awhile back. The tall, dark and glamorous hot tempered runway model thinks knocking out Martina might be next on her agenda.
Meantime it's fight time for Bird/Hingis and venerated veteran Sue Ann Langdon is the referee.
Round One: Bird connects solidly to Martina's jaw and it rocks the tennis gal but does NOT put her down. This was Sue's best right hand shot and she's chagrined to see 'Swiss Miss' still upright. Martina dances swiftly and counters with a flurry of body shots which cause Sue to slightly crumple in the middle. Martina is using her speed and superior footwork here. She slams Sue viciously with a left hook and Bird's legs buckle. Martina jackhammers the Stormin one with a rapid volley of body blows and Sue is wincing a great deal. Bird FALLS to the 'Swiss Miss' left/right combo as the crowd is rocking. She's up and Martina is pressing this so called battle. Hingis delivers good shots to Sue's face and the WNBA gal's face is getting puffy and swollen quickly.
"Let's see who does GRUELING now you big mouthed dribbling no producing clown" snarls Martina. She mercilessly fires shot after shot at Sue's head and Bird is badly hurt. The bell rings to end the round.
Round Two: Sue's corner has worked on her but she's glassy eyed and confused. "C'mon toughie come and get it" teases Martina. The slightly taller heavier Bird is able to connect again with Martina's jaw but the power isn't there. Bird's arms are weary and so is she. Hingis slams Bird once again to the canvas with a right cross. Bird is on her knees and struggling.
"I give Martina, you win…you win," she wails.
After: But Hingis is in no mood for mercy. Bird has pushed herself up on one knee and it's then that Martina whips a right uppercut to Bird's jaw. Sue's head snaps back and she falls. It's over. Martina is feted by many after the fight including her new pal and mentor... Joan Van Ark. Hingis awards Sue's bikini to Joan as a sign of her victory. Bird lay naked in the ring for 1/2 an hour after the crowd filed out. Even Naomi left her there in disgust.
******
Match #5: Katie Couric vs. Marg Helgenberger by Jack Fac


"Welcome to the network katie!" read the banner above the entrance to the Four Seasons restaurant in NYC where the CBS suits were anticipating a warm greeting for Katie Couric as they held a special welcome dinner for their newest "star." Among the invited guests were Marg Helgenberger ('Catherine Willows' of "CSI" and her sidekick Jorja Fox.
During the cocktail hour it was obvious that Katie was going to be less than welcome if Marg had anything to do with it. Helgenberger was burning with resentment over the large contract Couric had gotten to be 'nothing more than a talking head' in her words and those words had reached the ears of Katie. Katie confronted Marg halfway through the cocktail hour and laced into her vehemently. 'So you got a bug up your skinny ass over my contract do you' she snarled. Marg responded with a self assured cool smile and replied 'nice to see you to you ditzy broad'. 'Next time you want to talk to me see my agent'. Couric immediately grabbed Marg by her lapels and had to be restrained by the CBS execs who were both alarmed and also thrilled by this instant rivalry of these two. 'I'd like to fight you actually' said Marg 'and the sooner the better.' 'We'll just see who'd the Queen of this network.' 'Oh you got it you flagpole sliding bimbo' replied Couric referring to Marg's early background as a stripper on the show. The CBS suits arranged a bout at Madison Square Garden for the following week during early July as each would have a chance to recover from any bruises etc. before the Fall season kicked in.
Two weeks later. Madison Square Garden with thousands there including former Mayor Guiliani and current Mayor Bloomberg. The place is a hotbed of betting and there's great anticipation. Marg comes into the ring first and slips off her robe and looks blazingly hot in her black thong and stiletto heels. Katie had total drop dead legs in her red , white and blue bikini brief. She also has the stiletto heels. The ref is 'Downtown ' Julie Brown who wants a piece of both of these gals.
Round One- Marg gets off some great left jabs to Katie's face and is slipping punches skillfully. Katie pursues her though and slams the redhead with a hard right to the midsection. 'Now THAT'S power you flunky' laughs Katie as Marg grimaces. Katie's lambastes Marg harder to the body and sends her reeling back on those long legs. Marg tries to counter with a long right but it's neatly blocked by Katie who punishes the 'CSI' star with a flurry of face shots including a brutal right cross to the jaw which sends Marg's head sideways as sweat flies in all directions. Katie is dictating the tempo of this fight and doing it well. She hammers Marg mercilessly with another series of body shots and floors her with a terrific left hook. The Garden crowd is up on it's feet. Julie Brown counts to four as the bell sounds. Marg stumbles back to her corner on rubbery legs and Jorja Fox, who is working as Marg's corner gal, admonishes her to "stick and move, use your jab."
Round Two- Marg has regained her senses and begins slamming Katie back with long left jabs. The dislike each has for the other is reflected in their trading shots at mid-ring. Marg is looking better now and scores a wicked right to Katie's jaw which rocks the ex Today show hostess. Couric is stunned but does not fall. Her strong legs hold her up as her knees buckle ever so slightly at the force of this right cross by Marg. Helgenberger is somewhat bothered that her SUNDAY PUNCH did not floor Katie. Couric comes inside to the redhead once more and delivers solid and punishing body shots. Marg's arms are starting to droop and it's obvious that some of the fight is going out of her. Katie roars in and connects viciously once again to Marg's jaw and the CSI gal again is floored as the cheeks of her ass roll on the canvas and she looks up with some fear at the grinning and confident Katie Couric who is looking and behaving like a dominant fighter and wins this round as well.
Round Three- They touch gloves and it is evident that Marg's face is swelling badly. Katie has a small mouse under her right eye but Marg's face is turning purple from the continual pounding Katie is handing out. Katie jackhammers the floundering redhead with a left/right combo to the body. Marg's legs buckle as she doubles over. Katie's uppercut right hits 'nothing but net' as it cleanly connects with Marg's exposed jaw. She stumbles back on collapsing legs toward her corner, but suddenly drops and as her knees hit the canvas her legs splay out. Just before her face slams into the canvas, Marg Helgenberger completely loses consciousness.
Katie Couric has taken Marg down and the place is pandemonium. Both the ex and current mayor of New York are thrilled to see the sexy little blonde dominate and beat the "big bad redhead."
After Julie Brown counts Marg out, she asks Katie if she would like to drag the CSI star around the ring as it is her right.
"Naw, why don't YOU drag her ass!" laughs Katie.
'Downtown' takes this as a bit of a put-down and immediately issues a challenge of her own. "Look hotshot, you might be something right this minute but I'll kick your silly ass any day of the week and twice on Sunday and I WILL DRAG YOUR ASS around the ring like I've done to many of the losers here in the audience."
Couric looks down at see celebs like Diane Lane, Rachel Hunter, Liz Hurley, Jennifer Love Hewitt, Kim Cattrall, Jamie Lee Curtis, Lucy Lawless and Daryl Hannah - all of whom had not only been beaten, but dragged by Julie Brown. Teri Hatcher was also there, another of Julie's victims.
"I'm not impressed by those flunkies," hissed Couric. "I'll face you next"
"Bank on that," Julie sneers.
"Not only will I beat you," Katie boasts. "But after I beat you, I'll have you on my show with your shades on because your eyes will be swollen shut for sometime - just like big Red there," Katie says as she kicks Marg's ass with her foot, setting the soft flesh jiggling.
Then Katie takes the microphone and announces to the crowd that she and 'Downtown' would fight "…in due course" and there's a thunderous roar of approval at the news.
Marg's body remains motionless during this exchange until Jorja Fox finally brought her around with smelling salts. As she looked up at the muscular Katie Couric, Jorja thought, "This woman has arrived as a fighter to be reckoned with."
******
Match #6: 'Downtown' Julie Brown vs. Marcia Cross by Jack Fac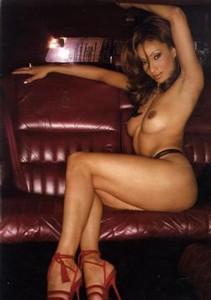 Julie Brown had been dissed to a faretheewell by the 'Desperate Housewives' star and was itching to get it on with her. The interview Julie attempted to do with Marcia had been dismissed with a wave of the back of her hand by the smirking redhead.
"Get lost you coked out bimbo," laughed Marcia. Cross's housewives pals Longoria and Hatcher, the latter a past victim of Julie's in the ring, chuckled along with Marcia. Brown leaped into Marcia's face.
"Put up or shut up bitch" snarled Julie.
"Oh actually I'm going to put you DOWN" remarked Marcia.
"Got ya!" chuckled Julie. "Now your flat ass is mine."
Their confrontation had taken place in a celebrity restaurant in downtown LA where the tension was so thick it could be cut with one of the establishment's steak knives. Once her challenge had been accepted, Julie hurried back to "Jill Hennessy Enterprises" and told her boss, Jill, what was in the offing since she always needed her blessing for any fight.
"Good choice of vic, Julie" said Jill. "You need to work out more though. You're getting a little soft around the middle. Get in the sparring ring with Kelly LeBrock in the morning and do some heavy bag work too."
"Yes Boss," was Julie's reply.
"Best you win too," sneered Jill. "I'm putting some big bucks on you with the investors. You cost us some dough months ago when that Minnillo babe kicked your ass. You were an embarrassment. Don't repeat that performance if you know what's good for you and your position here," continued Jill.
Two months later Dodger Stadium was packed to overflowing for the highly-touted fight. Julie marches in first and heads through the ropes and into the ring. Off comes her purple robe to reveal her solid legs in that trademark purple thong. Cross struts in next and strips off her fur coat and is in red bikini briefs and red heels. Marcia looks stunning! Jill St. John has been hired to referee and she's decked out in purple hot pants and a striped ref's shirt tied snug under her bulbous breasts.
Round One: The dislike of these two is obvious to all as they immediately trade head shots in mid-ring. Cross's shots are sharp and snap Julie's head back as sweat flies from her hair. Marcia connects with a solid body attack and drills Julie's midsection viciously with unanswered blows. Brown is groaning already and her knees buckle. Marcia is gloating as the bell ends this round mercifully for Downtown. The tawny vixen is hurting badly.
Jill Hennessy sticks her head through the ropes in Julie's corner. "Get inside her arms you dummy, she's kicking your ass! You lose and I'll be jacking your buns big time."
Round Two: Marcia is moving away from Julie, frustrating Downtown with her great footwork. Marcia is into a boxing mode for the moment and is delivering great combinations to Julie's face which have the effect of closing Julie's left eye. Julie Brown is in trouble. Marcia Cross floors the talking head with a brutal left/right combination. Julie's ass hits the canvas as the crowd roars. The redhead is in control and wins this round too.
Round Three: Julie needs to find something to pull this out and she begins to force the fight as she wallops Marcia with a damaging left hook which sends the redhead backwards. Julie draws from her ring background and past victories by working the housewives star's middle with staccato shots. It's Marcia's turn to hurt.
"Got your ass a bit overconfident, didn't you bitch!" snarls Julie as she hammers Marcia and drops her on her ass with a resounding right cross. Marcia staggers as she gets up; her green eyes glassy and unfocused. The crowd is incredulous at this turn of fortune for 'Downtown' Julie Brown as the Welsh/Jamaican beauty now takes control as she starts attacking! There is still a minute to go in this round and Julie lets go with ALL her fury. Cross is smashed into the ropes and bounces off to be met with a wicked left hook to her jaw. She staggers on rubbery legs to the middle of the ring where Julie clobbers her with a series of unanswered punches until Jill St. John pulls Julie away and raises her hand.
Marcia swoons into Jill"s arms, then slides down her hard body to her knees, then topples over onto her back. Marcia Cross is knocked out for all to see as Julie gleefully raises her gloved fists in the air and poses over Marcia's unconscious body.
After: As soon as Julie's gloves are pulled off, she strips the Massachusetts-born Cross's red bikini and waves it to the crowd. Then Julie takes off HER purple thong and used it to bind Marcia's wrists before she slowly drags the senseless redhead around the ring on her ass. After once around the ring, Julie rolls Marcia over onto her boobs, then drags her around the ring again, this time with her ass in the air, scuffing those firm little pale puppies as they bump and scrape along the mat.
Music is playing and naked Julie pauses to dance on those sexy high heels before she returns to heave Cross's body over the middle rope, leaving her with her head resting on the ring apron and her hands still bound behind her. Finally, Julie spanks Marcia's snow white ass until it's bright red. Naturally, the PPV cameras come in for a tight shot before they slowly fade to black - leaving what happens next to Marcia to the viewers imagination.
Jill Hennessy has made a bundle of money on this fight while Julie Brown has dodged a big time bullet from the boss. Julie is starting to think that maybe SHE can be the boss once more!
******
Match #7: Sharon Stone vs. Jeanne Tripplehorn by Jack Fac


"You know dearie, somebody ought to teach you some manners," Sharon snapped to her 'Basic Instinct' costar after Jean stepped on Sharon's foot at the outdoor cafe in LA where Sharon was lunching with 'gal pal' Charlize Theron. "Of course I consider the source. You're a washed up wannabe who starred in that magnificent 'Waterworld' with Costner ' You stink honey." Hard feelings hadn't faded since the two women had sparred in the Joe Eszterhas "classic" and Sharon was pouring it on! Heads turned and several writers who happened to be dining near-by started scribbling notes.
Jean reddened but quickly regained her composure. Her comeback was simple. "I don't see anyone here who can teach me manners. Certainly not YOU! I'd kick your wise ass just on general principles!"
Sharon had seen the gauntlet thrown down and responded like a champ. "I'm all for it honey - your opportunity, that is. Take it from me, YOU'RE GOING DOWN! Start training, because your ass is mine in very short order."
One month later the gals are in the boxing ring.
Stone is the betting favorite and she has more fans to back her up. Both women look good in sexy bikini's but Tripplehorn can't resist a dig, "Not too bad - for an old broad."
Round One. They touch gloves in the middle of the ring and it's time to rumble. Sharon throws the first shot but it's wide. Jean is fast and slams a hard shot to Sharon's solar plexus that makes her grunt. Sharon winces as the air goes out of her. Tripplehorn is concentrating on body shots and they're connecting. She's a fighter and Sharon is realizing she might just be over matched. Jean lets go with a great left hook that catches Sharon's jaw solidly. Her legs buckle and she stumbles backward, sagging against the ropes just as the bell rings. She's gotten a reprieve.
Stone's corner is exhorting Sharon to start throwing punches. It's good advice but Tripplehorn is not an accommodating target in the least.
Round Two. Sharon comes out aggressive and lets go with an overhand right which Jean neatly slips, then she crushes Sharon's midriff with a left hook. Sharon doubles over in pain and looks up beseechingly at Jean as though she's ready to give up. Jean ignores the offer (if that's what it was) and instead fires a right uppercut that sends Sharon flying back into the ropes. She bounces off and drops hard on her ass. The screaming from the crowd is deafening. Jean's got her gal in trouble! Sharon struggles to her feet only to catch another right! Her head snaps to the side and her mouthpiece comes flying out. She's out 'Stone cold' before she hits the floor.
After. Jean marches over triumphantly and poses standing over her beaten opponent's limp body, prodding Sharon's soft belly with her toe as Theron silently fumes in Stone's corner, her face red with embarrassment for her 'friend.'
"Looks like you weren't the one to teach ME any manners, you sorry old broad. Now who looks like a washed up has-been, you friggin' loser?"
With that, Jeanne struts away, leaving Sharon sprawled flat on her back. While Jean heads out to celebrate her victory, Charlize peels Sharon off the mat and carrys her in her arms back to her dressing room where she doubtlessly gives her 'friend' some mouth-to-mouth resuscitation.
******
Match #8: Ann Curry vs. Hannah Storm by Jack Fac


The cattiness and back-stabbing started early in the evening. Hannah Storm was doing a slow burn over the attention Ann Curry was getting at a 'Newsbabes' party thrown by the Overseas Press Club. Ann was about to turn 50 and much hoopla had been made over her appearance on the cover of 'MORE magazine' showing the Asian/Caucasian beauty in a stunning black dress. She looked totally ravishing and the cover used the adjectives like 'Fearless and Forthright' to describe Curry who had been to Beirut during the latest round of hostilities between Hezbollah and Israel. Many journalists crowded around Ann to get her opinion, etc.
Hannah, therefore, was a non-event and rumors were also swirling at 'Black Rock' (the nickname for CBS) that her days on the 'Early Show' were "numbered." Hannah was grousing to anyone who'd listen that this, "…business with Curry was bullshit…" adding her opinion that, "…Curry will be blown away when Meredith Viera shows up on the Today Show set." Finally the invectives from Storm reached Ann's ears and she corralled Hannah in a corner.
"You got some kind of problem…aside from envy and incompetence, there stringbean?" challenged Curry.
Hannah's face reddened. "Nothing a good ass kicking wouldn't solve, hotshot." Hannah was confident that her years of sports broadcasting and her knowledge of boxing gave her a big edge over Ann Curry if they faced each other in the ring.
"I challenge you to a boxing match - on YOUR Rockefeller Plaza set," said Storm confidently.
"Accepted!" replied Curry with a sly grin.
Two weeks later on a Wednesday morning in mid-September. The late summer air is somewhat heavy and both gals are sweating as they climb into a makeshift ring set up on the Plaza where the Today Show usually hosts rock musicians. The place in swarming with NBC and CBS 'suits' plus an overflow crowd of thousands who showed up for the big event.
Hannah arrives first bedecked in a green robe with 'Fighting Irish' on the back as befits her Notre Dame background and as she flings off the robe, she displays her long, sinewy, figure with well-toned, shapely legs and a green thong. 'Hard Hitting Hannah' looks ready.
Ann, as usual, is completely unconventional. She's wrapped in a bedsheet and when she yanks it off she reveals her stunning body and a bejeweled g-string. Her outfit upstages Hannah big time! Referee Elke Sommer motions the combatants to mid-ring.
"You're toast, Curry," snarls Hannah.
"Show me tough girl," chuckles Ann with that trademark grin and impish eyes.
Round One: Hannah fires a volley of snapping left hooks and some find Ann's. But Curry moves in quickly and hammers Hannah with a volley of vicious body blows that force the dark-haired gal to back off huffing and puffing. Curry chases her into the corner where she fires repeated unanswered gut shots which double Hannah over. After a standing "eight" Storm heads back out to mid-ring where Ann catches her with a wicked right uppercut. Hannah topples over backward, her long legs flying upwards as she lands hard on her ass. Curry throws her arms up over her head as she jogs around the ring thinking she's won the fight, but Hannah regains her feet and Ann quickly resumes bombing the lanky Hannah who is nothing but a punching bag. The bell sounds to end the first round and it's clear Ann has won it easily.
Round Two: Hannah's costar Julie Chen is in Hannah's corner and implores her, "…work those long jabs." Hannah has been hurt but she's game and she whips a good left hook to Ann's jaw that staggers Curry who has to back up for the first time.
"Good shot bozo," says Ann. "'Jes' not good enough!"
Curry goes right back to blistering Hannah with an unrelenting attack to her head and body. Elke Sommer is moving to mid-ring where the vicious beating must end and soon. Hannah's legs are like rubber and her eyes are swollen almost shut and glazed over. Elke jumps in and pushes Ann Curry away as Hannah wobbles backward, then her legs give way and she pitches forward, crashing to the mat face down.
The newest star in the CBS stable, Katie Couric - who whipped 'Team CBS' star Marg Helgenberger in an earlier fight - couldn't control her excitement and, forgetting who her new employer was, she leaped into the ring, grabbed her former broadcast partner around the hips and lifted Ann into the air. Letting Ann slide down her chest, Katie kissed her before she let her go.
Ann starts jumping gloriously up and down in that g-string to the enthusiastic applause of the fans. Hannah lays motionless with her head turned to the side; her cheek resting on the canvas; her left arm extended over her head and her right at her side. Ann struts over to Hannah, steps across her back and stands straddling her with her gorgeous legs spread wide and her arms raised in triumph as she lets out a victory whoop.
Not until Ann has had her moment does Elke allow Hannah's senseless body to be dragged out of the ring by Julie Chen. The NBC crowd disperses, led by Ann, heading back to her dressing room. Ann is back on the air within the half hour to narrate re-runs of the fight including several different angles showing the "KO" sequence in 'super slo-mo.' Matt Lauer grimaces as they watch ripples roll through Hannah's flesh as Ann's hard punches land.
It was a great morning for Ann Curry but the future for the badly beaten Hannah Storm now looks very uncertain. There are already reports Julie Chen had challenged Campbell Brown and Katie Couric - apparently under pressure from CBS's Les Moonves to regain some 'street cred' on behalf of the "eye network" - is talking about a match against her 'Today Show' replacement, Meredith Viera.
******
Match #9: Sharon Stone vs. Halle Berry by Jack Fac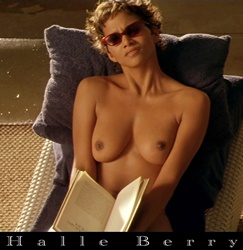 The scene is Kim & Ginny's Club and the occasion is their Annual Winners and Losers dinner. Past opponents are seated together with the 'losers' fulfilling the 'winners' demands. The best example is 'Downtown' Julie Brown's table where the boxing dominatrix is snapping her fingers and being waited on by the likes of Diane Lane (reluctantly til Julie whaled on her out back) and Lucy Lawless. Those two and others had fallen to the wicked blows of Julie.
At 'winner' Lela Rochon's table, her entourage of victims includes Valerie Bertinelli, Shannen Doherty and Sharon Stone; the latter in a major pissy mood, demanding a rematch with Lela. Rochon is contemplating it, but right now she is shoving Sharon away from the table, ordering her to "go fetch some wine."
In the center of the room is the so-called 'Rebels Ring' where fights can happen during the course of the evening should a winner grant one of her losers a second chance, or where two 'winners' can order their 'loser' to fight for her amusement.
Applause is heard as Katie Couric and Ann Curry enter leading their recent victims; Marg Helgenberger who lost to Couric and Hannah Storm whom Ann Curry knocked out on nationwide TV at Rockefeller Plaza just a week before.
Next to arrive were Linda Kozlowski and Halle Berry who had squared off numerous times, but with Linda having prevailed most recently so Halle must defer to her. As they pass Rochon's table, Stone is 'accidentally' bumped by Berry and spills Lela's wine.
"You stupid, clumsy oaf," mutters Sharon as a bottle of Pinot Noir crashes to the floor. Stone has had a major case of the 'mads' toward Berry ever since the release of "Catwoman" in which Halle not only acted rings around Ms. Stone, but bested her in one of the more entertaining "catfights" since Theron-Hatcher's set-to in "2 Days in the Valley."
"I'll show you a clumsy oaf," snarls Berry, eager to reprise her dismantling of Stone.
"Hey Halle why not show her up right here in the ring?" suggests Linda with a smirking grin.
"Yeah, why the hell not," agrees Berry. "You game there hot lips?"
Naturally, Stone is totally game. Linda K. leaps into the 'Rebels Ring' and announces that they will shortly be treated to a pre-dinner bout. Sharon and Halle adjourn to the dressing rooms where K&G outfit them. Sharon comes in first, she's topless wearing just a white thong. Dynamite! Berry shows up next in a 'barely there' black g-string. Sensational!
Linda Kozlowski insists on refereeing and Lela gives a flick of her hand indicating she could care less; all she wants is to see a good, hard, tough fight. While not exactly 'confident' Stone can beat Halle, she expects her 'loser' to put up and good fight - and besides, it's well known Sharon does some of her best 'work' after she's been beaten down a little. So either way, Lela figures she'll come out ahead.
Round One: Halle snaps a series of solid jabs into Sharon's face, then follows with a great shot to Stone's midsection. Sharon quickly backs off, her face flushed and her cheeks reddening.
"Chickenshit blond bimbo," chuckles Halle. "You're gonna be very sorry, very soon!"
Stone surges back with a brutal overhand right that drops Halle on her butt in shock. She's up at Linda's "SIX!" but she's been hurt early on. Sharon continues her attack, punishing Halle with a volley of body shots that leave the tawny Cleveland 'Catwoman' wincing. A solid Stone left hook drops Halle for the second time, sending her skidding on her back under the ropes. She's still trying to pull herself up when the bell rings ending the round.
Berry stumbles back to her corner and plops down on her stool where her lush body is gently and fully toweled off by her second, Naomi Campbell. The skilled supermodel advises Halle, "Use the ring more. That blonde bimbo is gonna whip your ass if you just stand there in front of her like that."
Round Two: Taking Naomi's advice, Halle begins to slip more of Sharon's punches as she moves with 'cat-like' nimbleness, gliding around the ring and 'boxing' more. Halle goes back to firing those good left jabs again and then as she forces Stone to start moving her feet, Halle drops a hard left over Stone's shoulder that staggers Sharon. Halle is feinting the older blonde now and Stone is looking a tad arm weary after throwing a lot of punches. Again, Halle hammers Sharon with a hard left hook to the jaw a la Lola Falana and Sharon spills to the canvas on all fours, then sits back on her haunches as those "Basic Instinct 2" legs buckle and she hits the canvas for the first time.
The place is in pandemonium and K&G can't stop laughing as they high five each other. Ginny has bet on Stone but Kim has been a backer of Halle's all along and now she's feeling the love. "I'm gonna own your ass after this!" Kim hisses and chuckles as she feels Ginny shudder nervously.
Berry begins stalking the wobbly Stone who appears to be in distress. The blonde is no longer confrontational and keeps backing up as Halle advances. She's gun-shy and Halle senses it. Halle is all over Sharon like a cheap suit, ripping into that aging body, then working her way up with unanswered shots to the head.
Linda K. pulls Berry off of Sharon who totters at mid-ring, then groans, "Nooooooo…" as she tumbles onto her back.
"You are KNOCKED SO DAMN OUT!" laughs Halle as she stands over the unconscious and spread-eagled blonde. Halle kneels and pulls Sharon's thong off, then grabs her by one ankle and drags Sharon's bare-assed body around the ring two or three times, pausing at each side to give everyone a good long look at her.
After a quick shower, Halle comes back to the table for dinner with Linda while Stone is taken away to the hospital by 'Danny Boy' and other Stone rooters including a tearful Ginny. Halle announces to Linda that next month they will once more, "…get it on. I think I can beat ya next time, Lida baby," she teases as she dives into a tasty filet.
******
Match #10: Classic Boxing: (1979) Lola Falana vs. Donna Summer by Jack Fac


The disco era is reaching it's apex and we're in Las Vegas, Nevada where Donna Summer has brought her show a week-long stand at the historic Sands Casino-Hotel. Tourists are excited and the high rollers are packing the room nightly to see Donna blowing all sorts of guys away in a scant purple disco skirt and those strands of cloth which hang along her voluptuous thighs.
The revenue is flowing but lots of that stash has been diverted from the cross town Flamingo where Lola Falana has been drawing crowds for a number of years. This whole disco thing is pissing off Lola's backers and the cash flow is woeful since Summer's appearance. To add to Lola's anger, Donna has been dissing from the stage - drawing lots of laughs at Falana's expense.
"Old lady got a tired show over there at that pink bird joint," jibes Donna. "Time for some stimulation out here on the desert don't you think?"
The nightly crowds are loving everything about the 'Bad Girl' so Lola stalks over to the Sands on the fourth night and confronts Donna backstage after her show.
"Hey there sweet thing," teases Donna. "Heard you're really pissed at me."
Lola has to be restrained by several of her entourage as she snarls, "This place ain't big enough for the two of us!"
"Yeah?" replies Donna. "An' jus' what the hell you gonna do 'bout it, woman?"
"I think you know the answer to that, Miss Smart Ass," comes Lola's retort. "I'm going to knock your sorry ass out cold, right there on stage your last night!"
"Oh yeah? Well, you're wrong about that Jersey girl," is the best Donna can do for a snappy comeback.
***
Now it's 'FIGHT NIGHT' at the Sands and Shirley MacLaine is refereeing. Shirley calls both combatants to center ring, puts her hands on their shoulders and pulls them close as she says breathily, "Alright gals, let's rumble."
Round One. Falana is looking to take Donna out early with her famous left hook that jacked both Joey Heatherton and Mitzi Gaynor. Ever since her loss to Lola, Heatherton has been in Falana's corner, and she's there again tonight as always. "Get her boss, get her!" roots Heatherton. Lola's flurry of hooks and jabs are dodged by the fleet Donna Summer.
"How'd you EVER beat ANYone?" teases Summer.
Her remark is followed by a vicious right squarely to Falana's jaw and the Afro/Cuban American is dropped hard to her firm ass. The place is rocking and Donna Summer is the object of their adulation.
Joey is alarmed; she's NEVER seen anyone do that to her conqueror and idol. Lola is glassy eyed as she stumbles to her feet. She has enough, though, to deliver her trademark left hook to Donna's jaw, but Summer's strong legs hold her up and she is only momentarily stunned. Falana is psyched out on the negative side by this. That shot would have brought down literally anyone else.
"Time to meet your maker there, old gal," laughs Donna whose body and head shots are rocking Falana badly. There's still a minute and a half to go in the round when Donna's left hook hammers dead on to the tip of Falana's jaw. Lola can only stumble on wobbly legs as Donna clocks her out with a brutal overhand right!
Falana's body rockets into the ropes and she bounces off, her legs buckle and she pitches forward, crashing to the canvas out cold and flat on her face with her arms extended overhead.
Donna can't resist as she knees and tears off Lola's showgirl outfit, then drags her nude body over to the edge of the ring and drapes her belly down over the middle rope.
Donna uses a magic marker to write, 'Beat Girl' on Lola'a butt cheeks, then dances around the ring to the tune of 'Hot Stuff'!
Donna is the hot new act in Vegas and gets signed to a six month extension following this rout. It's eternally 'Summer Time' in Vegas from now on, baby!