Sharon Stone vs. Demi Moore III (1997) by Tank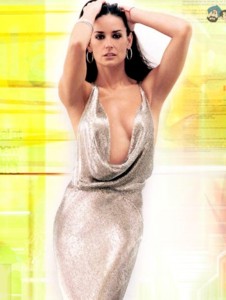 It was late January of 1997 and Demi couldn't wait to show her husband, Bruce, what she'd received in her mailbox! At first, she thought it was a gag, but upon further review she had to admit it was authentic. Sharon Stone had challenged her to a rematch of their fight of four months earlier; a fight which Demi thoroughly dominated!

"Demi, I notice our schedules have both of us in LA on Valentine's Day. If you still believe you can beat me, meet me at 9 PM. on the 14th at the private gym you're familiar with off Hollywood and Vine. I challenge you to a boxing match. Let's find out once and for all who the REAL woman is. Keep this private - and if you don't show up, I win by forfeit."

It was signed simply, "Sharon"

Stone included her phone number and E-mail address in the brief letter, so Demi called and left this message on her answering machine, "Hello Sharon; Demi. I received your challenge. I'll definitely be there. I hope you're not planning to fight with sissy headgear or chest protector. I intend to step into the ring in just the bare essentials and I hope you're woman enough to do the same. See you soon, baby girl!"

Demi was in the best shape of her life having been working out hard for the start of filming of "G.I. Jane." Stroking her long raven hair (due to be cut off in a few weeks) she studied her chiseled body in the mirror and smiled as the image of her blond challenger came to mind.

'Some women really ARE a glutton for punishment!' she thought.

Sharon was coming into the fight believing that it would be her, not Demi, handing out the punishment. The year had begun with the blond superstar in a near state of depression; unable to get over the tough beating she'd gotten from Demi the previous autumn. Then in early January she'd received a call from a friend who invited her out for a drink.

Sylvester Stallone had always had a high regard for Sharon since they co-starred in 'The Specialist' three years before. Chatting over a drink, one thing led to another until the the issue of "the fight" came up. Sly had heard all about it, but he allowed Sharon to spill her guts as she vented.

Before the evening was over, he'd convinced Sharon to begin a strict training regimen under his tutelage. While Sly was far from a professional boxing trainer, he suggested Sharon would have a better chance against Demi boxing than in a catfight.

Fearful of Demi's ability to breast smother or leg scissors her into submission - among other things - Sharon saw the wisdom of his advice and agreed with his strategy. "I can have you in the best shape of your life in five weeks," Sly promised. "Challenge her to fight around Valentine's Day; trust me, I'll have you in top fighting form by then."

Sharon already had about three weeks of hard training under her belt before she issued her challenge to Demi and while Stallone was no pro trainer, he'd picked up some significant boxing knowledge during his arduous training for the "Rocky" films. He also had many contacts in the boxing world and he didn't hesitate to ask their advice. He had Sharon up at dawn doing roadwork; punching the heavy bag and working with light bags while doing strenuous exercises to increase both strength and agility. He also worked diligently to tighten her abs to help withstand body blows. The lovely, athletic blond had already been in pretty good shape when she began her brutal regiment, but three days before the fight she was buff and ready for action. Sharon commented to Sly that she felt as strong - if not stronger - than in 1990 when she starred in "Total Recall" with Arnold and her well-toned muscles supported her.

Despite the considerable psychological advantage Demi held over Sharon from her dominance in their earlier fight, she took nothing for granted. Though her training regiment wasn't as brutal or comprehensive as Sharon's the tawny brunette beauty spent a good part of her time punching the heavy bag, grunting with every blow.

"Way to go, Demi!" Bruce encouraged his wife. "As they say in boxing, Demi, 'punish the body and the head will fall'...or something like that."

Naturally, word had gotten back to Demi that Stallone was training Sharon which caused her to remark, "Big Deal! She can have Angelo Dundee in her corner and it still won't matter, Bruce. I'm stronger and I'm gonna put a hurting on that blond crybaby she'll never forget! I mean, I'll punish her so bad she'll wish she'd left this thing alone!"

Stallone, leaving nothing to chance, hired two sparring partners for his sexy protegee and Sharon looked quite impressive as she outfought both of them so decisively that neither woman returned for a second day of action. But Sly went overboard in his efforts to provide added inspiration!

The morning before the fight, Sharon was shadow boxing when Sly blasted the Rocky theme through his sound system. She thought it comical and started laughing. 'Eye of the Tiger' fared no better. Clearly, Sharon wasn't going to allow Sly to play mind games with her.

But later that day, she received a package with a video tape from Demi! As they sat in Stallone's living room watching it, Sharon discovered it was the recording of their first fight in the bedroom suite. Seeing herself being dominated by the sexy, muscular brunette, the lovely blond became furious! She ejected the tape and stomped on it, crushing it.

"Sharon, save your anger for tomorrow!" Sly advised.

"That lowdown piece of scum!" Sharon ranted as she slammed what was left of the tape in the trashcan. "She's never gonna do that to me again!"

After a light workout the morning of the fight during which she sparred with Bruce for about fifteen minutes, then punched the heavy and light bags, Demi was ready for her rematch with Sharon. Bruce tried not to let on, but his ribs were sore and aching from a week of similar sessions in which Demi would pretend he was Sharon and she refused to hold back on her powerful body blows.

******

8:45 PM on February 14, 1997. Both women were in the separate dressing rooms of the small gym that Sharon had rented for the evening. Willis and Stallone accompanied them and waited outside as they got dressed.

Both parties knew the rules:

Duration: 6 two minute rounds;

Knockdowns: if either fighter scored 3 knockdowns in a round, the fight ends;

Other: standing 8 count in effect; (counts as a knockdown); 16oz gloves.

Referee: approved by both - the legendary Pam Grier.

Seconds: Willis and Stallone were the corner men and would offer their support and advice between rounds.

TALE OF THE TAPE: (measured) height/weight/bust-waist-hips/age/hair

Stone: 5'8 1/2", 122#, 36B-25-35 ("natural"), 39 y/o, natural blonde; long, flowing (full bush)

Moore: 5'5", 120#, 36C-26-36 (implants), 35 y/o, natural brunette; cropped short (shaved)

******

Demi opened the door of her dressing room and walked to the ring. She was barefooted, wearing the same black bra and thong she'd worn to overwhelm Sharon in their bedroom catfight a few months before. Her large breasts were glistening with perspiration from her warm-up shadow boxing in her dressing room. Her face wore an expression of determination and she was all business as entered the ring.

Then Sharon strutted out of her dressing room and made her way to the ring. Barefoot and with a light sheen of sweat, she looked in top condition. Wearing an outfit as skimpy as Demi's, Sharon walked into the ring in a sensuous cheetah skin bikini. Looking far more buff than in their earlier fight, she threw sharp practice combinations in her corner as she awaited the bell.

Pam Grier summoned both women to the center of the ring for last minute instructions. In addition to her duties as referee, Pam would also be the sole impartial judge; scoring each round on a 10 point must system. She would render the decision if the fight went the distance. Pam had brought along one of her girlfriends to act as timekeeper and ring the bell.

As Pam reviewed the rules, Demi in her black bra and thong and Sharon in her cheetah skin bra and thong (w/matching ribbon in her hair) engaged in a stare down. The blond was a good 3 inches taller but Demi was 4 years younger. Demi began to smirk at Sharon and the blond snarled. They turned and walked back to their corners to await the bell.

DING! DING! DING!

Round One: Both women came out aggressively as Sharon jabbed, landing several straight rights to Demi's face. The brunette threw lethal hooks to Sharon's body with both hands and a couple of them rocked her. But the taller blond fought back and showed more boxing skill than Demi as Pam scored the first round: Sharon-10, Demi-9.

Round Two: Sharon started the round outboxing and outscoring her brunette rival. About halfway into the round, Demi began to focus on body shots after she trapped Sharon in a corner and hooked her body with solid lefts and rights. Sharon's recently developed abs allowed her to withstand Demi's body shots, but the brunette's improved head movement made her a difficult target for Sharon. Pam scored the round: Demi-10, Sharon-9.

Round Three: Demi struck early with a left hook to the face that made the blond wince. Sharon later scored with her best punch of the fight, a straight right to Demi's jaw. But the brunette just smiled at Sharon. Near the end of the round she knocked Sharon into her corner with a pulverizing right of her own. Trapping Sharon in her corner, Demi pounded her with wicked body shots just before the bell sounded. Pam scored this round as she did had the second: Demi 10, Sharon-9.

Round Four: Demi came out smoking! Scoring with punches to Sharon's face, Demi had Sharon backpeddling! A left hook which grazed her temple staggered the blond as Demi pursued her around the ring. As Demi closed in, Sharon grabbed her and held on. Both women were sweating as they embraced in a clinch. When Demi broke the clinch, she drove two hard body blows and forced a weakening Sharon to grab her arms as she clinch again. Demi thrust her big breasts into Sharon's smaller breasts as she pushed her back into a corner. Pressing her thighs into Sharon's, Demi ground her black thong on Sharon's cheetah skin thong as she leaned on Sharon's body, holding her trapped in the corner. Demi was sending the message that she could dominate Sharon without throwing a punch. Sharon couldn't force the tawny brunette to back up an inch and she could feel the power of Demi's powerful thighs flexing into hers. The brunette had Sharon's arms under control during the clinch and continued to thrust her womanhood into Sharon as she squeezed her into the corner. Sharon's mouth opened and her blue eyes were begging Pam to intervene. Finally, Pam moved in but seeing Demi so tightly pressed into Sharon, she didn't even attempt to get between them.

Pam put a hand on Demi's shoulder and said, "That's enough! Now break!"

Demi stepped back, allowing Sharon out of the corner. The round was almost over. But as Sharon gingerly moved out of the corner with her hands high, Demi bent over and ripped a crushing left hook to her ribs.

"OOOOOOHHHHHH!" Sharon dropped gasping to her knees at the bell. Pam scored this round: Demi-10, Sharon-8.

Sharon struggled to her feet and made it to her stool. Sly was fevishly trying to revive and encourage her as he squirted the water bottle into her mouth, then asked, "Do you want to continue, Sharon? Just two more rounds to go!"

The hurting blond recalled how life had been for her the past few months. She had to keep trying. She nodded. As Pam walked to her corner, Stallone yelled, "She's ready to go!" Pam motioned for the bell.

Round Five: Sharon began throwing punches but they were weak punches which Demi easily smothered. Another left hook to the ribs had Sharon grimacing and holding on once more. Demi let Sharon clinch with her, then spun Sharon around and looked at Bruce. Giving him a wink, she began to bully Sharon back into her corner where she once again pressed her athletic hard body into Sharon's, pinning her trapped in the corner. Demi's heaving, sweat-glistening breasts undulated as she pushed them into Sharon's. The blond pulled her right arm free and tried to punch, but Demi beat her to it and landed another solid body blow that buckled Sharon's knees. She would have gone down if Demi hadn't held her up. The dominant brunette was having too much fun! She had Sharon cornered with Bruce an arm's length away. Demi loved dominating sexy blondes in front of her husband as any number of them could attest!

Sly yelled from his corner, "C'mon Sharon, you can take her!"

"Yeah, right!" Demi sneered.

Sharon was clinching again and Demi welcomed it. Her plan was to knock out her blond rival as a Valentine's Day gift to her husband just as her first win over Sharon had been on the eve of his birthday. But she still had another round after this one to do it and she was enjoying every minute. As she pressed her strong body into the weakening blond, her big breasts held Sharon trapped in the corner. Pam moved in to break the clinch and Demi stepped back. Sharon looked frightened and confused as Demi nailed her with a left and a right to the breasts which rocked her back into the corner. The blond beauty's cheetah skin bra was now hanging loose by a single strap, the other having snapped under the strain of Demi's punching. Sharon covered her breasts with her gloves as Demi advanced but the bell rang before Demi could do more damage. The round ended and Pam scored it: Demi-10, Sharon-8.

Demi sat in her corner and told Bruce to take off her bra. She inhaled deeply as he removed it. Demi's biggest fear was Sharon spoiling her fun by not coming out for the 6th and last round and she watched nervously when Pam walking to Sharon's corner to check on her. Asked if she would like to continue, Sharon was reluctant to answer.

"Just one more round, Sharon! If you can make it you can see this as a moral victory," Sly encouraged. "But if you want, I'll throw in the towel!"

"I'll go," Sharon murmured softly.

"You can't fight with your bra half off like that," Pam informed her as she leaned over and relieved the blond of her bra. Pam tossed it to Sly, looked over and nodded to the timekeeper. The bell rang for the final round.

Round Six: The women met in the center of the ring; both now topless, and began punching. Sharon landed a grazing punch to Demi's face and advanced behind it, only to stagger to a stop when she was met by two stiff jabs to her face. Another hard punch knocked the blond backward and her legs gave a shimmy. Demi drove Sharon back into a corner as Demi stalked her and landed a savage left hook to her belly.

"WOOOFF!" Sharon fell to her knees, then leaned forward on all fours; her hair covering her red face.

Pam began to count, "1..2..3..4..5..6..7..8…"

Sharon struggled to her feet and Pam touched her gloves, then motioned for the two women to continue. Sharon immediately began backing up until the lovely blond found herself trapped in a corner yet again with the strong, hard-punching brunette stalking her. Sharon's eyes were glued on Demi as she closed in; her big bare breasts, muscular thighs, and the look of ferociousness in her eyes as she strided purposefully toward the blond beauty who looked so petrified nobody would have been surprised to see Sharon wetting her thong!

The blond beauty cowered quivering near Demi's corner, then lunged wildly at Demi and grabbed her by the arms to clinch. Demi slammed her thong into Sharon's and pushed her backward into the corner; her large breasts and hard nipples spearing Sharon's breasts as her black thong ground into Sharon's cheetah skin clad pubic mound. Sharon looked helplessly to Pam to intervene but this time she just stood back and watched. Suddenly, Sharon burst out crying and Demi thought she felt the lovely blond wet her thong.

"NO MORE, DEMI...NO MORE...PLEASE...NO...MORE!" Demi took a step back, then unleashed a vicious left hook to Sharon's belly and as she folded forward, followed with a crushing overhand right to the side of her jaw! Sharon slumped against the ropes, bounced off and dropped facedown on the canvas between Demi's feet - out cold!

Demi danced away her hands raised in victory as Pam moved in and made it official without bothering to count Sharon out. As the brunette and her husband jumped up and down celebrating, Sly rushed into the ring to tend to Sharon but it wasn't Sly but Pam Grier who carried the unconscious Sharon to her dressing room.

"Call her tomorrow, Sly. I'll give her a ride tonight," Pam told him. Quickly adding,, "...I mean; a ride HOME. I'll make sure she's OK."

Stallone left Pam and Sharon in her dressing room and it wasn't long until Sharon awoke. The big Ebony beauty had already removed Sharon's gloves, cheetah skin bikini bottom and her shoes. Pam consoled the naked blond for several minutes before an aching Sharon painfully pushed her beaten body up and hobbled to the shower.

Pam followed her. "I'll be right outside, if you need anything," Pam told her as she leaned on the wall.

When Sharon finished showering, Pam dried her off and helped her into a white bra and panties. Sharon slowly and dejectedly walked back to the locker she'd used for the fight. Suddenly, a frightened Sharon reared back! Sitting in front of her locker wearing a red bra and panties sat Demi! Sharon was about to scream but something told her not to. The brunette was smiling as she motioned for Sharon to sit next to her. After a moment of hesitation, the beaten blond cautiously sat next to her conqueror.

"I'm just here to tell you that you've nothing to be ashamed of," Demi told her. "You fought courageously. Not that it's going to keep me from doing this…."

The two bitter rivals ended up having a "healing conversation" which Sharon spent all of draped facedown over Demi's lap! After the rough spanking - which Pam watched stone-faced, but not interfering - the victorious brunette gave her lovely blond rival's bottom a final spank, then left with a solemn warning, "This better be the last time I have to do this!"

When Sharon stopped crying, Pam drove her home. Pam spent the rest of the night "soothing" Sharon's wounded body and pumping up her injured ego. By morning, Sharon was again thinking she had something to prove…

Fan Vote: Demi Moore: 25; Sharon Stone: 10.