SANTANA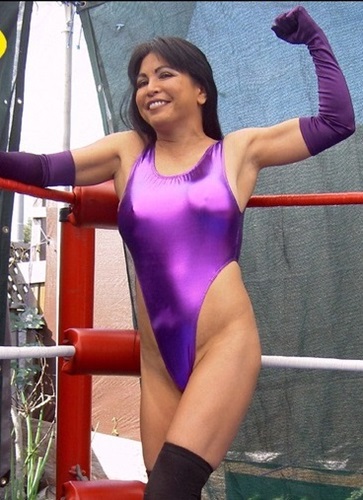 Birth Name -Tina Antero Hollimon
Birthdate -October 6, 1968 - October 11. 2015
Marital Status -Single
Astrological Sign - Libra
Height -5'4" 120 lbs
Hair Color -Black
Eye Color -Brown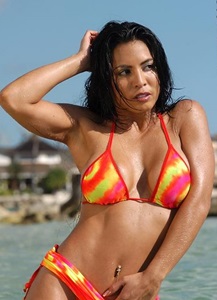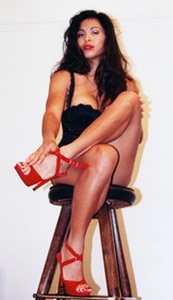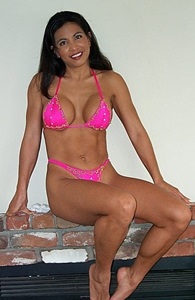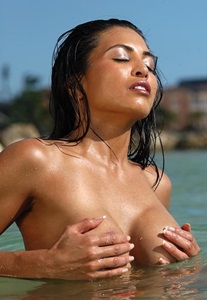 My one word definition of Santana is captivating beauty. I was hypnotized when I saw her 20 years ago, as I still am today when I watch a Santana video. I never could put into words why, but I knew this was one of the most beautiful and sexiest women walking the face of the Earth. An exotic beauty, Santana had more. She had an indescribable spark. Vivacious is a word that I rarely use. I remember the old black and white Vivacious Woman movie with a pretty good catfight scrap in it. Vivacious has always been a special word to me, that I rarely use, but that is the best way to describe a very rare and special woman to me.

So this is the most cautious and intrepid induction I've ever made. Not because it is not deserving. Hell, I should have done it 2 years ago at least, but the only reason was I did not have enough information about this woman to make a decent biography. However the fact that I did not speaks more about the quality of the woman and the life she created. I am writing this under sad and tragic conditions, that I probably will not detail here. They are so very irrelevant in describing this woman.

This is to induct Santana into a catfighting Hall of Fame. I have inducted many people before her, but I can honestly say most of them should not have been there before Santana. I do and will struggle to write this to be the upmost respectful to the woman, and to deliver a testament for a true catfight pioneer. I hope by the end I tie the two together.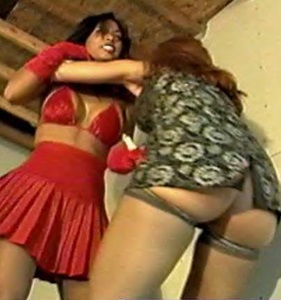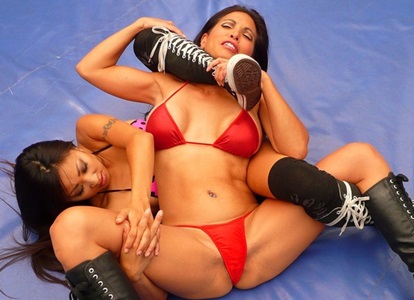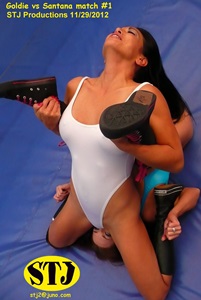 Arguing Santana's place in a catfighting Hall of Fame is insane. She has been making videos for well over two decades. She has worked for almost every catfight company worth mentioning. She worked early with the likes of Leather and Lace, Academy Videos, Steel Kittens, O-zone video, STJ Productions and especially for Double Trouble Videos. The only reason she was not included earlier is that there is not much biographical information about her on the internet.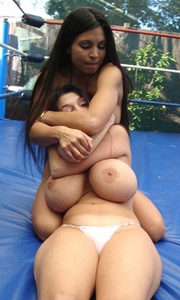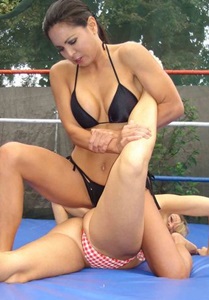 The mid-90s Santana burst on the scene under the name Tina Hollimon. After making her screen debut as "Party Babe" in Tales From the Crypt: Demon Knight (1995) with Billy Zane, it seemed like the sky was the limit. Alas, it wasn't to be, as she only appeared in two more films, Revenge of the Calendar Girls (1995) and Beach Babes 2: Cave Girl. From there was a brief adult film career, then on to catfight videos. There was a lot of catfight videos. DT Wrestling alone has over 100 fights with the legendary Santana.

No matter the company watching Santana is watching a vibrant spirit. Watching her win is watching a very cocky and gloating winner that enjoyed what she was doing. Above all she loved to trash talk and demean her victims, unlike anyone else in the industry can. Watching her lose was a winey loser that hated losing and would concede the lose rather than letting getting further humiliated. She always thought saying "I'm sorry" would always get her out of trouble, no matter how much pain and trash talking she had heaped on her opponent earlier. Either way it was a spirit. It was a zest for what she was doing. She did every video not like it was a way of make a few dollars over the weekend, but like she was building a legend and an industry. Very much over several companies that is what she did. She helped build an industry and she defiantly built a legend.

In the end we all want to say thank you to Santana. She is an ageless and priceless exotic beauty that always put a smile on my face. I thank you for your spirit commitment and energy that you put into entertaining. Thank you for so many videos that are to numerous to mention. Ones like that old, classic Danni Ashe catfight, Roommates. The Converse sneakers video against Hollywood. I thank you for the last video I bought at the time of this writing, where she teams with Francesca Le to demolish blonde super heroine, JC Marie. Thank you Santana, we will always remember you!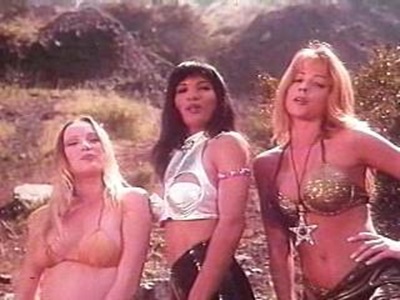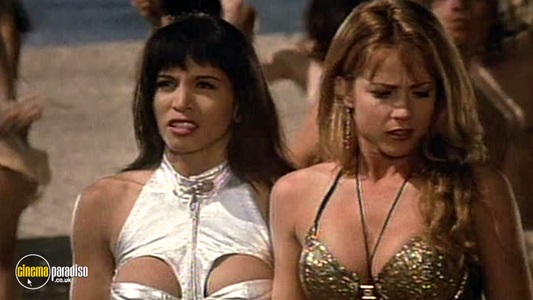 I will finish with the statement posted on Double Trouble Wrestling about their friend and superstar.



It is with great sadness that we note the passing of one of our best and one of your favorites, Santana.

Santana first came to our attention in DT-351 and through the years became a mainstay here at DT, eventually appearing in more than 100 matches. As a novice wrestler she impressed us with her enthusiasm, and more recently she was always ready to share her experience with the young women who came after. Her skill as an athlete, command of wrestling technique and her beauty, wit, passion and professionalism will keep her always in the front rank of our team, and in the hearts of her fans.

If you wish to make a contribution to aid Santana's family, please Click here or go to https://www.gofundme.com/remembertina



Catfight Stories staring Santana
Tanya Danielle Vs Santana

MORE SANTANA!!!!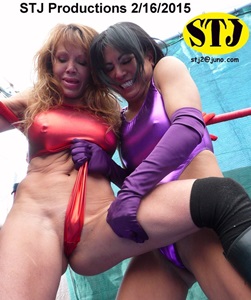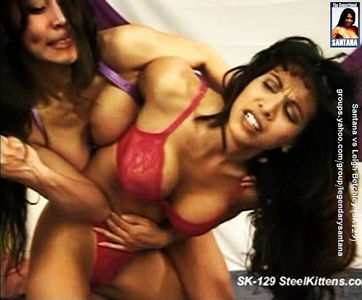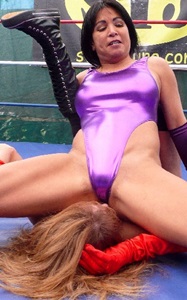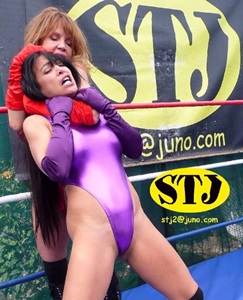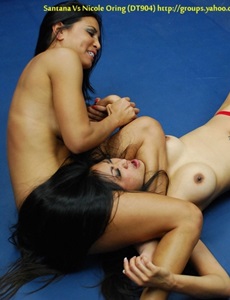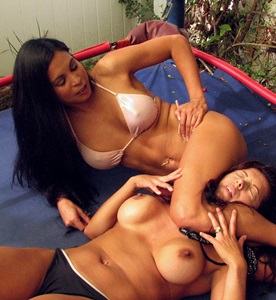 LEGENDARY SANTANA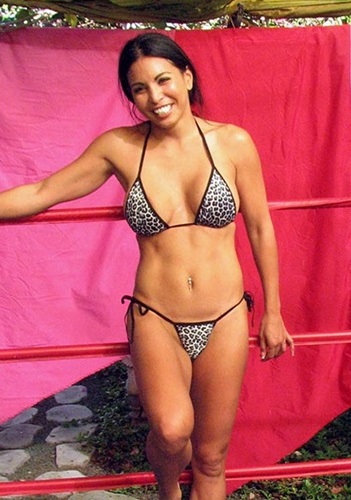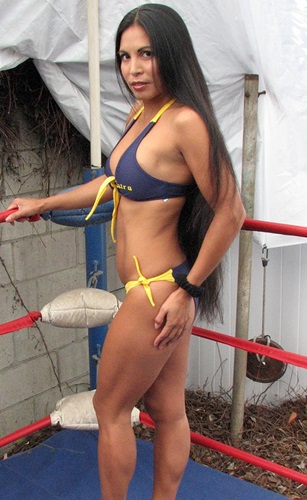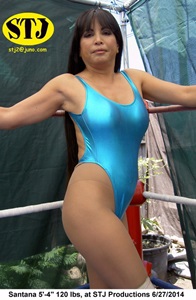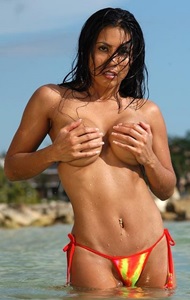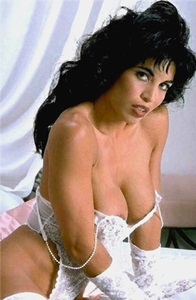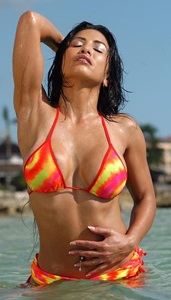 BACK HOME