KIMBERLY PAGE
Born: January 1st, 1970 Height: 5'10" Weight: 120lbs Orientation: Bi

Measurements: 36D-24-34 Years Catfighting: 14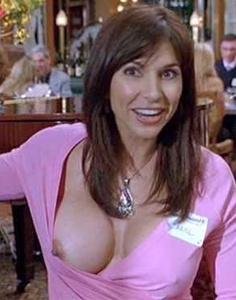 Previous League: G3L, BZL (defunct), WWE, WCW (defunct)
Previous Belts: None
Finishing Moves: KPG (Stolen finisher move from her ex-husband, WCW Legend, Diamond Dallas Page! Diamond Cutter!), Final Cut! (Cunt-kick to stun and stoop opponent, then she rebounds off the ropes and hits opponent with a Running TACKLE! TAKING THEM OFF OF THEIR FEET AND SLAMMING THEM DOWN ONTO THE BACK OF THEIR HEAD, NECK AND SHOULDERS!)
Strengths: Veteran experience as both a valet and as a catfighter, great at body attacks and charging attacks, good power moves, some technical moves, some speed moves, knows the in's and out's of the catfighting and wrestling world, willing toady for Geese, abilities increase when following Geese's orders, able to take an ass-whipping, bitter streak that can actually cause her abilities to increase without warning, does not submit, understands BDSM, great at coordinating Maid Enforcers and setting ambushes, knows when to run
Weaknesses: Extremely limited as a catfighter and has reached her full-potential as such, telegraphs her moves as match wears on, does not win long matches, low psyche, her bitter streak adrenaline surge if withstood leaves her an easy KO target afterwards, staying on her makes it impossible for her to win without a manager or outside interference, perennial loser even with all of her years of catfighting and wrestling experience, can be duped or tricked, Geese

Kimberly Page has been in NWA, WCW and the WWF/WWE and all of it amounted to pretty much nothing! She has sat rather proudly on the coattails of her ex-husband Diamond Dallas Page, supporting his career and bouncing in-and-out of so-called "feuds" with various other wrestling valets and "divas" and all the rest of that dumb hollow, shit. The reality is that Kimberly let what could have been a very exciting life! Turn into a very big MESS! She never worked towards making a name for herself, because her name was tied directly to DDP. She never really embraced being a catfighter, what for!? She was nearly 6' barefoot! A pretty face, great smile, slim waist, great abs and a tight ass! Fuck did she need to get her fuckin hands dirty for when she could just look pretty all the fuckin time and act out support roles for DDP.

However, the light did come on in WCW when she realized that she needed to do at least SOMETHING!? Besides be Mrs. DDP! She pitched the idea of the Nitro Girls to WCW president, Eric Bishoff. Bischoff was already feuding hard with Vince McMahon's, WWF. And at the heart of the feud was the fact that McMahon had always looked down on Bischoff when he tried to get into his WWF promotion. But even bigger than this was that McMahon's real nemesis was the EVIL… Ted Turner. And Turner hated McMahon with the kind of hatred that could burn a hole right through someone's soul. And of course, the feeling was mutual. So WCW and Bischoff were Ted Turner's way of telling the New Money McMahon that anything he could do, Ted Turner could do not only better, but BIGGER! AND BADDER! So this is the shit that Kimberly stepped into when she pitched the idea of the Nitro Girls to Bischoff. WCW's sole purpose was to destroy the WWF for Ted Turner. Many of those that worked for WCW were either always kept out by the WWF or had been tossed aside by them. So Kimberly found a management team that was eager for anything that could give them the one-up's-manship, over the WWF. The Nitro Girls were a hit, but Kimberly didn't really push her chances to learn how to wrestle anywhere near the amount of opportunities she was GETTING! Something that led to trouble when the WWF started really pushing their women's division again.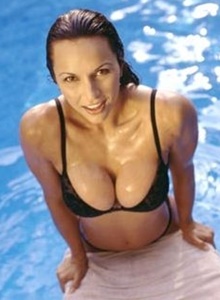 In the end, the WWF wiped out WCW and Kimberly and DDP jumped ship to them. Then the WWF lost a lawsuit and lost its right to be called the WWF, thus beginning its own demise as it became the WWE. Kimberly and DDP were hitting rock bottom, as DDP's age and injuries took its toll on there marriage. Finally, it ended in separation and ultimately, in divorce. But during that time Kimberly started to realize that she never capitalized on the chances she had to really make an impact, in fact!? She often times protested being put in actual matches, often times getting the other Nitro Girls and such to rally round her as they tried to stay away from the Power Plant training facility and focus on dancing and touring. With DDP's body no longer able to hold up… The WWE no longer had need of him, which meant that she was also fired by default. A bitter lesson in the reality of not having gained her own spot to stand alone. She used their separation to actually start training, since she now knew that her entire way of life was now about to downswing in a very dramatic fashion. She'd seen the world working in professional wrestling, but now she'd have to pay her own way… and so she hit the gym, called in a few favors, some of which caused her soon to be ex-husband to become livid with anger. But Kimberly was desperate to keep her lifestyle intact as the end of their marriage loomed closer and closer.

She managed to win a try-out for the G3L and barely got through it. Her name didn't mean shit to them, since they dealt in real celebrities, not bitches who stood on the sidelines and shook their asses for their husbands. It dawned on her that she was kinda like a Video Vixen. So she did some Bounty Hunting work that normally went with Video Vixen territory in the catfighting circuits of America. The experience got her ass handed to her more than a few times, fighting in venues that were "up-and-coming" since the fuckin Stone Age. But it toughened her up, and although they were separated, DDP taught her some more moves and accompanied her for a while as she learned how to stand on her own two feet. Then finally they divorced in 2005. Kimberly kept the name stage name of Kimberly Page and finally got into the G3L. She tried a few times to get into Stone Rage's, Battle Zone League! But the interest was just not there… from anybody… anywhere! And she drifted away quietly after a few house shows. The G3L matches pushed her to her limits and eventually broke her. And once that stopped? Then of course the money stopped. Bills began to pile up quickly! And she was about to actually turn to her ex-husband for help when a trio of unknown White bitches appeared dressed in business power suit-skirts, in an eerily familiar pattern akin to… French maid uniforms? Either way, they introduced themselves as Ms. Jensen (Jelena), Ms. Hammer (Jaime) and Ms. Lauren (Shay). They were the principle owners of Jensen, Hammer and Lauren. And they'd come to offer Ms. Page a salaried position with exclusive benefits and perks… in Sin City… Kimberly quickly accepted after they sat and talked in-depth about her new position for their client. Since then, Kimberly has been quietly and eagerly, carrying out Geese's orders as one of his personal valets. She has recently become well acquainted with Geese's newest valet, Daisy Fuentes. Kimberly has expressed an interest in fighting in the W3W as a tag partner with Daisy, while continuing to carryout her tasks as Geese's valet…


BACK TO THE ROSTER