TERI HATCHER
Born: December 8th, 1964 Height: 5' 6" Weight: 115lbs Eyes: Brown Orientation: Freaky! Measurements: 34B-23-34 Years Catfighting: 20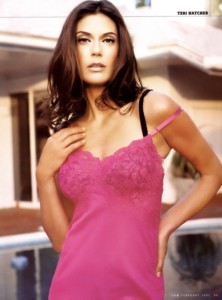 Previous League: BZL (defunct), SF-CF, G3L
Previous Belts: SF-CF TV Champ 2x's, SF-CF Femme Fatale 2x's
Finishing Moves: Sunday Punch! (Haymaker to the chin!), Sunday Best! (Series of punches to the tits and face finished with Sunday Punch!)
Strengths: Veteran catfighter, MILF, great fighter, great brawler, Mistress of the Fists and Foot, abilities increase as her momentum increases, ultra-aggressive, vicious and spiteful, Mistress of Dirty Tactics, can actually take an ass-whipping, good speed moves, some technical moves, does not submit, great stablemate and teammate
Weaknesses: Weight, if she looses a toe-to-toe exchange she's extremely vulnerable at that moment to Sudden KO's, Teri has NOT been nearly as active as she could have been throughout her catfighting career and as such she cannot win long matches without doing a bit of cheating from time-to-time, relies too much on punching and kicking, hammering her in her chest can actually Sudden KO her early, no power moves, chain-hit power moves can take the fight right out of her, once mentally broken does not recover, chain-hitting her can cause her to Sudden KO, takes abnormal damage from Dirty Tactics, bitch-slaps do abnormal damage to her, hitting her with multiple finishers EARLY will KO her

Teri Lynn Hatcher has returned to the world of celebrity catfighting in a big way! She'd stepped off for a bit, only re-appearing from time-to-time just to try to keep her skills sharp and drum-up support for herself in Hollywood, AND?! The public eye. But a recent run-in with Jennifer Aniston has reawakened THE BEAST inside of Teri Lynn and she's determined to get back IN THERE AND WHIP SOME ASS!

Okay… I SEE YOU SNICKERING!?!!

You're like "Teri Hatcher? C'mon man, Teri-fuckin-Hatcher!" Well like Craig Ferguson says on the Late Late Show "YESSS!!!! I KNOOOW!!!! TERI-FUCKIN-HATCHER!?!!! This fuckin Geese Howard guy has lost'is marbles! Teri-fuckin-HATCHER!?!! YESSS! I KNOOOW! Teri Hatcher!"

Seriously though, Teri's real reason for getting back into the swing of things is because it felt realllllly good! To kick the crap outta Jennifer Aniston in that parking lot! The adrenaline, the RUSH!?!! Far as Teri's concerned, better than smoking CRACK! MY GOD!?!? Teri Hatcher smoking CRACK!?!! YESSS!?!! I KNOOOOW!!!! Okay that shits old now, but the bottom line is that Teri wants back into the ring for the thrill of it! And yes all of you with sense understand that Teri isn't paying attention to the fact that she could get her ass whipped and that'll take the luster right offa the whole "catfighting feel good", CRAP! But let's give Teri Lynn the Tiger, who's feelin GREAT! A little more rope to hang her scrawny little ass from, shall we!? YES, WE SHALL!

Teri Lynn on the other hand? Bitch's got BIG PLANS! She is thinking about teaming up with Eva Longoria, Liz Hurley and maybe Nicolette Sheridan!?!! And forming a group now that her publicist has told her that she'd heard of a new celebrity catfight league called the Women's World Wrestling Federation! The W3W! Teri is already practically creaming at the fact that this could be her chance to get in here and show these young bitches EXACTLY WHY Hollywood still finds her a HOT, SEXY, MILF! Yeah, you thought it was gonna be something deep, DIDN'T YA!?!! NO! Teri's here to spread hot TLH ACTION! To the brand new baby on the block in the sick-ass world of celebrity catfighting! TERI LYNN HATCHER!?!!! IS HERE TO GUIDE THE W3W TO GREATNESS! IN AAAALLLLLLLLL HER GLORY! Ya betta recognize bitch… Ya betta recognize… Can you imagine Teri Hatcher saying that? That within itself is FUNNY! Which is why people think this bitch is a little, ya know? Koo-koo, koo-koo, but what the HELL!?!! Tomorrow Never Dies, am I right? AM I RIGHT!?!! Oh fine then, yes that was the name of the movie she was in! It wasn't that fuckin corny of an inside joke! Either way, all bullshit aside. Teri is seriously psyched about her chances to climb atop the W3W pile and ride these bitches into the ground on her way to some CHAMPIONSHIP GOLD! SHE'S READY TA SADDLE'EM UP! AND MOVE'EM OUT! YEEEEE-HAW! Don't ask where that came from. If I've done my job, then you'll see that this bizarre bio is a reflection of Teri's weird-ass state of mind on why she's bothered to get into celebrity catfighting again after pretty much loafing for most of her career. Could be a mid-life crisis thing, I dunno, but she's pumped up on pride and ready ta RIDE OR DIE!





DOWNLOAD - RagDoll Vol.6 (SoCal Val vs. Amy Love)

BACK TO THE ROSTER