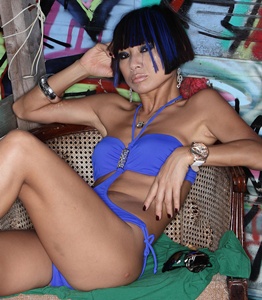 BAI LING
Born: October 10, 1966 Height: 5' 3"
Bai Ling is a Chinese actress who has since claimed US citizenship. Bai has described herself as a very shy child who found that she best expressed herself through acting and performing. She has said that acting allows people to ignore how society tells them to behave and allows other parts of themselves to be expressed. After her graduation from middle school, Bai was sent to do labor work at Shuangliu, a county near Chengdu, where the Chengdu Shuangliu International Airport is located. Before long, she managed to pass the People's Liberation Army's exams, and became an "artist soldier" at Linzhi, Tibet. Her main activity there was entertaining in the musical theater. She also served shortly as an Army nurse. Three years later, she was discharged from the army.
Subsequently, Bai spent some time in a mental hospital. Though she insisted then and now, "I'm not crazy," she maintains to this day that she is from the moon, where her grandmother lives. "I'm not really in reality. I'm in my own universe and my mind is a million miles somewhere else," she claims, further explaining, "Why I feel like I come from the moon is because my mother told me I was found somewhere." She believes that when she looks up at the moon, she can often spot her grandmother there, still living in her childhood home.
Bai had previously appeared in several Chinese movies. In 1984, Bai appeared as a fishing village girl in the movie
On the Beach
. Later she filmed several other movies, including
Suspended Sentence
,
Yueyue
,
Tears in Suzhou
without much attention. She became famous after playing a girl with a psychological disorder who has an affair with her doctor, in the film
Arc Light
. Since coming to the United States in 1991, she has appeared in a number of American movies.
She appeared in
The Crow
(1994), playing the half-sister/lover of the main villain, Top Dollar. Hu guang was her most celebrated role in the Chinese film industry, and
Red Corner
(1997) would be considered her break-out role in English film. She was named one of People's "50 Most Beautiful People in the World" in 1998. She appeared in Chris Isaak's music video "Please" in 1998. She shaved off her hair, which had exceeded a length of 36 inches for her role in
Anna and the King
, and is widely known in Thailand as "Tuptim", her character's name from the film, even though the movie is officially banned because of its depiction of the King of Siam. She filmed scenes for
Star Wars Episode III: Revenge of the Sith
(2005) as Senator Bana Breemu, but her role was cut during editing. She claimed that this was because of her posing nude for the June 2005 issue of
Playboy
magazine, whose appearance on newsstands coincided with the movie's May 2005 release, but director George Lucas denied this, stating that the cut had been made more than a year earlier. Her scenes were included in the "deleted scenes" feature of the DVD release.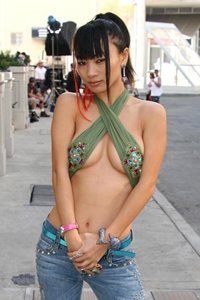 Stone Rage Battle Zone Matches

BACK TO THE CELEBRITIES