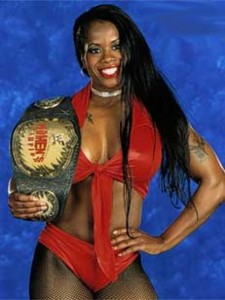 JACQUELINE MOORE
Born: January 6, 1964 Height: 5'3" Weight: 119 lbs
Jacqueline "Jackie" Moore was a professional wrestling fan as a child, and began training under Skandor Akbar after she met him in a gym. She was the only female in his school, preparing her to often wrestle against men. She debuted in 1989 in the Texas-based World Class Championship Wrestling promotion as Sweet Georgia Brown. In 1992 Jacqueline moved on to the United States Wrestling Association in Memphis, where she was known as Miss Texas. She became a fixture in the women's division, which she would dominate for four years.
Jacqueline began submitting her resume to World Championship Wrestling, and was eventually offered a contract by WCW employee J.J. Dillon. She debuted in WCW in January 1997 as the on-screen girfriend of Kevin Sullivan, then feuding with his estranged wife, Woman, and her boyfriend, Chris Benoit.
Jacqueline joined the World Wrestling Federation in mid-1998. She debuted as the on-screen girlfriend of the heel Marc Mero and feuded with
Sable
, Mero's estranged wife. After Jacqueline and Sable traded insults, Jacqueline challenged Sable to a bathing suit contest. The contest took place at Fully Loaded, with Sable winning after she removed her halter top to reveal a painted on bikini top. However, the following evening on RAW, Vince McMahon disqualified Sable as "body paint does not constitute a bikini", and Jacqueline was awarded the winner's trophy. After Sable defeated Jacqueline in an evening gown match on RAW, Jacqueline demanded a singles bout with Sable. Jacqueline defeated Sable with the revived WWF Women's Championship on the line. Jacqueline and Sable continued to feud, with Jacqueline cutting off Sable's ponytail on RAW. Sable defeated Jacqueline to become the new WWF Women's Champion. Jacqueline and Mero separated and the jilted Jacqueline formed a stable of androphobic women known as the Pretty Mean Sisters (or "P.M.S.") with Terri Runnels.
Jacqueline returned to her pursuit of the Women's Championship. Jacqueline won the championship a second time, defeating Harvey Whippleman (who had won the belt from Miss Kitty while in drag and calling himself "Hervina") The inexperienced Stephanie McMahon defeated Jacqueline following extensive interference from D-Generation X.
The APA (Faarooq and Bradshaw) recruited Jacqueline, to take care of Trish Stratus while they fought T & A. In 2002, Jacqueline became a referee. In 2004 Jacqueline defeated Chavo Guerrero Jr in an upset victory for the WWE Cruiserweight Championship. She lost the Cruiserweight Championship to Chavo Guerrero Jr. in a match in which Chavo's arm was tied behind his back. June 2004, Jacqueline was released from World Wrestling Entertainment. In 2004, she joined TNA, where she worked mostly as a manager and occasional wrestler.
Late-2004, Jacqueline was cast in the movie
Knight Fever
as a tough detective, "Evil" Venus Jackson. Jacqueline appears in Ethan Dettenmaier's
Sin-Jin Smyth
. She plays V.M "The Engine" Sexton. In 2016 She was inducted into the WWE Hall Of Fame. She is the first woman of African American descent to be inducted into the WWE Hall of Fame.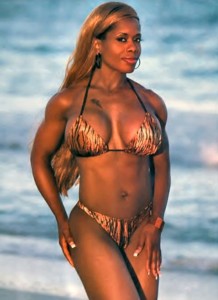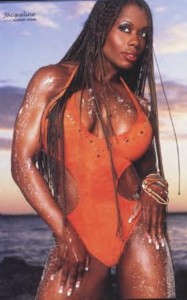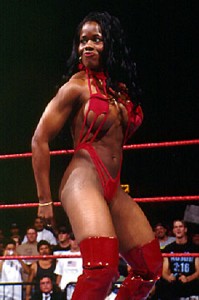 Sensational Sherri Vs Jacqueline Brawl
by ElBoricuaJay
BACK TO THE CELEBRITIES