ALYSSA MILANO
Born: December 19th, 1972 Height: 5' 2" Orientation: Bisexual Years Catfighting: 20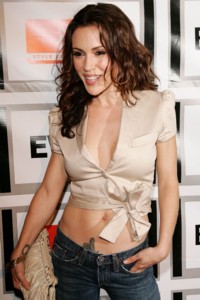 Previous League: NNL, XCF, BZL Previous Belts: XCF Champion (defunct, still has belt) 1x, BZL (defunct) War Queen 1x, BZL (defunct) Bootylicious Champion 1x
Finishing Moves: Milano'd (Multitude of Haymaker Punches to the Tits), Alyssa Angel (Top Rope Flying Body Press or Splash), Charmed I'm Sure (Any Illegal Pin move), I'm the Boss (Counter vs. Opponents Finishing Move, depends on Alyssa's own awareness)
Strengths: Veteran experience, complete package catfighter, overseas experience in catfighting, wily, multiple stable founder, devious, willing to toady to power if favored and valued
Weaknesses: Paranoid, vulnerable to momentum, low psyche, mercurial, team killer, controlling, manipulative, obsessive, vulnerable to KO when momentum against her, vulnerable to KO when psyche even lower than normal, vulnerable to treachery and misdirection, vulnerable to sudden KO's in long matches or when continuously chain-hit with moves, vulnerable to certain catfighters

Alyssa Milano has created an image not unlike the role she played of the Long Island Lolita, Amy Fisher. Throughout her career Alyssa has sought the limelight and actively had to fight against her earlier child star success. This has led her through many ups and down's, twists and turns. Where she has had to reinvent herself repeatedly, even going so far as to eventually retreat to Japan and create an image of a Pop Idol for herself there. All 5 Milano albums went platinum in Japan, where she is recognized first as a singer, then an actress!

It is while she was in Japan that Alyssa began to take notice of the Celebrity Catfight Circuit (CCC). Alyssa began her training in the Japanese CCC eventually joining the dominate New Nihon League (NNL). There she fought and wrestled mostly as a Good Girl/Face, for almost two years. She turned Bad Girl/Heel the last year of her contract with the NNL and actually saw her popularity soar enough to garner attention back in the States amongst its CCC. She was also able to re-invigorate her acting career as well. Eventually she was contacted by Stone Rage and offered a contract to catfight for his Battle Zone League (BZL). By this point in Alyssa's career she had become a household name again because of the cult following of Charmed! She had also established herself as a top-tier catfighter throughout the American CCC. Instead of simply taking Stone Rage's initial contract offer, Alyssa decided to join a rival CCC called XCF, Xtreme Catfighting. XCF at the time was threatening the BZL in all of the major markets and the addition of Alyssa to their roster gave them a huge jump in ratings and advertisers. XCF had also gained major connections in Tinseltown so they were now able to compete with the BZL for top-tier celebrity catfighters, as well as offer them lucrative entertainment opportunities outside of the ring.

But Alyssa had entered into the XCF with one goal and one goal alone in mind... TO DESTROY IT! Alyssa was well aware of the long history of the BZL in comparison to the younger, flashier-upstart, XCF. Alyssa was having problems at the time with Charmed co-star, Shannen Doherty. XCF promised to help her "solve this problem" if she joined their company instead of the BZL. Alyssa agreed, but only if they not only solved the Shannen situation, but also gave her a title shot at the XCF Champion! The Champion at that time was Eliza Dushku who was embroiled in a three-way, FEUD! Not a three-way whatever you're thinking! But Eliza was locked in a heated match against three former XCF Champions; Bianca Lawson of Buffy the Vampire fame and the bitch that Eliza had to beat to become the current XCF Champ! Essence Atkins, a journeywoman actress who would be best known for the TV show Half and Half. And the always odd, always unusual, always erotic, Bai Ling.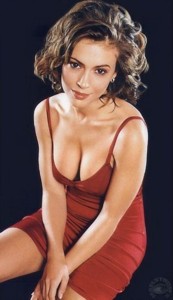 After a month of matches between these four catfighters, an XCF Endurance Match was booked for their Pay-Per-View at the end of that month, Brawl for it All! The ladies had a lottery drawing at the top of the PPV to see who would face who. Atkins became furious over the fact that she defeated Bianca and was now the number one contender, but was now reduced to luck of the draw. Milano then challenged Bai Ling in the name of "Not cheating Essence out of her #1 spot." Alyssa wrestled Bai Ling 1/3rd of the way through the PPV and defeated her! Bianca attacked Atkins in her dressing room ELIMINATING HER! Bianca then challenged Eliza at the halfway point of Brawl for it All as the "replacement" for injured Essence. Eliza eventually defeated Bianca and went on to fight Alyssa as the main event for the end of the PPV. Alyssa then fought Eliza and picked up the win and the XCF CHAMPIONSHIP BELT!

She was then promptly attacked by an irate Essence Atkins! The fight spilled out into a Fall's Count Anywhere Match in which Alyssa eventually won by monkey-flipping Essence off one of the outside loading platforms into a trash filled DUMPSTER! After promptly pinning Atkins in the trash dumpster! A black limo raced up where Stone Rage stood up through the sunroof of it and waved Alyssa onward as she raced to his limo with the XCF Championship BELT! XCF fans were stunned as Alyssa literally QUIT ON THE SPOT AND STOLE THE XCF BELT IN THE PROCESS! XCF was never able to recover from the humiliation of having to get its belt back from rival BZL. Alyssa joined Stone Rage's Battle Zone League and due to her actions when she was in the XCF, she earned a relatively quick shot at the War Queen Belt after only a few matches. She would go on to win the War Queen Belt, but would gain infamy by CREATING the Bad Asses, who would ultimately mutate into the American Bad Asses, the ABA. It quickly put Alyssa on the outs with Stone Rage and although her Bad Ass creation appeared to be her ticket to the top of the BZL, Alyssa would live to regret creating her own Pandora's Box.

Creating this group with Christina Applegate, Jenny McCarthy and Nikki Cox, would prove to be a fatal mistake as Alyssa's catfighting career would start to take a sharp spike downward, while the power of the ABA grew. Over time, Alyssa began to resent her role in the ABA as they began to actively override her decisions and direction for the group. She would ultimately begin to plot and scheme to usurp total authority over the ABA's activities, but the beginning of the end would come when Jeri Ryan joined the group swelling its ranks to 5 members. Alyssa would develop a special hatred for Ryan as the two "co-existed" in the ABA where Alyssa was now actually a passenger in the very group that she had started! By this point the ABA was in open warfare with Stone Rage and his Fab-4 for total control of the BZL. Never in a million years did Alyssa ever believe that the group SHE HAD FOUNDED! Would turn around and then not only OUST HER! BUT ALSO BEAT THE CRAP OUTTA HER AND THEN DUB THE BEATDOWN... A Milano...

Disgraced and set adrift, Alyssa disappeared for a bit from the BZL until she resurfaced again with another new group. This time she had re-started Generation Next! with herself as the leader. She then plunged her new group into the heart of the ongoing war between the ABA and Stone Rage's Fab-4! The battleground was Las Vegas, Sin City! However, the war between the Fab-4 and the multitude of groups within the BZL that had aligned themselves with the ABA, had unwittingly stumbled into the Shadow of Sin City, the enigmatic recluse, Geese Howard. Alyssa led her new Gen Next! against the Fab-4, but not before she recruited the Kill Bill Black beauty, Vivica Fox! Unknown to Alyssa, Fox had already had a run in with the Shadow of Sin City and had actually come to some sort of terms with him. Regardless, the Fox powered Gen Next! was still soundly defeated by the Fab-4! Fox would then be mysteriously removed from the humiliating situation that the Fab-4 left Gen Next! in, but Alyssa would get a measure of revenge when her team would collide with Blond Ambition and cause the destruction of Britney Spears stable.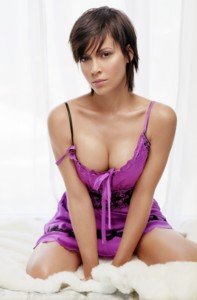 With Vegas on Fire, Alyssa decided to stay in Sin City a bit longer and it would once again have a bizarre and adverse affect on her catfighting future. A feud broke out between her Gen Next! and then Gen Prime! led by Christina Aguilera! As the battles between the two groups intensified, Alyssa's subordinate Shakira won BZL gold causing a slow burning bitterness at the fact that Alyssa was the leader, yet she had no belt. As far as Alyssa was concerned she felt as though Shakira should actually give her a shot at the belt or simply hand it over to her since she was the one who had mentored Shakira to her current success. In all honesty Alyssa had become paranoid as yet another of her subordinates won BZL gold while she was still title-less! As the war with Gen Prime! intensified, Alyssa became more and more bitter at the success of her subordinates, which to… any sane person would sound crazy. But this wasn't about Alyssa being insane, unless it was insane-petty-jealousy. Her last "group" had risen to BZL fame and were now the top dogs of Stone Rage's league, but like the ungrateful little BITCHES! That they are, they'd turned on the very woman that brought them all together and made them into what the fuck they are today! This would lead to them beginning to doubt not only Alyssa's ability as a leader, but also her sanity because she saw shadows at every turn and betrayers around every corner. The one time ref of Gen Next! would eventually become manager of the group and assist Shakira in becoming leader of Gen Next!, however...

Before they could give Milano yet another Milano, a night on the town caused Alyssa to cross paths with old and now EX, ABA member, Jeri Ryan! Alyssa while out at a Sin City nightclub called the Hole in the Wall, watched with a mixture of righteous revenge and actual concern when she saw the very last showdown in Sin City between her old ABA teammates and the Fab-4. It was a complete disaster for the ABA where the Fab-4 literally wiped the streets of Sin City with them! Strangely angered by the complete cunt-and-ass kicking that the ABA had taken, she barely noticed Jeri, sneaking out after clearly seeing the carnage on the giant screen TV of the Hole in the Wall club. Milano decided to attack Ryan in the dimly lit parking lot of the nightclub only for her to fall into the Shadow of Sin City and end up carted off in the dead of night. Alyssa would eventually find herself in an impromptu offer of employment by Geese Howard who had already completed the building and financing of his own CCC in Sin City. Alyssa was already leery of an impending betrayal by her own group, but really she was just as shaken at seeing the fact that in the end? She had brought Gen Next! to Sin City to help get rid of the Fab-4 and finally break Stone Rage's stranglehold on the BZL, never mind that it was HIS LEAGUE ANYWAY! And that was what was at the heart of it… It was HIS LEAGUE… and somehow all of the things she had done were not enough, never enough, to get her into that rare air that he breathed, that favored status that his Fab-4 bitches lived in everyday… Untouchable, unaccountable, because they were the personal lapdogs of the man who called all the shots, they could do no wrong. Seeing the end result of her Bad Asses, how they turned on her and grew beyond her, only to fail and fall at the end? Alyssa realized that it just wasn't possible to get in on Stone Rage's good side at this point. And now she was repeating the process all over again with her New Gen Next!, it didn't matter, she realized. She understood that she was etched in stone in the BZL, but here? Here was a chance to get in on the ground floor… And so… in the middle of God knows where, talking to a voice and not even seeing the man who it was coming from… Alyssa agreed to fight Jeri to show Geese that she was still a viable force in the celebrity catfighting world. Alyssa has since agreed to become one of the cornerstone veterans of Geese Howard's, Woman's World Wrestling league, the W3W... 


Stories with Alyssa Milano




FOLLOW ME TO ULTIMATE SURRENDER!



BACK TO THE ROSTER