GENERATION PRIME REAWAKENING
VS VS
FOXY BROWN VS CARMEN ELECTRA VS JANET JACKSON

Once upon a time, Generation Prime was on top of the league. Christina Aguilera had the War Queen belt for a while. They cast the Curse of Aguilera on Jennifer Lopez, that almost destroyed the fabled Fab Four. They were a Jessica Simpson brain meltdown away from finishing off the Fab Four in Las Vegas, a task that no other super group in the league came close to accomplishing.

When they returned from Vegas, nothing went according to plan. First, they shed what they considered some excess weight in Vegas in the form of Jessica Simpson and Alicia Keys from their roster. Then they ran into a buzz saw named Kelly Clarkson and her newly retooled Generation Next. Christina Aguilera and Janet Jackson both suffered decisive defeats at Kelly's hands that dismissed them from all title contention.

Next they could never find a suitable replacement for Jessica Simpson. After being reduced to a trio, they wooed Jaime Pressly, but could not land the actress to their ranks. Then they welcomed Denise Richards to their circle, only to be jilted at the last moment for the ABA. When they protested, their uprising was put down hard by the ABA. The ABA put them under their heel and showed them their new position in the league. The booking committee did not even think of them when booking the historic RAGE card.

It is time for a re-invention of themselves. That is something that Janet Jackson, Mya and Christina Aguilera have done frequently in their music careers. In fact it is old shoe for veteran singers of their caliber.

The first ingredient for a re-invention, is a new look. In this case, that means a new member. They have to create a buzz, something that will excite their fan base.

Second ingredient is a big premier. In this case, a big stage to announce their new addition. Also this was not a problem. Although they could not get a match, the booking committee were very willing to allow Gen Prime the stage at RAGE for a few minutes to debut their new look.

Third ingredient is to score a hit. In this scenario, it means a big victory. In music they have a couple of tries with multiple singles released on an album. In catfighting, they will have fewer opportunities. Also in music if step three fails, repeat the re-invention process. Again in catfighting repeating the process becomes much more difficult after they lose the confidence and support of promoters and bookers.

None the less, Generation Prime begins their comeback process. The first hurdle is to name that elusive fourth member. The first name is a friend from the past.

Foxy Brown has been contacting Christina for months now about rejoining Generation Prime. Foxy joined the original members, Christina, Jessica Simpson and Ananda Lewis to even the odds against Britney Spear's Generation Next. She did not make the cut when Janet joined and forced everyone to earn their position in a classic brawl.

Since that time, life has been trying for Foxy, including hearing losses, prison time, multiple legal problems, drug addiction, and being dropped from her record label. Foxy felt a return to catfighting would be the perfect jump start for her career. She knew she would have difficulty getting the promotional push without the star power of Generation Prim behind her. Christina still believes in her old friend, but other members in the group do not share her enthusiasm.

The second candidate that emerged was Carmen Electra. Carmen has a long storied and successful career in the league, including a brief reign as War Queen. Based on resume, Carmen would be a tremendous coupe for Generation Prime. However Carmen has a long reputation of being selfish, and worst of all an user and abuser.

Janet, Christina and Mya have grown very close over the years. There is a true bond and sisterhood among them. That is why they have been so selective in the past about admitting a new member. Despite Carmen's amazing talent in the ring, most predict that she will be a cancer in the group. Once she has drained all that she could, she would abandon them and leave the group in shambles.

Both option had inherent and sever problems. Foxy's celebrity and star is waning, so much that she may not make the splash that they want. However she is loyal. Many doubt that Carmen even knows the meaning of that word.

So option A is a former drug addict with sever anger management issues or option B, an opportunistic snake, that will clearly abandon or bite them in the ass. But Generation Prime was desperate. They had to have one or both of them. Janet decided that whoever joined the crew would have to earn it, just like the first time they revamped the lineup. They would have to earn it in the ring.

Wisely, Generation Prime decided to settle this in private. They rented a secluded gym with a ring. That afternoon, 5'4", 39 year old model/actress/television personality/dancer and world class ass shaker, Carmen Electra will battle 5'2", 31 year old trail blazing rapper/hot head and jail bird, Foxy Brown. Christina, and Mya sit at ringside while Janet is in the ring to officiate the bout.

Foxy and Carmen took an instant rivalry between each other as soon as they found out they were competing for this spot. Both started bragging about how they were going to beat the other. Soon the trash talking turned serious. After all, both women are volatile and ultra competitive. Above all this could be the win fall to jumpstart both of their careers. A lot of money is involved.

Janet calls for the bell to start the match between Foxy and Carmen. All the trash talking immediately ceases as the two beauties lock up collar and elbow. Both women dressed appropriately and conservatively for this private battle. Carmen wore yellow spandex shorts with a matching sports bra, while Foxy wore purple spandex shorts and sports bra.

The larger, Carmen pushes Foxy back against the ropes from the collar and elbow position. Using quickness and a handful of hair, Foxy spins off the ropes and reverses positions, putting Carmen's back against the ropes. Janet counts, calling for the break.

Foxy backs away giving a clean break. Carmen immediately protests to Janet, "This dirty little bitch is pulling my hair!"

"Fuck you bitch!" Foxy defiantly spits back and insultingly mushes Carmen's face back with her hand.

"Why you little..." Carmen mumbles as her eyes light up in rage. Seeing this totally infuriated woman lunging for her, Foxy turned tail and ran. The rapper runs to the other side of the ring and slides under the bottom ropes to escape the ring with Carmen in hot pursuit. Carmen leaps out of the ring, chasing Foxy as she runs around ringside, before sliding back into the ring under the ropes. Carmen starts climbing into the ring after her quarry, but the wiley rapper takes the offensive and makes a U turn and charges back at Carmen, nailing her with a flying knee as Carmen is climbing between the ropes. Carmen is propelled out of the ring and falls off to the gym floor with an audible thump.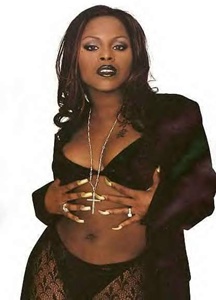 Taking full advantage of a wounded enemy, Foxy leaps out of the ring after Carmen. The actress is still shaken from her fall. Foxy snatches a handful of Carmen's brown curly hair and ushers her back to the ring. Foxy rolls Carmen back under the bottom ropes, then slides into the ring after her.

Foxy snatches Carmen to her feet by her hair, then guides Carmen's face into the nearest turnbuckle. Carmen's face bounces hard off of the corner padding. She turns around in a daze, trying not to get her face slammed into the turnbuckle again, but Foxy is waiting. Foxy collapses Carmen to her knees with a stiff kick into Carmen's stomach. A second kick brings to her belly makes Carmen sink lower to a seated position on the mat. Foxy immediately presses her foot against Carmen's throat, trying to choke a little fight out of her adversary. Janet calls for a break of the illegal hold.

Foxy rapidly complies taking a step back agreeing "Okay, okay I got it." Next Foxy immediately puts her foot back across Carmen's throat, reapplying the choke, but putting more force and pressure than before with the aid of the ropes. Janet immediately restarts the count to break the hold. Foxy breaks the choke at the three count to not anger Janet, and backs away. Carmen is gasping and turns her back to Foxy to use the ropes to help get to her feet. Once she is on her knees, Foxy swoops in again and puts her knee into the back of Carmen's neck, forcing her throat onto the middle rope choking her again.

None of the Generation Prime girls are above a little rule breaking in a crucial match. Janet is bound to follow the rules to see what these competitors can do in a real life situation, but is not disgusted by Foxy's rule breaking in the least. It actually impresses her seeing the lengths she will go to to win and join the group.

Foxy abandons her choke hold before Janet disqualifies her. Carmen collapses to the mat gasping for air. Foxy drags her over a foot away from the ropes and drops on top of her for a pin fall. Foxy wisely hooks a leg and Carmen's arm to try and hold her down and within the confines of the ring, but only holds Carmen down for barely a two count.

Carmen sits up, to find Foxy already behind her. Foxy locks Carmen in a rear chin lock. In the meantime, Foxy, other hand roams and scratches and gouges sensitive areas on Carmen's body. The hand especially spends a lot of time examining Carmen's breasts.

Carmen spends longer than expected in the hold. Despite the rough conditions, Carmen is able to catch her breath. Carmen starts powering up to her feet. She turns into her foe to pelt Foxy with a few elbows to loosen the hold. Just as Carmen is about to pull free, Foxy grabs two handfuls of Carmen's hair, and violently throws her over backward to the mat. Carmen again finds herself flat on her back on the canvas, seeing stars.

Carmen sits up still in a fog. Foxy disrespectfully slaps Carmen across the back of the head, "This is to get in Generation Prime bitch!" Foxy slaps Carmen again. "Empathsis on 'prime' bitch! You're obviously past yours." Foxy adds with another slap. "Get out of my way, you've already had you time." Foxy adds as she sinks in another rear chin lock on Carmen to wear her down for the pin fall.

Again Carmen spends longer than expected flailing and suffering in Foxy's clutches. Finally Carmen gathers herself to power up to her feet again. Once rising to her feet, Carmen starts thrusting one of her prize assets, her tight spectacular booty, back into Foxy's gut. Foxy grunts and hops with each booty butt. Soon Foxy's clutch around Carmen's neck is just a formality. Carmen grabs Foxy's wrist and reaches behind her for Foxy's head, and judo tosses the rapper over her shoulder. Foxy goes flying head over heels, launched over Carmen's shoulder, and crashing to the mat several feet away.

Foxy springs back to her feet after coming to a sliding stop. Perhaps is is prematurely, Foxy appears still rattled as she immediately stomps back toward Carmen. Carmen fell to the mat from the force of tossing Foxy, and is gathering herself as Foxy approaches. Carmen lashes out with her feet at Foxy, striking her ankles. Foxy's feet are knocked out from under her, and she takes an unexpected face first dive into the canvas.

Foxy's head pops up with a shriek, and clutching her nose after her beautiful face hits the mat. A split second later, Carmen grabs Foxy's hair and starts banging Foxy's face into the mat over and over again. Christina and Mya sit up at ringside, watching the ferocity of Carmen's assault. Foxy's head looks like a blur with Carmen slamming her face into the mat so fast.

Once Carmen stops, she springs to feet and roars like lioness as her body is flooded with adrenaline. Although this is a private contest, with an audience of two, and it will not affect their win and loss record, Foxy and Carmen know this is a cross roads match for each of them. To Janet, Christina, Mya and even Carmen's surprise, Foxy immediately starts rising to her feet. Everyone of the four other women knew that there is no way that they would be able to stand after absorbing that type of onslaught. They were all certain that they would still be on the canvas wallowing in pain. Universally they start respecting the Brooklyn born diva as the toughest woman in the room, or the dumbest woman, either/or.

As soon as Carmen's roar ends, Foxy is standing. She wobbles for a moment then starts for Carmen. Foxy takes a step toward Carmen, when the Cincinnati, OH native charges at Foxy as well. Before Foxy takes two steps, Carmen is tackling her, taking Foxy to the mat with a Lou Thez Press. Foxy is slammed down hard again, with Carmen seated on her chest. Immediately, Carmen seizes a handful of Foxy's hair, and lays into her with fist to Foxy's face and head. Carmen's fist turns into a blur as it pumps up and down, colliding into Foxy's face. Before long, the powerful, spitfire, Foxy, is able to thrust and knock Carmen from on top of her, but not before taking a terrible beating at Carmen's hands.

Although obviously still dazed, Foxy again starts rising to her feet. By now everyone acknowledges that Foxy is one tough bitch. Carmen did not seem to care however. She comes flying by Foxy, grabbing her hair and bulldogging Foxy's face into the mat. Instantly Carmen rolls Foxy over onto her back hooks the leg and goes for the pin. "1... 2... and...." Kick out!

Both women cautiously rise to their feet. Both are feeling aches and pains. Both are also feeling frustration too. Carmen is frustrated that she just could not finish the match, that Foxy is too tough and resilient. Foxy is frustrated that she has loss control of the match, and has been on the verge of losing.

Once both are standing Carmen seizes Foxy's arm and tries to whip her into the ropes. However Foxy is able to put on the brakes and stop the whip. Foxy turns back into Carmen and kicks Carmen into the gut. When Carmen doubles over, Foxy grabs Carmen around the head. Foxy turns and spins while taking Carmen to the mat with a spinning neck breaker. Foxy immediately goes for the cover and hooks the leg. "1... 2... and...." Kick out!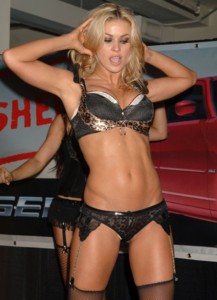 "Shit!" Foxy exclaims in frustration and slaps the mat. Then she gets right back to business. She peels Carmen off the mat and pulls her to her feet. Foxy whips Carmen into the corner. Carmen's back slams into the turnbuckle and ricochets back toward Foxy. The rapper nails Carmen in the gut again with another kick. Carmen doubles over clutching her stomach. Foxy grabs Carmen around her neck and shoulders while intertwining her legs with Carmen's rolling her into a small package.

Carmen is rolled into a ball along with Foxy, putting Carmen's shoulders on the mat. Janet is counting Carmen's shoulders down. However Carmen's lean, sleek sexy body, toned by Carmen Electra's Aerobic Striptease is able to powerfully roll her shoulders off the canvas before Janet can count to three. Actually, Carmen rotates the sey ball comprised of her and Foxy, one quarter rotation, and put Foxy's shoulders on the mat instead of hers. Carmen clutches a handful of Foxy's spandex shorts to help keep that position secure long enough for Janet count three and end the match for Foxy.

The ball breaks apart. All three scramble to their feet. Janet quickly finds Carmen's arm and raises it in victory. Carmen starts celebrating, while Foxy's jaw drops in disbelief.

Foxy immediately gets in Janet's face, complaining about protesting the victory. Foxy's argument falls on death ears. Janet does not care how Carmen got the victory, all that is important is that she got it. No matter how, a victory is what Generation Prime desperately needs right now.

Predictably Foxy is starting to lose it. All of her hopes and dreams of a new career in Generation Prime are vanishing right before her eyes. True to her history, Foxy screams more and louder until she does something phenomenally stupid. Foxy gives Janet a two handed shove in her chest. Instantly Janet's eyes blaze with anger. Christina and Mya start shaking their heads at ringside. They know what is about to happen.

Suddenly Janet's knee flashes up into Foxy's pussy. Foxy screams in pain and surprise from the low blow and instinctively clutches her cunt. That leaves Foxy open to a mind boggling fast four punch combination across her jaw. Foxy wobbles back a couple of steps, not even sure what just happened to her. Like a catfighting machine, Janet's foot flashes up with a powerful side kick to Foxy's jaw. Foxy's head snaps back like it's about to vault off of her body. Foxy's body goes limp and collapses to the canvas.

Carmen is laughing her ass off seeing Janet taking care of Foxy in short order. It was even more hilarious seeing Foxy laid out on the mat. Janet looks at Carmen for a moment. The only thing going through her mind is, "This is not what Gen Prime needs. That attitude is what put us in the position, that fucking lackadaisical attitude!"

Janet is the soft spoken leader of Generation Prime, the coach and a pop icon because of one reason. Janet Jackson is a perfectionist. She is a perfectionist to the point of being a bitch. Even achieving and greatness is not good enough. Carmen constantly displays a lax attitude and trying to 'just get over'. Janet also is not about to let this imperfection into her group without learning it's lesson first.

Janet lashes out at Carmen and gives her a chop across her chest. As the smack of flesh rings out Carmen recoils in shock. "Stop laughing! It's not funny!" Janet shouts in her meek, child-like voice, which actually make it more comical. Janet launches a punch at Carmen. Carmen does not understand what is happening, but she does not want to end up like Foxy, unconscious on the mat. Carmen gets her arm up and blocks the blow. Carmen retaliates with her own fist, walloping Janet over the head. The next thirty seconds Janet and Carmen stand in the middle of the trading punches. "Get serious! This is not funny!" Janet screams.

Although Carmen is fit and strong, Janet is just as fit but stronger. Janet's fist start marching Carmen backwards and bobbing her head. Janet's punches daze Carmen as she backs against the ropes. Janet grabs Carmen's arm and whips her across the ring. Janet blasts Carmen with a clothesline as she rebounds. Carmen's head is nearly taken off as she is knocked to the mat. "We need you to lift us up, not help bring us down!" Janet shouts down at Carmen.

Janet is speaking in riddles now as far as Carmen is concerned. She does not know what ticked Janet off so. Mya and Christina know why Janet is so angered, and they know better than to intervene in Carmen's lesson. Janet pulls Carmen off of the mat. Janet tucks Carmen's head under her arm in a front face lock, so Carmen is doubled over looking down at the canvas. Janet runs to the corner, literally running up the turnbuckles for more momentum then planting Carmen into the mat with a tornado DDT. Carmen is instantly knocked out on impact.

Janet rises looking at the destruction she has wrought. Carmen and Foxy lie in unconscious heaps on the mat. Janet thinks about what she has seen and learned during their match. Carmen proved to be the better wrestler, but Janet already knew that. Carmen found the easiest and quickest road to her goals, as she usually does. Foxy proved to be a dirty, tough little scrapper. Then she found a way to self destruct at some point through the proceedings. Janet already knew that about both women before the match. Neither are the perfect fit for Generation Prime, but both could be useful. Both of them showed what was expected of them. Both of them needed to show more to get Janet's support to enter generation Prime. "I'm not that impressed by either of you. Neither of you has shown me enough to be part of our family." Janet says and leaves the ring. She does not talk or explain to Christina or Mya, Janet just walks to the solidarity of the showers.

Janet needed some time alone. Her mind was reeling in contradictions as only Janet Jackson's brain can. Janet feels doubt and regret from Carmen and Foxy's performance, yet hope and promise. Carmen did earn her way into the group, but Janet is not opposed to adding Foxy too. Janet juggles more contrasting emotional extremes on a regular basis than most sane people are able. She is this bold iconic performer, yet still a painfully shy little girl. She is easily one of the world's sexiest and most desirable women, yet marred in low self esteem and self loathing of her physical appearance. Janet takes a relaxing shower, and hopes to find some answers for her extreme questions.

After a while, Janet's shower is interrupted as a naked Carmen Electra opens the shower door. "I haven't shown you enough?" Carmen seductively asks. "Let me show you a little more of me." Carmen finishes and forces her way into the small confines of the shower along with Janet.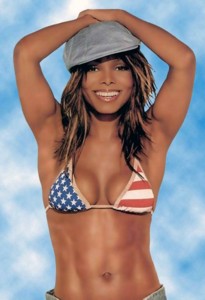 "What the hell..." The startled Janet is about to protest, but Carmen pushes her against the wall and as soon as Janet opens her mouth, Carmen presses her lips against Janet's and slide her tongue into Janet's mouth. Carmen starts passionately kissing Janet and pressing her body against Janet's. Janet starts to fight back, squirming and wiggling, but Carmen presses harder, rubbing her body against Janet's, and rubbing her pussy against Janet's hairy beaver. Carmen started caressing Janet's breasts. It was like she was rubbing all of Janet's struggles and resistance away. With each caress Janet's body relaxes, with each gentle touch, Janet becomes submissive.

Finally one of Carmen's hands drops and finds Janet's twat. Carmen's fingers work their way inside. "Rumor has it that Pam Anderson fucked your brains out once." Carmen whispers. "Wait till you've had me. I've fucked Pam brainless on a couple occasions, and once I'm in Gen Prime, you can have me whenever you want." Carmen's fingers slosh around in Janet's juicy pussy bit a few moments. Suddenly Janet no longer protests, but joins in, kissing and making hot, passionate love to Carmen. Janet wrapped her thick legendary thighs around Carmen's waist, while the actress held her aloft and pressed against the wall. Their pussies rubbed violently against each other under the cascading shower water.

It became a sexual experience for both women. Actually it was a sex fight that Janet was hopelessly losing and enjoying every moment. Carmen was amazed that as each moment of her seduction of Janet Jackson, how placid and submissive she became. Janet lost the first round erupting with a numbing orgasm. Carmen then sank to her knees. Carmen starts licking and lapping Janet's cunt. The weak kneed diva could only lean against the wall and allow Carmen to drive her down this road of ecstasy.

Carmen was astonished how each lick tamed Janet. "Are you impressed by me now?" Carmen purrs.

"Yes y y y yes ma'm" Janet stammered. "What ever you say." Janet's eyes were rolled back in her head, and she was moaning in sexual passion and pleasure. Janet has totally surrendered her body to Carmen.

"Am I in Generation Prime now?" Carmen asks.

"Yes! What ever you want!" Janet screams as she reaches the heights of ecstasy.

It took both women several minutes to recover from their sexual encounter. After the rest break and dousing off under the water, Carmen leads Janet out of the shower. Carmen was floored as the once powerful leader of Gen Prime now follows her direction like a four year old. After the two dress, Janet returns to Christina and Mya and informs them that she has reconsidered, and thought Carmen will be an excellent addition to the group.

Fast forward several week in the future. Janet Jackson, Christina Aguilera and Mya are standing in the middle of the ring at the historic RAGE pay per view. Christina takes the microphone first. "Many years ago Generation Prime sprung out of Generation Next because some of them were committed to greatness, but we were committed to even more. We wanted to be the truly elite."

"Admittedly we have gotten away from those values in the last couple years while each us dealt with developments in our personal affairs." Mya continues. "But not anymore. It is time we get back to the basics. It is time that we move in a new found direction and a new energy. The only way to get back to being eilite is with a big hit, a huge victory! I am proud to announce that we have signed a blockbuster match for next month at the THE GOLD EXPERIENCE! II Our founder, Christina Aguilera will compete for the Songbird Title in a triangle match against Shania Twain, and the champion, Jessica Simpson!"

The crowd cheers and reacts to the huge announcement. "Also to help add that direction and energy we have added a new member to our sisterhood." Janet picks up. "This woman is an accomplished competitor in this league already. She is a former War Queen, an international superstar and the newest member of our family.... Carmen Electra!" Carmen walks to the ring with a tremendous roar from the capacity audience.

Ingredients to reinvention - New Look: ☑ - Big Premier: ☑ - Big Hit - To be determined -







BACK TO THE CELEBRITIES
TO GENERATION PRIME


TO FOXY BROWN
TO CARMEN ELECTRA


TO JANET JACKSON
TO RAGE




FOLLOW Lyla Storm and Raven Rockette TO ULTIMATE SURRENDER!