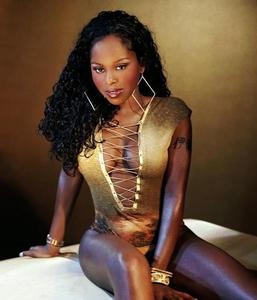 FOXY BROWN
Born: September 6, 1979 Height: 5' 2"
Inga Fung Marchand, better known as Foxy Brown, is an American rapper known for her solo work as well and numerous collaborations with other artists, and her brief stint as part of hip-hop music group The Firm. She is of mixed Afro-Trinidadian and Asian descent.
While a teenager, Brown won a talent contest in Brooklyn's Park Slope neighborhood. Production team Trackmasters were in attendance and being impressed, decided to let her rap over "I Shot Ya." She followed with appearances on several platinum and gold singles from other artists, including the remix of "You're Makin' Me High" by
Toni Braxton
. Brown was also featured on the soundtrack to the 1996 film
The Nutty Professor
, in "Touch Me Tease Me" by Case and "Ain't No Nigga" with Jay-Z. The immediate success led to a label bidding war that Def Jam Records won and added the then 16-year old talent to their roster.
In 1996 Brown released her debut album Ill Na Na to mixed reviews but strong sales. The album went platinum selling over 6 million world wide. Brown joined fellow New York based hip hop artists, Nas, AZ and Nature to form the supergroup The Firm. Their album entered the Billboard 200 album chart at #1, sold over 1 million records and is RIAA certified platinum. On January 25, 1997, Brown spat on two hotel workers in Raleigh, North Carolina when they told her they didn't have an iron available. When she missed a court appearance, an arrest warrant was issued and she finally turned herself in. She received a 30-day suspended sentence and performed 80 hours of community service.
1999 Foxy Brown released her second album Chyna Doll. It entered the Billboard 200 charts at number one, a first for a female raper. Although, its sales quickly declined in later weeks it is certified platinum after surpassing one million sales. On July 3, 1999, Brown was escorted off the stage by police at a concert in Trinidad and Tobago for using obscene language but was neither charged nor arrested. On March 6, 2000, Brown crashed her Range Rover in Flatbush, Brooklyn. That year she was also arrested for driving without a license.
In 2001, Brown released Broken Silence. Like previous albums, it also sold over 1 million records and is certified platinum by the RIAA. Threat of arrest faced her following an altercation at the Airport in Kingston, Jamaica. She would be arrested if she ever would return to the country. That April, Brown appeared on popular Wendy Williams' radio show, and revealed her relationships with Lyor Cohen, president of Def Jam Recordings at the time, and Sean "P. Diddy" Combs. Brown accused both of illegally trading her recording masters. In 2004, Brown reunited with her old friend and mentor Jay-Z, and new president of Def Jam and signed to its subsidiary, Roc-A-Fella Records. Brown attacked two manicurists in, Manhattan during a dispute over a $20 bill that she refused to pay. She pled not guilty to assault charges and entered three years of probation. Female rapper Jacki-O, in 2005, alleged that she and Brown got into a physical altercation at a recording studio in Miami, Florida, saying that Brown came into the studio during her session and expected her to "bow down" to her. Brown denied any such altercation.
Brown's attorney stated in 2005 that Brown was almost totally deaf and claimed that he could no longer communicate with her verbally. Brown told reporters that she was diagnosed with sudden hearing loss in May while she was recording her upcoming album. Brown had a confrontation with radio host Egypt on New York City radio station WWPR-FM. Brown pled not guilty to assaulting a beauty supply store employee. Her other arrests during 2007 included leaving New York state without permission during probation, hitting a neighbor with a BlackBerry, and almost running over a stroller with a baby inside.
On September 7, 2007, New York Criminal Court sentenced Foxy Brown to one year in jail for violating her probation. Brown was given 76 days in solitary confinement due to a physical altercation that took place on with another prisoner. According to the prison authorities, the next day after the incident, she was also verbally abusive toward correction officers and refused to take a random drug test. Brown was finally released from prison on April 18, 2008. Brown left Def Jam Recordings, establishing her own label, Black Rose Entertainment, with distribution by Koch Records. Brooklyn's Don Diva, cut just before she went to prison, was released in 2008.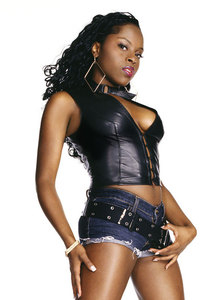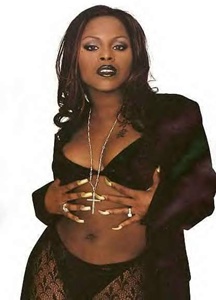 Battle Zone Stories with Foxy Brown