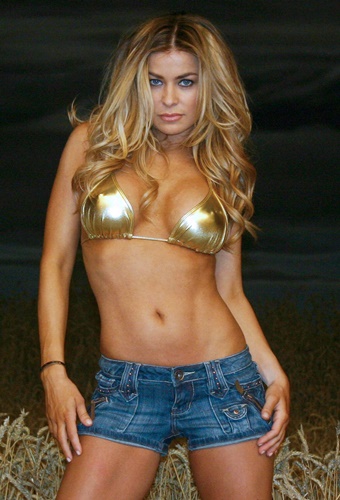 CARMEN ELECTRA
Born: April 20, 1972 Height: 5' 4"
Carmen Electra was born in Cincinnati (Ohio) on April 20, 1972. Of course, back then she was Tara Leigh Patrick, just a little girl growing up in White Oak, Ohio. At the age of nine, she was selected for the School for Creative and Performing Arts. Her goal was to eventually make it out to Los Angeles and get a record deal, and at age fifteen, she took her first big step.
She moved out to Minneapolis to stay with her sister and half sister, and earned money acting as a model for the Target department stores. Four years later, she packed up shop and moved to L.A., changed her name to Carmen Electra, and one week later, she met the artist formerly known as Prince. (He said she looked like a Carmen, and Electra is after the godess).
In 1992, after meeting and auditioning for Prince, Carmen was signed to his Paisley Park Records label. Despite the fact that Prince took her under his wing (including promotions for her album in Rolling Stone and on MTV) her first album was a dud. The video for the single "Go-Go Dancer" was seldom seen on MTV, and when the 12" single hit the stores in June (1992) it almost went straight to the bargain bin. In 1995, Carmen reinvented herself and appeared on the Nickelodeon show ALL THAT. In March of 1996, Carmen posed nude for Playboy and did a Playboy video, PLAYBOY CHEERLEADERS, in which she sings the show stopper ?2-4-6-8.' Also in 1996, Carmen hosted MTV's Loveline - only a glimpse of things to come.On October 4, 1996, Lisa Berger (MTV's senior vice president of original programming) announced that Carmen had been selected to replace
Jenny McCarthy
on the MTV show SINGLED OUT. The deal was for at least 65 episodes.
Since that announcement, Carmen was signed on to replace
Pamela Anderson
on BAYWATCH, she has appeared in a comic book, appeared as a national spokesperson for Budweiser and recently filmed a small role in the independent feature DUST AND STARDUST, a movie about making it and not making it in Hollywood.
What has really put the spotlight on Carmen is her relationship with basketball star Dennis Rodman. The two have engaged in an on-again off-again relationship since 1997 which included a marriage that was allegedly arranged by Electra when Rodman was drunk. The marriage quickly fizzled but the two have remained close throughout, though both have had their hands in the 'cookie jar' so to speak. Published reports claim that when Carmen spotted Dennis in bed with two women in a hotel room, she stormed out and told Dennis she was heading to Ohio to meet with family but truthfully she was going to get even with Rodman by having her own fling with former Motley Crue drummer Tommy Lee after he was released from jail for beating his wife, Pamela Anderson. The two spent a few days in a hotel room together while Motley Crue was on tour. When the Crue moved on to their next gig, Carmen returned to California. The two also were reportedly living with each other for some time in Tommy's mansion. Soon after, Rodman found out about the fling and was livid.
Pamela also had a very jealous reaction, after reading about the affair in The Enquirer. Reportedly this was the main reason the two got back together for the third time. She apparently called Carmen and exclaimed "You leave my man alone!" and slammed down the phone. Electra was told to have been furious when Tommy called and told her the relationship was over, since she reportedly had expected to be the next Mrs. Lee.
Electra's other relationships were with Cypress Hill's B-Real and Limp Bizkit frontman Fred Durst. She also has spent some time partying with former Baywatch star (who played David Hasselhof's son) and recovering drug addict Jeremy Jackson.
The controversial Donna D'Errico, her former Baywatch co-star, recently smacked Carmen with the insult that she was a "Celebrity Leech." It should be interesting to see if this wild gal settles down and focuses on her acting career or if she winds up like the many other celebrities that let fame and fortune get to their heads.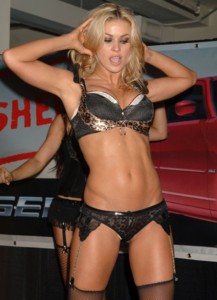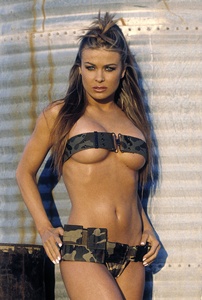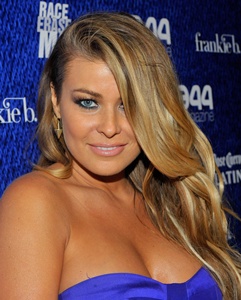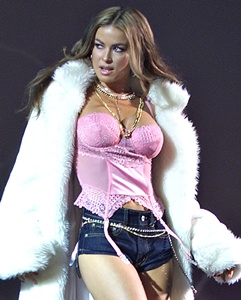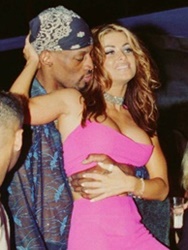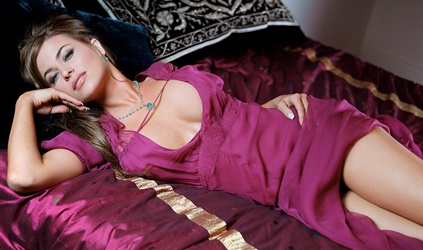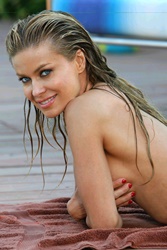 BACK TO THE CELEBRITIES