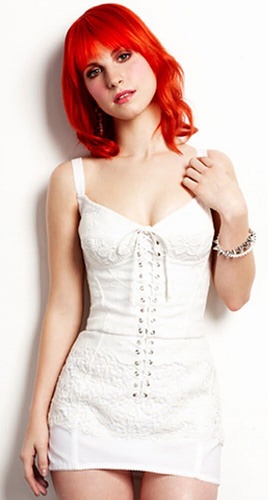 HAYLEY WILLIAMS
Born: December 27, 1988 Height: 5' 2"
Hayley Nichole Williams is an American singer, songwriter, and musician. She serves as the lead vocalist, primary songwriter and occasional keyboardist of the rock band Paramore. Williams was born in Meridian, Mississippi and moved to Franklin, Tennessee after her parents divorced when she was 14. She met former band member Josh and current band member Zac Farro in her new school. In 2004, she formed Paramore alongside Josh Farro, Zac Farro, and Jeremy Davis. The band has five studio albums:
All We Know Is Falling
(2005),
Riot!
(2007),
Brand New Eyes
(2009),
Paramore
(2013) and
After Laughter
(2017).
Williams recorded the song "Teenagers" for the soundtrack of
Jennifer's Body
(2009) and has made numerous collaborations with artists such as October Fall, The Chariot, Set Your Goals and New Found Glory. In 2010, she was featured on the single " Airplanes " by B.o.B. "Airplanes" peaked at number two on the US Billboard Hot 100. Internationally, the song topped the charts in New Zealand and the United Kingdom and peaked within the top ten of the charts in Australia, Canada and the Republic of Ireland. A sequel to the song, "Airplanes, Part II", features new verses from B.o.B, and a verse from fellow American rapper Eminem, while Williams's vocals remain the same. This collaboration led to a Grammy nomination for Best Pop Collaboration with Vocals. Williams is a soprano with a four-octave range, including the whistle register, and is noted for her acrobatic singing style with vocal qualities described as lithe and versatile. Singer-songwriter John Mayer praised Williams' voice in a blog in 2007, calling her "The great orange hope" ("orange" in reference to her hair color).
In 2015, she launched the online beauty and music series "Kiss-Off" on Popular TV. In 2016, after over four years of planning, Williams launched her own hair dye company, Good Dye Young, alongside her hair and makeup artist, Brian O'Connor. In 2017, Good Dye Young launched a temporary hair dye line, that disappears after one wash, called Poser Paste.
Beginning in 2008, she had been in a relationship with New Found Glory's lead guitarist Chad Gilbert. On December 31, 2014, Williams confirmed that she and Gilbert had become engaged. They were married on February 20, 2016. The couple announced on July 1, 2017 that they were separated. Williams has been vocal about her choice not to smoke, drink, or use recreational drugs.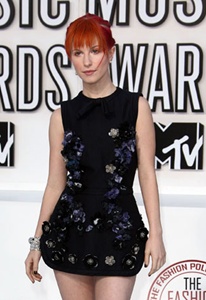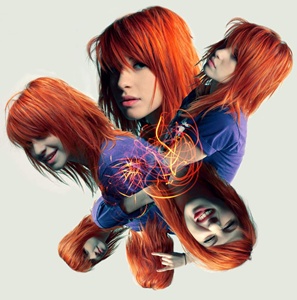 FOLLOW Dee Williams Ava Devine Carly Parker & Ariel X TO ULTIMATE SURRENDER

BACK TO THE CELEBRITIES