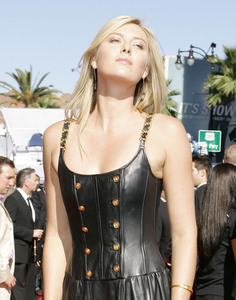 MARIA SHARAPOVA
Born: April 19, 1987 Height: 6' 2"
Maria Yuryevna Sharapova is a Russian professional tennis player. Maria Sharapova was born on April 19, 1987 in Nyagan, Soviet Union. Her parents, concerned about the regional effects of the 1986 Chernobyl nuclear accident, left their homeland shortly before Sharapova was born. When Sharapova was two, the family moved to Sochi. Sharapova her first tennis racquet at the age of four, whereupon she began practicing regularly with her father at a local park. She took her first tennis lessons with veteran Russian coach Yuri Yutkin, who was instantly impressed when he saw her play, noting her "exceptional hand-eye coordination."
At the age of six, Sharapova attended a tennis clinic in Moscow run by Martina Navratilova, who recommended training at the Nick Bollettieri Tennis Academy in Florida, which had previously trained players such as Andre Agassi, Monica Seles, and Anna Kournikova. Arriving in Florida with savings of US$700, Sharapova's father took various low-paying jobs, including dishwashing, to fund her lessons until she was old enough to be admitted to the academy. In 1995, she was signed by IMG, who agreed to pay the annual tuition fee of $35,000 for Sharapova to stay at the academy.
A United States resident since 1994, Sharapova has won twenty-nine WTA singles titles, including four Grand Slam singles titles. She has also won the year-end WTA Tour Championships in 2004. The WTA has ranked Sharapova World No. 1 in singles on five separate occasions, for a total of 21 weeks. She became the world no. 1 for the first time on August 22, 2005. She has been in eight Grand Slam finals with a record of 4–4.
Sharapova made her professional breakthrough in 2004 at age 17, when she defeated two-time defending champion and top seed Serena Williams in the 2004 Wimbledon final for her first Grand Slam singles title. She entered the top 10 of the WTA Rankings with the win. The world no. 1 ranking followed in 2005, along with subsequent major titles at the 2006 US Open and 2008 Australian Open, before she was forced out of the game for ten months by a recurring shoulder injury. Sharapova returned to the game and returned to the top 10 in March 2011 and capturing her fourth Grand Slam title at the 2012 French Open. By doing so, she became the sixth woman in the Open Era to complete the career Grand Slam in singles. In the same year, she won an Olympic silver medal in the London 2012 Olympics.
Sharapova has been featured in a number of modeling assignments, including a feature in the
Sports Illustrated
Swimsuit Issue. She has been featured in many advertisements, including for Nike, Prince, and Canon, and is the face of several fashion houses, most notably Cole Haan. She has been a United Nations Development Programme Goodwill Ambassador, concerned specifically with the Chernobyl Recovery and Development Programme. She was named one of the "30 Legends of Women's Tennis: Past, Present and Future" by Time, and was named one of the "100 Greatest of All Time" by Tennis Channel.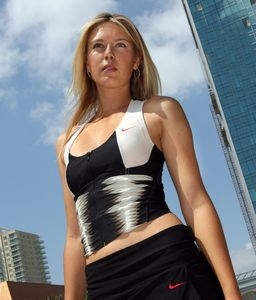 FOLLOW Luna Light, Beretta James vs Lyla Storm, Juliette March TO ULTIMATE SURRENDER!
BACK TO THE CELEBRITIES