BAROCCA vs EBONY AYES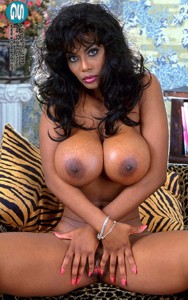 VS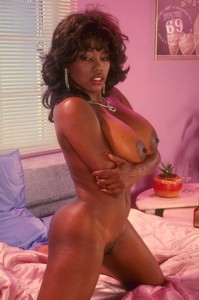 BAROCCA vs EBONY AYES The Trilogy
Part 1 Wrestling


For this special occasion, the two former Napali Queens will fight in a regulation ring before a crowd consisting of their previous opponents and biggest fans. A coin toss determined that Ebony would enter the ring first. At the start of her entrance music, all eyes turn to the spotlighted entranceway and Queen Ebony strides regally down the aisle to the roar of the crowd. From the folds of her silver cape, her fans glimpse her brief hot pink thong bikini. The naturally busty beauty wears matching high-heel pumps and, as befitting a true Queen, a diamond-studded tiara.

Ascending the stairs and climbing through the ropes, the First Queen of Napali circles the ring, acknowledging the audience's approbation. Her circuit complete, she removes her cape just as the entrance music for Queen Barocca begins. Ebony hands her cape to a ringside attendant, bending low so and presenting a tempting and contemptuous view of her full moon to her approaching rival.

Ever the showgirl, Queen Barocca waits out of sight until her fans are at a fever pitch, then poses in the entranceway as the crowd's cheers become deafening. She glides with equal solemnity toward the ring, her glittering gold cape revealing a sneak preview of her light blue thong bikini. The Second Queen of Napali also wears matching high-heel pumps and an identical tiara.

Younger and more athletic than her esteemed predecessor, Barocca vaults over the top rope. She unfastens her sparkling cape and loops it over her head as she promenades around the ring, displaying her hard body to one and all. As the Brazilian Bombshell passes Ebony, she casually drops her cape onto her predecessor's head, eliciting a mixture of laughs and boos from the spectators. Not rising to the provocation, Ebony lifts the shroud from her head and tosses it ignominiously out of the ring. Both black beauties remove their tiaras and meet in center ring.

At 5' 10", Barocca towers over 5' 6" Ebony. But Ebony's JJ-cup bosom puts Barocca's FF-cups to shame. Nevertheless, these two top-heavy tigresses overwhelm their deliberately undersized tops. Though officially retired, these lusty lovelies have been working out rigorously for over a month to get into perfect condition for this series of Queen-vs-Queen battles. The improvements in their muscle tone are obvious, especially in their arms, upper bodies, and legs. Ebony weighs in at 130; Barocca at 135. After a brief exchange of trash talk, they return to their corners, remove their pumps, and show off their bodies with a few seconds of bending and stretching.

At the bell, the two black Queens cautiously circle each other as they slowly spiral toward center ring. Eying each other warily, they lock up. Ebony instantly spins, twisting Barocca's right arm into a painful armbar. She increases the torque until the taller woman sinks to one knee, her face a mask of agony. With an evil grin, Ebony kicks Barocca in the ribs and releases her hold. The Brazilian shakes off the pain while Ebony parades herself to the crowd. While each Queen has a number of fans loyal only to her, most of the audience respects them both and has a tough time choosing for whom to root. To them, no matter who wins, these will be the most exciting fights they've ever witnessed.

Now the ladies have locked fingers in a test of strength. Ebony has the distinct advantage, as Barocca's right arm has not fully recovered during the brief pause in the action. Aware of this, the Bombshell falls onto her back and with a foot in Ebony's belly, flips the First Queen overhead and across the ring. Ebony's crash landing pops one of her magnificent breasts out of her inadequate top, and the crowd bellows its approval. Barocca leaps through the air and lands with full force on her stunned foe. Amid snarling and curses, they grapple on the mat, first one on top and then the other. Within a minute, both busty black babes lose their tops completely.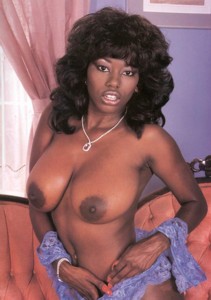 Each realizes the futility of continuing this way, and they break apart, get to their feet, and buy time by circling each other again. The exertion and hot lights have made them glisten with perspiration. Instinctively, their hands are drawn to their opponent's bare breasts as though magnetized, and they begin to squeeze with a vengeance. They crank up the pressure until both are in agony as their tender tits are crushed and clawed. Tears well up in Ebony's eyes but she responds by sadistically twisting Barocca's boobs and pinching her dark jutting nipples. With a short shriek, Napali's Second Queen retaliates by pressing Ebony's mounds together as hard as she can. After another full minute of this torture, they tacitly break off this frontal assault and retreat, cradling and massaging their throbbing melons.

During this pause, the spectators applaud the contenders for displaying such athletic ability. Instead of the grab-ass catfighting style that was expected, Ebony and Barocca are showing themselves to be truly great wrestlers. The shimmering she-cats once again circle each other, alert to the slightest indication of vulnerability. Sensing one, Barocca grabs Ebony's leg and flips her onto her back, twisting her leg and applying a stepover hold. The younger Queen increases the pressure and corkscrews Ebony's leg tighter. With a growl indicating that she has had enough of this, Ebony blasts her free foot squarely into her tormentor's tit.

Her bosom exploding with pain, the Brazilian slams against the ropes and slumps to the mat. The venomous veteran grabs a thick handful of Barocca's mane, hauls her to her feet, armwhips her across the ring and against the ropes, and clotheslines the rebounding wrestler. The Bombshell hits the mat like…well, like a bomb. Satisfied with this early result, Ebony again drags the downed dancer to her feet for a repeat fling. As Ebony launches a dropkick toward her hapless foe, Barocca clings to the ropes. Ebony connects with empty air and crashes to the mat.

With a huge gasp of breath, Barocca plops herself down next to Ebony, wraps her long muscular legs around her waist, and squeezes for all she's worth. Both regal wrestlers grimace, Barocca from exertion, and Ebony from pain. The latter tries unsuccessfully to pry apart the python-like legs of her opponent, but Barocca just snorts a derisive laugh and cranks up the pressure. The domineering dancer grabs a big handful of her victim's jiggling jugg and mashes it between her fingers. With a few butt bumps to maximize Ebony's agony, the Brazilian suddenly releases the scissors and rolls the listless and gasping Ebony off her leg.

Now the Bombshell, her ample chest heaving, picks up her predecessor by the hair and clamps her in a forward headlock. While subtly choking Ebony, the sultry stripper yanks sharply on the older Queen's thong, digging the strap deep into Ebony's femininity. The shorter grappler yelps and drives forward, ramming Barocca's back hard against the corner pad and breaking the hold. Ebony instantly bearhugs the slim and stacked Barocca in her vise-like arms. She lifts her pinioned nemesis off the mat as she pours on the pressure. Desperate, Barocca uses both hands to chop Ebony in the neck and break the bearhug.

Clearly tiring, they lock up once more. Barocca drives a hard knee into Ebony's belly. Ms Ayes obligingly doubles up, allowing the busty Brazilian to reapply a forward headlock and to repeatedly knee Ebony's hanging hooters. Barocca laughs as she treats her opponent's puppies like piñatas. Suddenly the victimized veteran grabs both of Barocca's legs behind the knees and dumps the dusky dancer on her shapely ass.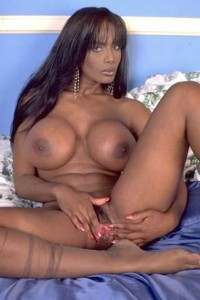 Ebony lifts the stunned stripper by the crotch and shoulder and bodyslams Barocca as hard as possible with a tremendous crash. She grabs the groaning grappler for a second helping and slams Barocca even harder. The Brazilian Bombshell has been detonated. Ebony flops across Barocca's inert body, hooks her leg, and shouts out a three-no, a five-count pin to the wild screams of the crowd. No doubt about it: Ebony Ayes is the Wrestling Queen.

The victorious veteran rises. Her nearly unconscious victim lets out a barely audible moan. Ebony takes a slow victory lap with her arms raised, perspiration raining from her nose, her chin, and her magnificent mammaries. She pauses to collect her opponent's abandoned cape from the ring apron. Then with a flourish, she covers Barocca's still motionless body with the golden shroud and exits the ring to the boisterous approval of the entire crowd.

Ebony halts on the ring apron and motions the screaming spectators to silence. "I know there are a lot of you who have been waiting eagerly to see the great Barocca get her gorgeous ass whipped. Well, now you have. And I'm the woman who did it." The crowd erupts again as Queen Ebony Ayes heads toward her dressing room.

But that was just Bout 1.

The next day, Ebony and Barocca meet again in the ring, this time for a 10-round boxing match.


---

Who do you want the great Barocca to fight next? Tell Sherlock and include any special aspects you'd like (type of fight, location, special outfits, who should win, etc). Send your requests to sherlock@basementwrestlingleague.com.

These stories are the work of Sherlock, a frequent contributor to the Entropy's BWL (Basement Wrestling League) website. The BWL is a Poser-based fantasy femme fighting site that is updated weekly with usually two new illustrated fight stories, one featuring women only, the other a mixed battle. Sherlock invites you to check out the free samples at the adult BWL site at www.entropy-bwl.com. The BWL character Caribe the Bahamian Bombshell is based closely on Barocca the Brazilian Bombshell.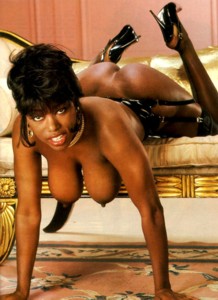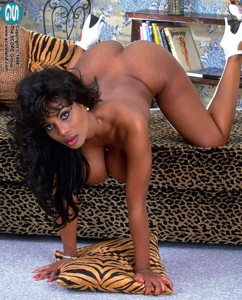 BACK TO kARTOON kOMBAT
TO EBONY VS BAROCCA 2


TO EBONY AYES
TO BAROCCA