ARIA GIOVANNI
Born: November 3rd, 1977 Height: 5'6" Weight: 123lbs Eyes: Brown Orientation: Unknown Measurements: 34DD-24-35 Years Catfighting: 11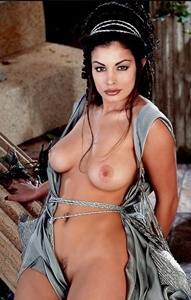 Previous League: 3XL, SF-CF Previous Belts: 3XL FFC (Fuck-fighting) Champ 2x's, 3XL Tag Champ (with Jelena Jensen) 5x's, (with Jaime Hammer) 2x's, (with Shay Lauren) 1x, SF-CF Champ 1x, SF-CF TV Champ 2x's
Finishing Moves: Heavenly Death (Breast Smother Submission), A-Bomb (Standing sit-out smash where she sits down on her opponents chest!), T-Train (running body splash on opponent in the corner), Derailer (after T-Train, uses an over-the-shoulder hip-toss to the mat! Often times followed by Heavenly Death), Ultimate A-Bomb (drags opponent to the corner, climbes to second OR THIRD rope and then crashes down on their chest with her ass!), AGV (Leg-scissors submission)
Strengths: Veteran experience, submission & power wrestler, skilled in body attack techniques, good tag wrestler, great teamplayer, intelligent, honest
Weaknesses: Fetishes can cause her to lose matches, vulnerable to body attacks, slow, panics under pressure, always looses long matches, wilts under intense/barrages of attacks, rarely kicks out of finishing moves, mentally wears out easily, tits, submission moves, weak chin, has reached her full potential as a catfighter

Aria was born in Long Beach, California in 1977. An extremely shy introvert, she had few friends in high school and wandered down the wrong path because of her loneliness. By age 12 she had actually fallen victim to drug and alcohol abuse because of her crushing loneliness. Fortunately her parents caught her before it was too late. Aria spent almost 3 years in Rehab, but without the peer pressures and expectations of normal high school surrounding her, she was able to actually function and complete most of her high schooling. By the time she was back amongst regular high school students she was 16 and headed off to college.

Extremely intelligent, but socially inept, Aria opted for Junior College first before pressing forward to a major college. By the time she turned 18 she had grown up into a very beautiful woman and was weighing her options. It is during this time that she encountered an odd young Black man who appeared to be watching her. After a few days of classes and noting that the young man did genuinely seem to be following her, she realized that many of his classes ran opposite of her own. So when she would exit one class, he was exiting from whatever classroom was DIRECTLY ACROSS from hers. Having never been in such an awkward situation before, at least not like this! Aria found it arousing, yet creepy! Because of her shy personality she refused to report her own feelings, until she encounterd him sitting in the library a table away DIRECTLY OPPOSITE of the one she was studying at. Her curiosity got the better of her and she went over to his table and asked him why he was following her? A bizarre back-and-forth conversation took place between the two which culminated with him revealing that his name was Jason Phillips. Aria had heard of a "Jason Phillips" because of her calculus IV teacher. Aria at the time was a science and math tutor and her calculus teacher told her about a student that displayed tremendous aptitude for math, but had a severe disdain for it. He mentioned the students name in passing because he eventually kicked him out of his class for sleeping while failing! Aria was intrigued at the audacity of Jason to have gotten into the calculus classes, which means he at least had to pass more than a few complex lower math courses, just to quit!?!! Her curiosity piqued on why he would up and quit so abruptly, the two talked and eventually agreed to meet up again where Aria volunteered to tutor him. The rest of that semester was spent tutoring Jason in calculus IV, while Jason tutored Aria in social interaction. She also had to convince the teacher to let him re-join the class.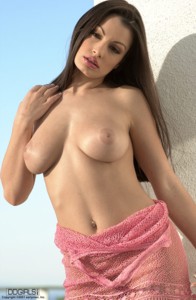 At the end of the semester, Jason passed his calculus tests and Aria overcame her shyness. They would meet up one last time for Jason to tell Aria that he was leaving the school and that he had accomplished what he had came there to do. It is at that point that he gave Aria a business card, a sealed envelope, and a key and told her that if she should ever lose her way again, call the number on the card and then open the envelope. Befuddled by his sudden abrupt news of leaving, she was shocked even more when a beautiful black limo pulled up to his broken down apartment building and the even more beautiful Lynn Whitfield got out, clearly pissed at Jason! He introduced Aria to Lynn and then told Lynn that one day "Aria will be one of my most trusted Maid Enforcers, until that day… Take care of yourself Aria and never lose faith in yourself." He then instructed his limo driver to take Aria home while he and Lynn literally… walked away…

After that Aria set about school and work and tutoring, but found herself drawn to the attention that she got going back-and-forth with Jason, especially his social lessons on interaction. She began actively answering newspaper ads for models now that her confidence was up. It did not take long for the glamor magazines of softcore porn to come knocking on her door. Slowly but surely Aria became a magnet for glamor porn shutterbugs everywhere! As her popularity grew and the adult magazine industry began beating on her door for even more photoshoots. She was contacted by an agent from 3XL. She began training for 3XL and by 1998 she was doing matches and steadily moving more and more into softcore porn and fetish material. Ironically she would meet other future Maid Enforcers, Jelena Jensen, Donna Denise and a few others. Aria would team-up with Jelena to become multiple time tag team champions of 3XL. But in 2004 she got tangled up in some of the more seamier sides of 3XL and found herself headed back to a dark place due to a bad contract deal with Aysa "Bull" Bronski, one of the principle talent reps of 3XL. She opted to end her contract and joined the SF-CF, but Bronski took her to court for breech of contract… and won. Forced to leave the SF-CF, she thought she could work her way through her contract, but it became crystal clear that Bronski wanted "personals" from her… which she wasn't even about to do at all. She attempted to handle the situation till she started caving under the pressure. Sinking fast, she narrowly avoided regressing back to her early teen avenues of escape. Bronski, realizing what was going on, turned up the pressure in hopes of cornering Aria into his clutches in every way possible.

Bronski's whereabouts are unknown even to this day. And Aria has been one of Geese's Lead Maid Enforcer's for almost the last 4 years. She serves as 2nd-in-command of the famous Sin City landmark nightclub, The Hole in the Wall, which is run by Blu Cantrell. Aria is one of the few non-Estate based Maid Enforcers who can come and go from the Estate as she pleases, as well as directly contact Geese…








DOWNLOAD - Sayuri vs. Amy Love (SleeperGirls vs. Battle Angels)

BACK TO THE ROSTER