DAISY FUENTES
Born: November 17th, 1966 Height: 5' 10" Weight: 141lbs Eyes: Brown Orientation: Ask Eva & Halle Years Catfighting: 21 years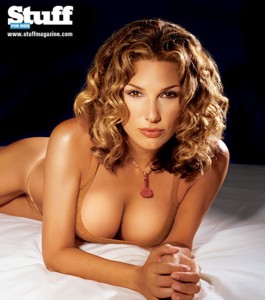 Previous League: BZL (defunct), Video-1, Liberty League, Atlantic Division Diva's (AD1), G3L, CQ (Caribbean Queen's) Club, various others
Previous Belts: V1 Champ 1x, Video-1 Tag Champ (with Ananda Lewis) 3x's, CQ Queen 3x's
Finishing Moves: D-Stop (Two-handed standing chokeslam), Broken Arrow (brainbuster suplex), Daisy Train (cunt-kick and then Death Valley Driver)
Strengths: Veteran Experience, ultra-aggressive, great power moves, great at body attacks and charging attacks, great brawler, size and strength, good technical moves, high endurance and stamina, can take an ass-whipping, some submission moves, good tag wrestler, great teammate, great stablemate, knows her role as a heavy, brutal and vicious, toady for Geese Howard, good showmanship, abilities increase when properly managed, power attacks increase with momentum, knows how to use environment to her advantage, deceptive, can withstand multiple finishing moves early in matches
Weaknesses: Has reached full-potential as a catfighter, takes abnormal damage from certain catfighters, wears down mentally as match goes against her or momentum goes against her, can actually be put away early by skilled catfighters, low psyche, relies too much on power moves, takes abnormal damage from high-flying moves, takes abnormal damage from speed moves, does not do well against speed catfighters, slow, bitter, can be whittled away at, tends to lose long matches, takes abnormal damage from top rope attacks, ring awareness drops dramatically as match goes against her

Daisy Fuentes or D, as she is sometimes called, has had one helluva wild ride through the world of celebrity catfighting. She expected big things when her career outside of the ring took off, but sad to say it just hasn't been the case. Now, that's not to say that she hasn't had some bright spots and big moments, but for the Cuban American MILF, it really has been too much like feast or famine!

Initially a big-time VJ, she started sparing and learning for the V1 league after she scored it big in the Caribbean Queen's Club. Her size and power allowed her to muscle her way past the smaller speedier Cuban and Puerto Rican catfighters. And she had the size to compete and beat the Dominican and Jamaican catfighters of the time! She figured once she was able to get in on mainland USA CCC's she would just continue onwards and upwards! But things didn't exactly work out that way. Her career in journalism finally starting paying dividends but the competition in the V1 League was much more intense than she had anticipated. She would eventually win some gold, but she had to really empty the tank to become V1 Champ. It was during this time that she met Ananda Lewis who was up-and-coming. The two feuded for a bit until they decided to become tag partners when they saw that their styles complimented each other. They would win the V1 Tag Belts 3x's before D decided to go after the V1 Championship belt again. Once they parted separate ways neither lady looked back and D was eventually unsuccessful in her attempt to regain the belt. Her out-of-ring career was still busy and D focused more and more on it while her in-ring career became stagnant. She eventually left the V1 and went to the G3L out in San Francisco.

She reasserted herself as a singles catfighter and continued to pull double-duty out of the ring for Latin and American based programs. Her career in the G3L fizzled out and she eventually returned back to the V1 League. Her return to the V1 League was lackluster and she never regained the prominence that she had at the beginning of her career, yet she still got an invitation from Stone Rage's BZL. She quickly accepted it as the BZL was the premiere CCC in America, HOWEVER!?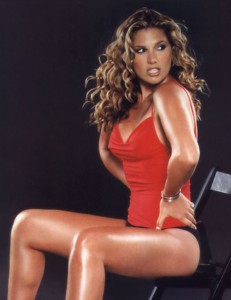 She languished, badly… Rarely if ever getting any matches, until she ended up getting into a situation regarding a cosmetics contract with Revlon. This would signal her animosity with Eva Mendes and Halle Berry, who ended up helping Eva when D was in the midst of beating the crap out of her! Halle would move on to bigger and better things, but D's career by that point was on life support. Her earlier VJ fame had been burned up and burned out. Now celebrity catfighting was becoming important to her career's continuation, but she couldn't get any matches! Then when she finally got the opportunity to cash in, it was upstaged by Eva, with Halle's assistance. D began a running war with Eva who was also rarely used in the BZL. But E, as Eva is sometimes called, always found ways to beat D! D's last attempt was an ambush at E's gated community home where she was defeated once again. This time when she woke up however she found herself sleeping in not only a very plush bedroom, but the things in it were clearly decked out specifically to her taste. After a hot shower of sulking she emerged from her bedroom in the plush wool long bathrobe that she knew had to have been specifically fitted for her. She found sitting in the living room, Devon Michaels, one of Geese's most trusted and top, Maid Enforcers.

Daisy didn't have a clue about who Geese was and nor did she care, at first. Devon quickly explained to the Cuban American Amazon that her master had use for her if she was interested in actually doing something with her time besides sitting around waiting for something that clearly was NOT going to happen. They talked long into the night where D enjoyed the fact that Devon answered any question she asked and genuinely knew about her and her situation. She agreed to join Geese's organization and NOT JUST the W3W. Daisy has had an interesting time talking with her new boss and she has already been assured that her role will be prominent in the W3W and beyond…










DOWNLOAD - RagDoll Vol.4 (Brooke vs. Jessicka)

BACK TO THE ROSTER