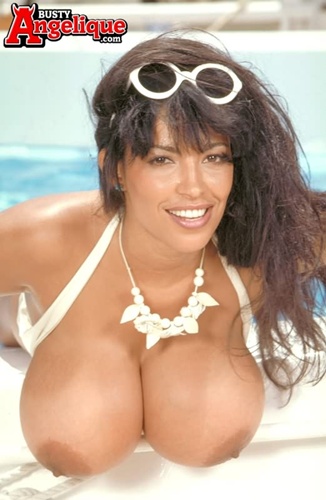 BUSTY ANGELIQUE
Born: April 16, 1969 Height: 5'4" Measurements 36F-25-36
Angelique is a porn star from Brazil. She was born in Sao Paulo Brazil. Angelique dos Santos by chance met a German photographer who was working in Brazil. He convinced her to try modeling in Germany. Angelique accepted the offer because photographic opportunities were very limited in Brazil. She moved to Germany in the early 1990's to start her career. In the beginning, she appeared mainly in nude photo layouts, having been featured in many men's magazines. She was a staple in the early 90's in such European magazines such as
Rodoz
,
Color Climax
,
Blue Climax
, amoung others. Later, she and the photographer sent a letter to the SCORE office in Miami, One look was enough and in a short time she was in route from Germany to London for a photo shoot. She broke in the US adult magazine market in 1994 with a
Score
cover.
Her cover shot was sexy, but dramatic, with photographic emphasis on her huge tits as well as her face. The pictorial was a massive ten pages, rare even back then. SCORE Studio Big Bust specialist John Graham, who at the time was lensing a large number of busty American and Brit stars for the magazine. It was at this time in 1994 that she had her debut in Scoreland. She became a primary model for the
Score Group
Internet model consortium doing online photos and video. She has her own website, Busty Angelique, which is operated by the Score Group. She also appeared in
Score
in layouts including Tawny Peaks,
Minka
and SaRenna Lee. She did the 1995 and 1997 Score Boob Cruises. In 1995, Angelique ventured into the world of adult videos.
In 2000 she went into semi-retirement. Now mainly retired, Angelique returned to her home town of Santos, Brazil. She came back out of retirement in 2002 to go on the Boob Cruise but mostly to prove to herself that she is still desirable after 30 years old. After she spent time off rumor has she returned to Germany (where she still lives) working as a waitress. Her last appearance was in 2004.
A list of her films include,
Big Boob Bangeroo
,
Busty Sleazy Sluts
,
Ben Dover Does The Boob Cruise
,
Busty Conquests of Angelique
,
Tit To it 5 Pack DVD
, and
The Tit-Ans
.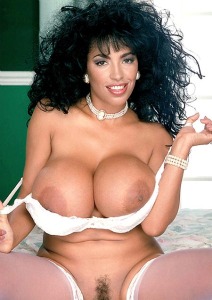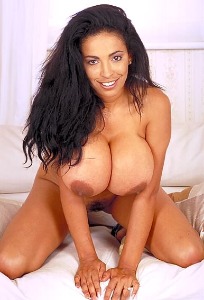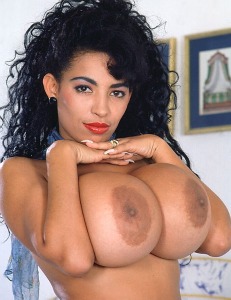 BACK TO THE CELEBRITIES