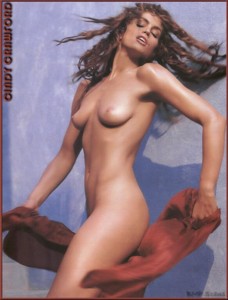 CINDY CRAWFORD
Born: February 20, 1966 Height: 5' 9½"
Cynthia Ann Crawford was born in DeKalb, Illinois. She was discovered by a newspaper photographer, who took a picture of a 16-year-old Cindy at her summer job pollinating corn. Crawford graduated from DeKalb High School as valedictorian with a 4.0 GPA. She won an academic scholarship to study chemical engineering at Northwestern University. Afer one quarter, she dropped out to pursue a full-time modeling career.
She has been featured on the cover of many magazines, including Vogue, W, People, Harper's Bazaar, ELLE, Cosmopolitan, and Allure. Cindy also appeared in many fashion campaigns, including Gianni Versace, Escada, Revlon, Ink. She has worked for Omega, Maybelline, and Clairol. Famous designer Karl Lagerfeld said, "She is a classical beauty and the all-American dream girl." She was nicknamed "Baby Gia" when she entered the modeling industry because of her resemblance to the late supermodel, Gia Carangi.
She ranked number 5 on Playboy's list of the 100 Sexiest Stars of the 20th century. A 1997 Shape magazine survey of 4,000 picked her as the second (after
Demi Moore
) most beautiful woman in the world. In 2002, Crawford was named one of the 50 Most Beautiful People by People magazine. She #26 in the 2006 Hot 100 issue of Maxim magazine. From 1989 to 1995, Crawford was host of MTV's House of Style. In the mid-1990s Crawford starred in Pepsi and Pepsi Stuff advertising. In 1995 Crawford took her first movie role in
Fair Game
. She has a series of exercise videos.
Cindy Crawford's trademark is a visible mole on her face (although most people refer to it as a "beauty mark"). She is so closely associated with this physical feature that she appeared in an advertising campaign for chocolates wherein she "licked off" her own mole. During the beginning of her career, the mole was removed from many of her earlier modeling pictures.
Crawford's marriage to actor Richard Gere lasted from 1991 to 1995. Crawford and current husband Rande Gerber have two children. The family resides in Los Angeles, California. Her brother died from leukemia at a young age, and Crawford has made childhood leukemia a focal point of her charity work.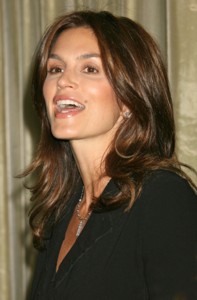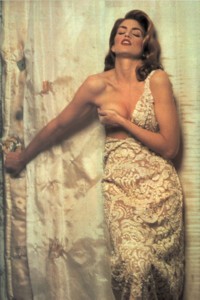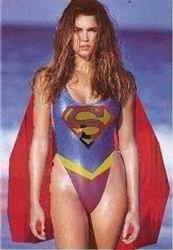 FOLLOW Yasmine Loven TO HOG TIED.COM!

BACK TO THE CELEBRITIES