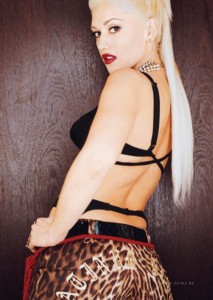 GWEN STEFANI
Born: October 3, 1969 Height: 5'6"
Gwen Stefani was born October 3, 1969, in Orange County, California. Growing up in Southern California with brothers Todd and Eric. Gwen was highly influenced by the rising popularity of ska and punk that was making its presence felt in the So Cal area.
Gwen's brother Eric started the band No Doubt with his friend John Spence in 1987, and asked the always effervescent Gwen to join on as co-vocalist with Spence. Tony Kanal joined the group later, and the trio began to gain popularity by playing at local parties. But the party was over when Spence committed suicide in 1987, which left Gwen to move up to lead vocalist. The show must go on, and it did, as No Doubt continued to perform in local gigs. In the meantime, Gwen had graduated high school, and followed up her studies at Cal State Fullerton College.
Gwen was forced to juggle the band, her studies, as well as what turned out to be a 7-year long romance with fellow band member, Tony Kanal. After No Doubt was really attracting a fan base, Flea, of the Red Hot Chili Peppers recorded a demo for the band in 1990, which led to their signing with Interscope Records.
In 1992, the band released their self-titled debut, but despite the substantial following the band had garnered, the album was far from a commercial success. Their record company was losing faith in their potential, but No Doubt's persistence did not waver. The group went back into the studio with their own money, and recorded a collection of "extra" songs they had written. Their sophomore effort, The Beacon Street Collection, was released in 1995, and not only struck a cord with their devout fans, but also re-sparked Interscope's confidence in the band.
No Doubt was back in business and returned to the recording studio with the support of their record company. The fruit of their effort was the hugely successful Tragic Kingdom, only this one was sans Eric Stefani, who left to become an animator on
The Simpsons
. 1995's Tragic Kingdom broke through the charts with its debut single, "Just A Girl" The album went on to spawn hits such as "Spiderwebs" and the super smash hit, "Don't Speak". The album went on to become a Billboard Number One, and garnered two Grammy nominations for the group.
"Hollaback Girl" became Stefani's first U.S. and second Australian number-one single. The song was the first U.S. digital download to sell more than one million copies legally. Its lyrical content features the word "shit" thirty-seven times.
Stefani met Bush and now Institute frontman Gavin Rossdale in 1995 at a concert in which she was performing to promote Tragic Kingdom. On September 14, 2002 Stefani and Rossdale married. They welcomed a son in 2005.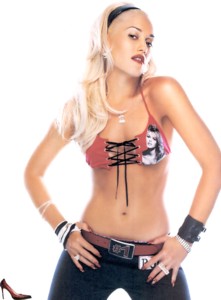 Battle Zone Stories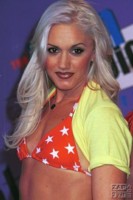 BACK TO THE CELEBRITIES