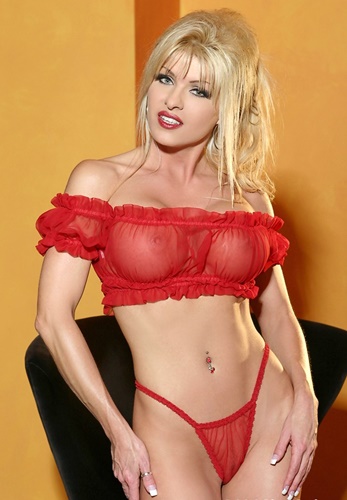 TYLENE BUCK aka MAJOR GUNNS
Born March 7, 1972 Height: 5'6" Weight: 118 Measurements: 36DD-24-35
Tylene Buck is an American pornographic actress, model, camgirl, former professional wrestler and valet. She is perhaps best known for her stint in World Championship Wrestling under the ring name Major Gunns. Tylene Buck began as a professional model based in California. She started modeling after being a (circuit girl) doing bikini contests. Her modeling experience includes bikini modeling, fitness modeling, videos, tradeshow spokesmodel, ring card girl, promotional work etc. Tylene have been in numerous magazines like
Truckiní
,
Ironman
,
MuscleMag
, and many others. While in the fitness industry, she was a spokemodel for Max Muscle.
She had a brief wrestling career that started in late-1999 in World Championship Wrestling as one of the nWo Girls. She was among several other fitness models who came to ringside with the nWo. She soon left the nWo to become a backstage interviewer, but that was also short lived. She then became "Major Gunns" and joined the Misfits In Action stable. Her most notable feuds were with The Filthy Animals' manager Tygress and
Miss Hancock
. Gunns defeated Hancock at New Blood Rising in a R.O.T.C. or Rip Off The Camo mud match.
Major Gunns turned into a villainess and betrayed the Misfits by throwing a towel and, costing the WCW United States Championship against Team Canada leader Lance Storm. She joined Lance Storm's Team Canada, where Storm would not allow her to show off her body like the Misfits did. Storm and Gunns went on to feud with Ernest "The Cat" Miller and his valet Miss Jones. She was also featured in the WCW Backstage Assault video game. She was released by WCW in February 2001 before it was sold to the World Wrestling Federation. She subsequently joined Xtreme Pro Wrestling in California soon thereafter. While in XPW, she became the valet for Sandman and feuded heavily with Lizzy Borden.
In 2006, Tylene attended the AVN Adult Entertainment Expo in Las Vegas, Nevada and started a career in lesbian porn under the stage name " Brandi Wylde" In 2004 Buck was featured in the controversial wrestling documentary
101 Reasons Not To Be A Pro-Wrestler
. In a March 2006 interview, Buck described herself as "bisexual."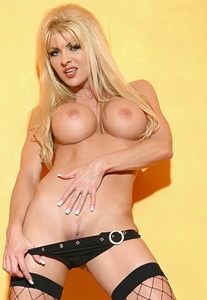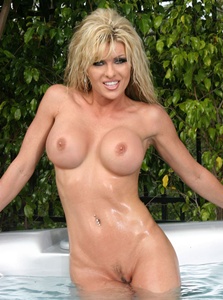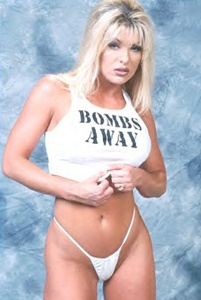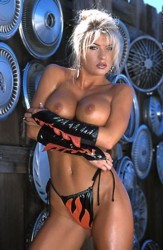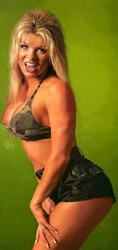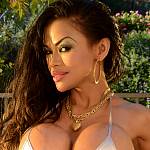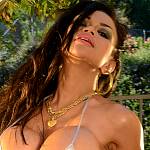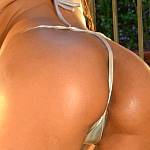 GODDESS ARMIE - GODDESS GALLERY

BACK TO THE CELEBRITIES