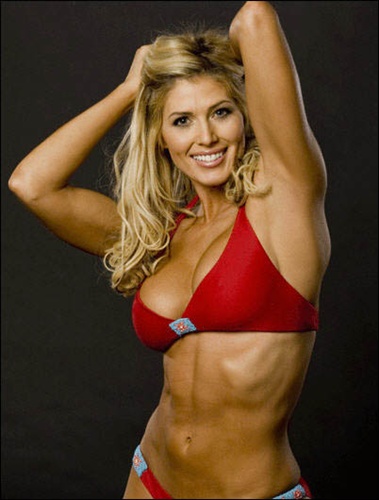 TORRIE WILSON
Born: July 24, 1975 Height: 5'7"
Victoria Anne Gruner (using her maiden name Torrie Wilson) is a Boise Idaho native. The former fitness model grew up in McCall, Idaho, She was painfully shy but she quickly found friends in her school and began participating in school activities such as cheerleading, dance, and track and field. During high school, after her interest in modeling grew more serious, her mother urged Torrie to pursue it. They visited an agency and were informed that Torrie would have to lose weight to actually be considered for jobs. She began a four year long bout with bulimia. A few years after her battle with bulimia, Wilson developed an interest in fitness and nutrition. She decided to enter herself in the 1997 Ms. Galaxy fitness competition and, after no experience in the field, she placed 13th. A year later at the same competition she placed first.
Encouraged with her accomplishments, Wilson moved to Los Angeles to pursue acting. She began acting classes and gained a few jobs including an uncredited appearance on Baywatch. But it was a meeting with Kevin Nash backstage at her first WCW event that landed her a full time job. She worked with WCW as a valet for David Flair, Billy Kidman, Shane Douglas and Kevin Nash until the company was purchased by its rival the WWF.
She entered the WWF as part of The Alliance during the WCW/ECW Invasion storyline in 2001 where she regularly teamed with fellow WCW performer
Stacy Keibler
. She turned face after the end of the Invasion storyline, briefly managing wrestlers such as Tajiri and Billy Gunn. Her most high profile feud during her first few years with the company came in 2003, when Dawn Marie tried to marry her father, Al Wilson. Al then died in kayfabe from a heart attack after having sex on their honeymoon. She also entered a feud with former WWE performer and Playboy covergirl
Sable
.
Since becoming an integral part of the WWE, Wilson has posed for Playboy magazine twice, the second time with fellow diva
Sable
in a steamy pictorial; and has been featured in recurring pictorials for the WWE's very own Divas Magazine. In July 2003 she married fellow wrestler Billy Kidman and the couple reside in Tampa, Florida.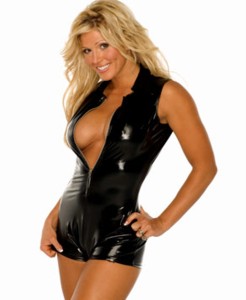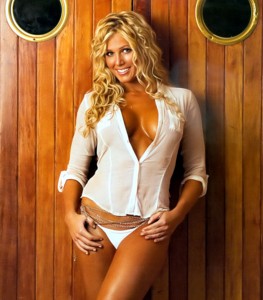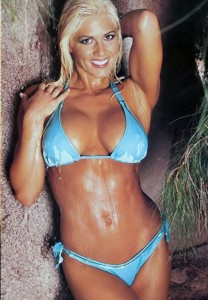 Other Stories with Torrie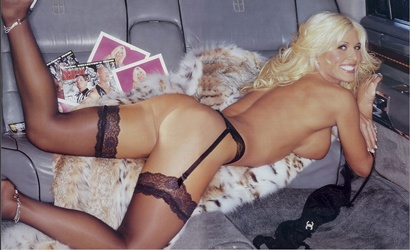 Stacy Keibler vs. Torrie Wilson in a eggnog match
by barrymk400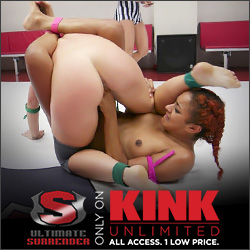 BACK TO THE CELEBRITIES