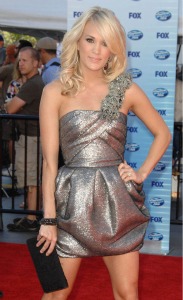 CARRIE UNDERWOOD
Born: March 10, 1983 Height: 5' 3"
Carrie Marie Underwood was born in Muskogee, Oklahoma. She was raised on her parents' farm in the rural town of Checotah, Oklahoma. She spent part of her summer as a page for Oklahoma State Representative Bobby Frame. Underwood graduated from Checotah High School in 2001 as salutatorian. After high school, she attended Northeastern State University, graduating magna cum laude in 2006 with a bachelor's degree in mass communication and an emphasis in journalism. Underwood is a member of the Alpha Iota chapter of Sigma Sigma Sigma sorority.
In 2004, Underwood auditioned for American Idol. After she sang "Could've Been" by Tiffany on the top 12 girls night, judge Simon Cowell commented that she would be one of the favorites to win the competition. During the top 11 finalists' performance, Underwood sang a rendition of the number one 1980s rock hit "Alone", by Heart, and Cowell predicted that Underwood would not only win the competition, but she would also outsell all previous Idol winners. One of the show's producers later said she dominated the voting, winning each week handily. She gained a fan base known as "Carrie's Care Bears" during the course of the show, and became the fourth season winner on May 25, 2005.
Underwood has since become a multi-platinum selling recording artist, a multiple Grammy Award winner, a Grand Ole Opry inductee, a three-time Academy of Country Music and Country Music Association Female Vocalist winner, and the current ACM Entertainer of the Year. She is the first ever female artist to win back-to-back Academy of Country Music (ACM) Awards for Entertainer of the Year (2009/2010). Underwood was ranked the 50th Artist of the 2000 decade by Billboard. In addition to being a singer, Underwood is a guitarist and pianist. Underwood is an animal lover and a vegetarian. She was voted "World's Sexiest Vegetarian" by PETA in 2007 for the second time, the first being in 2005.
Underwood was friends with Dallas Cowboys quarterback Tony Romo. Although she denied the rumor when asked, Romo confirmed it. Romo was quoted as saying "[...] I'm dating Carrie Underwood" on his website. Underwood also dated Chace Crawford of the television series Gossip Girl. She became engaged in December 2009 to Ottawa Senators hockey player Mike Fisher. On July 10, 2010, Underwood and Fisher wed. Fellow National Hockey League players, Tim McGraw, Faith Hill, Garth Brooks, and American Idol contestants, as well as judges Paula Abdul, Simon Cowell and Randy Jackson, were in attendance.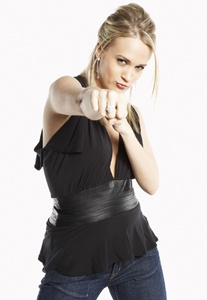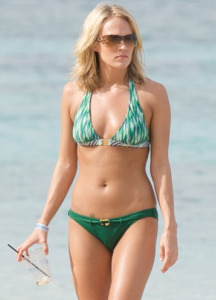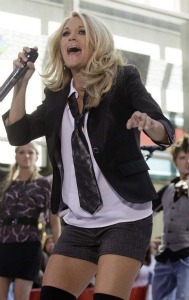 Stone Rage Battle Zone Matches


BACK TO THE CELEBRITIES